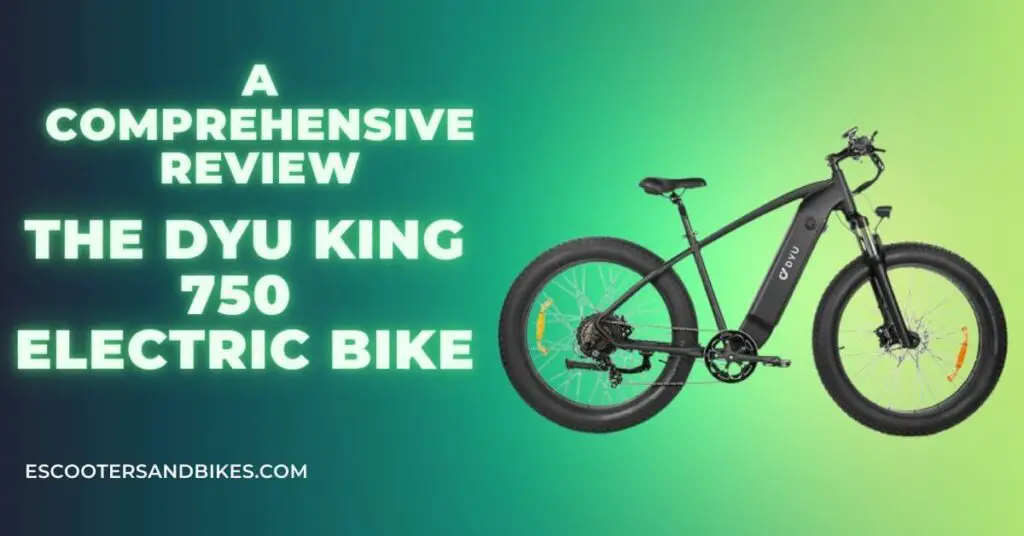 All recommendations within this article are informed by expert editorial opinion. If you click on a link in this story we may earn affiliate revenue.   
Introduction
There's no denying it: the world of electric bikes, or e-bikes, is buzzing with innovation.
And one of the names that have carved a significant niche in this booming industry is DYU. With the DYU King 750, they have crafted an e-bike that combines comfort, power, and style – a triple treat, indeed!
In this comprehensive review, we'll take a deep dive into this magnificent two-wheeler and find out what makes it a worthy contender for your e-bike considerations.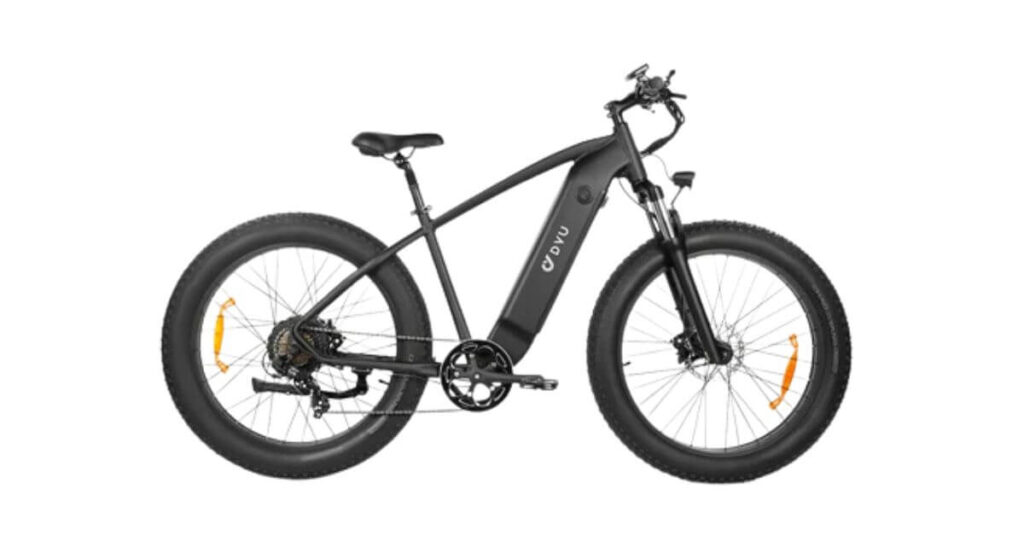 DYU: Celebrating a Decade of Innovation in E-Bikes
It's been an impressive journey for DYU as they celebrate their 10th year in the e-bike industry this year.
Over this period, the Shenzhen-based company has established itself as one of the leading e-bike manufacturers globally, thanks to its commitment to technological innovation and quality craftsmanship.
East Meets West: The Secret Sauce of DYU's Success
One of the factors that set DYU apart is its global presence.
With research and development centres in the USA and Europe, DYU has mastered the fine balance of Eastern industriousness and Western ingenuity.
This amalgamation of global ideas is quite apparent in their flagship e-bike, the DYU King 750.
The King's Heart: A Powerful Motor and Controller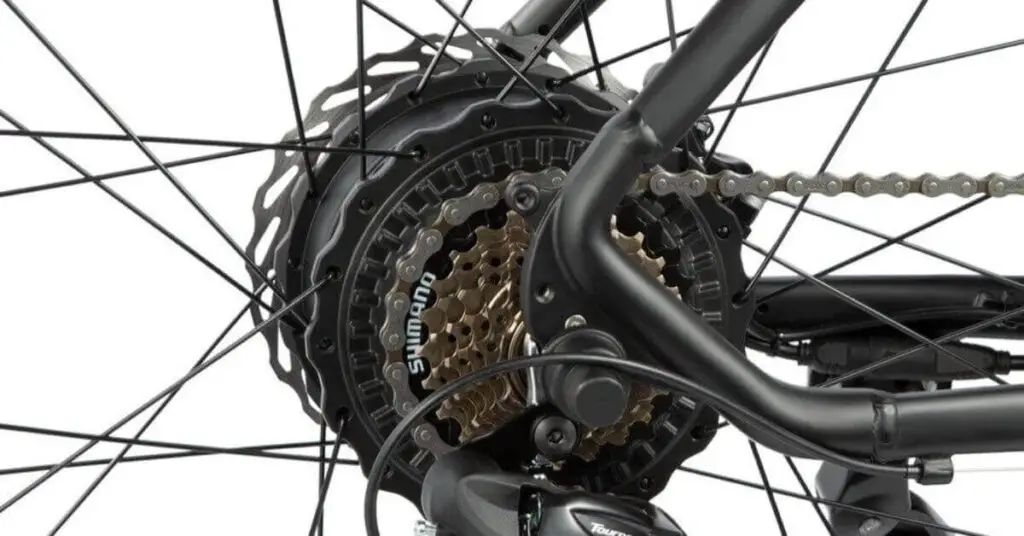 At the heart of the DYU King 750 is a powerful 750-watt motor (hinted by the 750 in its name). While 750 watts is its nominal power, this beast can boost up to an impressive 900 watts when it needs to – making steep hill climbing a breeze. Plus, the motor isn't just powerful – it's also torquey, with an impressive 75 Nm of torque on demand.
The Dashboard: A Controller That Oozes Cool
What's a great e-bike without a cool dashboard? The DYU King 750 features a controller reminiscent of a racing car dashboard, complete with speed and power indicators, an odometer, and a range indicator. A slight caveat – the screen can be a bit difficult to read under direct sunlight, a common issue with LCD screens.
Powering the King: The Battery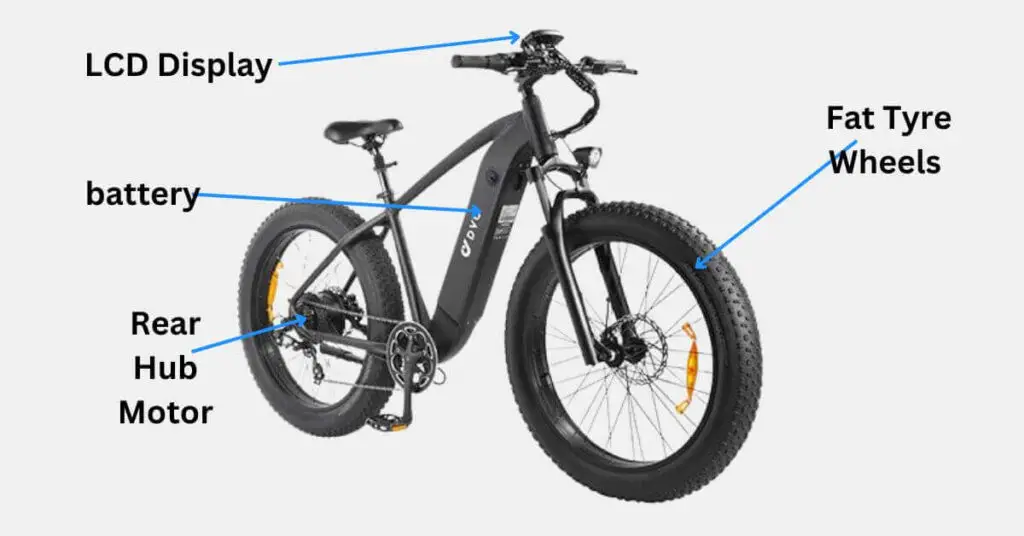 The King 750's robust motor requires an equally robust power source, and DYU doesn't disappoint. Nestled inside the downtube is a 48V 20Ah LG lithium-ion battery pack – one of the largest available in the market.
Going the Distance: Range and Charging
For an e-bike, the range is just as crucial as speed. Here, the DYU King 750 truly shines. Depending on your pedal assist level, this e-bike can cover an astonishing 80 miles on a single charge. Even if you're a throttle-only rider, you can still expect about 50 miles of range, which is nothing short of impressive.
Charging the DYU King 750's battery takes about 4-5 hours. You can conveniently charge it while it's on the bike or remove it for charging elsewhere. With such an extensive range, you may only need to recharge once every fortnight – an absolute boon for busy riders!
Safety First: The Brakes
What good is speed and range without safety? The King 750 is fitted with Zoom hydraulic disc brakes with 180-millimetre rotors. Although Zoom may not be the most premium brand, they provide reliable braking performance, giving you confidence when riding at high speeds or on steep descents.
Tackling Terrain: Suspension
One of the defining features of any good mountain e-bike is its suspension, and again, the DYU King 750 doesn't disappoint. With a Zoom hydraulic front suspension boasting about 80 millimeters of travel, this e-bike ensures a smooth ride over uneven terrain.
But it doesn't stop there – the King 750 also features a spring-based seat tube suspension. While it might not be as sophisticated as the front suspension, it adds another layer of comfort to your ride, ensuring that even the bumpiest of trails won't rattle you too much.
Getting a Grip: The Wheels and Tires
If the King 750's heart is its powerful motor, then its soul undoubtedly lies in its wheels and tires. The fat 26-inch wheels paired with 4-inch thick tires not only provide a comfortable ride but also ensure excellent traction on almost any surface – be it paved city streets or gravelly trails.
With the tires providing much of the shock absorption, the King 750 almost gives the feeling of gliding over the terrain. Plus, the double-walled rims add extra durability, ensuring that these wheels can withstand plenty of punishment.
Comfort in the Saddle: The Ride Experience
When it comes to riding comfort, the DYU King 750 is in a league of its own. The front and seat suspension, coupled with the large, cushy tires, work in unison to absorb most road shocks. Whether you're dodging city potholes or tackling rough mountain trails, you're in for a comfortable ride.
There is a caveat, though – the King 750's size might be a challenge for shorter riders. If you're under 5' 5'', you might struggle to mount and dismount the bike comfortably. It's not a deal-breaker, but something to consider.
A Looker Indeed: Design and Aesthetics
Let's face it – part of the joy of owning an e-bike is turning heads as you ride by, and the DYU King 750 does that with aplomb. Its stylish frame design, with the battery-housing downtube as a centrepiece, sets it apart from the crowd.
Although the King 750 weighs in at a hefty 97 lbs, this contributes to its overall robustness and stability. If you're seeking a light e-bike for portability, this might not be your first choice, but if durability and strength are your priorities, the King 750 ticks all the boxes.
Product Specifications Table
| Specification | Value |
| --- | --- |
| Net Weight | 97 lb (44 kg) |
| Max Loading | 330 lb (150 kg) |
| Max Speed | 28 mph (45 km/h) |
| Average Speed | 22 mph (35 km/h) |
| Power Consumption/100km | 1.1 kWh |
| Pure Electric Mode | Yes |
| Assist Mode | 25 km/h, 35 km/h, 45 km/h |
| Uphill Grade | 15° |
| Waterproof Level | IP54 |
| Frame Material | Aluminum alloy |
| Foldable Size | 1475 x 215 x 770 mm |
| Wheel Hub Size | 26 Inch |
| Battery Capacity | 20Ah |
| Motor Rated Power | 750 W |
| Charging Time | 6-7 hours |
| Motor Type | High-speed motor |
The DYU King 750 product specifications
Conclusion
While it may have a couple of minor shortfalls, the DYU King 750 is a compelling choice for any e-bike enthusiast.
Few bikes in this price range offer the same combination of range, power, and comfort.
The King 750's beefy motor and hefty range set it apart from the crowd.
Add to that the impressive suspension setup and fat tires, and you've got a bike that offers a comfortable, exhilarating ride whether you're commuting in the city or exploring off-road trails.
It's worth noting, though, that the DYU King 750 is not just about performance and comfort.
It's also about style, thanks to its standout frame design that will surely draw admiring looks wherever you go.
Frequently Asked Questions (FAQs)
Is the DYU King 750 suitable for off-road riding?
Yes, the King 750 is designed for both city and off-road riding. Its robust frame, excellent suspension system, and fat tires make it capable of tackling a variety of terrains.
Can shorter riders comfortably ride the King 750?
The King 750 is quite tall, and riders under 5'5" might struggle to mount and dismount comfortably. However, it's best to test ride the bike before purchasing to gauge your comfort level.
How long does the King 750's battery take to charge?
The battery typically takes around 4-5 hours to recharge. With a full charge providing up to 80 miles of range, most users will find they only need to charge the battery once every few days or even weeks, depending on usage.
Does the DYU King 750 have rear lights?
Unfortunately, the King 750 does not come with integrated rear lights. However, you can easily add them as an aftermarket accessory.
Is the King 750 worth the investment?
Absolutely! For its price point, the King 750 offers a powerful motor, exceptional range, excellent comfort, and a unique style. It's a worthy investment for both new and experienced e-bikers.
Final Thoughts
If you're searching for an e-bike that's high-performing, comfortable, and stylish, look no further than the DYU King 750.
Its hefty range, powerful motor, and excellent suspension make for an unrivalled ride experience.
You can comfortably cruise through city streets, climb steep hills, and tackle rough terrains with ease.
Yes, it might be a bit heavy and perhaps not the best fit for shorter riders.
And yes, the lack of integrated rear lights might make you scratch your head.
But let's not lose sight of what matters here.
When you weigh the pros against the cons, the King 750 remains a solid, worthwhile choice.
And with the DYU King 750, you're definitely winning.