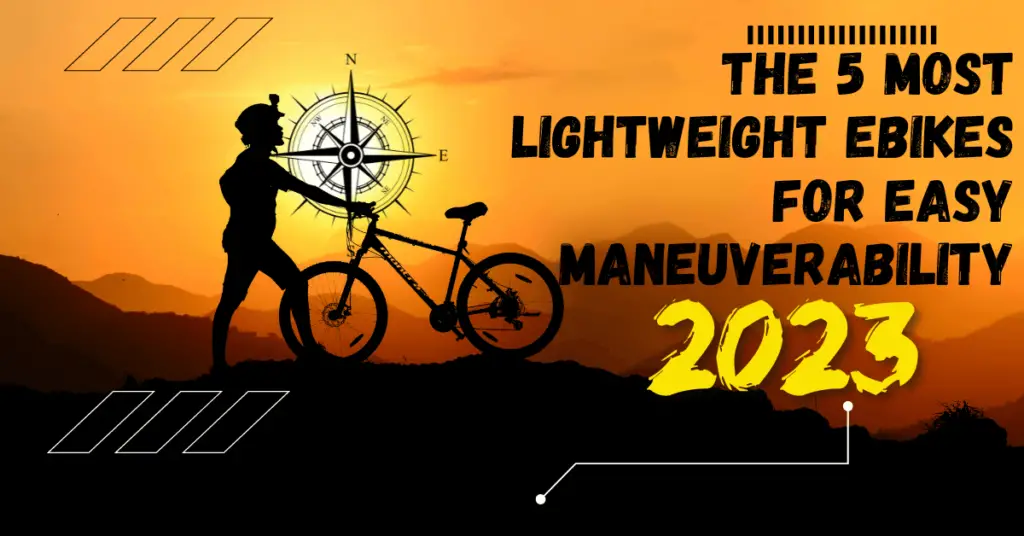 Introduction
Electric bikes have been gaining popularity, and with the increasing demand for more user-friendly options, lightweight eBikes have become a top choice for many riders. In this article, we will explore the 5 most lightweight eBikes for easy maneuverability, making your rides more enjoyable and hassle-free.
Affiliate Disclosure
Affiliate Disclosure: Please note that some of the links in this article are affiliate links, which means I may earn a small commission if you click on them and make a purchase. However, rest assured that my reviews are 100% honest, unbiased, and thorough. Although I am not currently testing the E-Bikes and E-Scooters myself, I take great care in researching and collecting accurate information to ensure that my reviews provide you with reliable insights to make informed decisions. Your trust is important to me, and I am committed to providing professional and transparent recommendations. I am hopeful that in the near future, I will be able to personally test these products to bring even more comprehensive reviews to you.
Importance of Lightweight eBikes
A lightweight eBike provides several advantages over its heavier counterparts. It is easier to carry, making it perfect for commuters who need to navigate stairs or public transport. It also offers better handling and acceleration, allowing for a more enjoyable riding experience. Finally, a lighter bike can often lead to improved battery efficiency and range.
Factors to Consider when Choosing a Lightweight eBike
There are several factors to consider when choosing a lightweight eBike to ensure it meets your needs.
Motor Type
A smaller, lighter motor will contribute to the overall weight reduction of the eBike. Hub motors tend to be lighter than mid-drive motors but may sacrifice some performance on hills.
Frame Material
The frame material plays a significant role in the eBike's weight. Aluminium and carbon fibre are popular choices for lightweight frames, as they offer good strength-to-weight ratios. Aluminium frames are not as expensive as carbon frames, but there are always pros and cons to everything and may not be as stiff or prone to fatigue after extensive use.
Carbon frames are super strong and that makes them highly sought after by high-performance bike riders. As you would expect these frames are not as common as aluminium due to their price. It all comes down to your personal preference and intended use for the bike.
Battery Size and Placement
The size and placement of the battery impact the weight and balance of the eBike. Smaller batteries are lighter but may offer less range. Look for a battery that strikes the right balance between weight and capacity.
Wheels and Tyres
Lighter wheels and tyres can make a noticeable difference in the overall weight and handling of the eBike. Consider options made from lightweight materials and with efficient rolling resistance.
The 5 Most Lightweight eBikes for Easy Maneuverability
Here are our top picks for the most lightweight eBikes on the market, offering easy maneuverability and a great riding experience.
eBike 1: Brompton Electric
The Brompton Electric is a lightweight foldable eBike that weighs just 16.6 kg. Its compact design, combined with a 250 W front hub motor and a removable battery, makes it perfect for urban commuters and easy storage.
eBike 2: Gocycle GX
The Gocycle GX features a unique magnesium frame and weighs only 17.8 kg. With a 500 W hub motor and a foldable design, it offers excellent portability and performance for city riders.
eBike 3: Specialized Turbo Vado SL 4.0
The Specialized Turbo Vado SL 4.0 is an impressive lightweight eBike weighing just 15.1 kg. With a 240 W custom motor and an aluminium frame, it provides a comfortable and efficient ride for urban commuting and leisure.
eBike 4: Orbea Gain D30
The Orbea Gain D30 is a stylish road eBike with a lightweight aluminium frame weighing 14 kg. It features a discreet 250 W rear hub motor and a sleek integrated battery, providing a seamless and enjoyable riding experience.
eBike 5: Ribble Endurance SL e
The Ribble Endurance SL e is a lightweight carbon fibre road eBike, weighing just 11.8 kg. Its 250 W rear hub motor and slimline battery make it a top choice for those looking for performance, style, and easy maneuverability.
Comparison Of The Lightweight eBikes
| Feature | Gocycle GX | VanMoof Electrified S2 | Cowboy 3 | Specialized Turbo Vado SL 4.0 | Brompton Electric |
| --- | --- | --- | --- | --- | --- |
| Weight (kg) | 17.5 | 19.4 | 16.9 | 15.5 | 16.6 |
| Motor (W) | 500 | 500 | 250 | 320 | 250 |
| Battery Capacity (Wh) | 375 | 504 | 360 | 320 | 300 |
| Max. Assisted Speed (km/h) | 25 | 32 | 25 | 25 | 25 |
| Gear System | Shimano Nexus 3-speed | Shimano Deore 10-speed | Single speed | Shimano SLX/Deore 10-speed | Brompton 2-speed |
| Brakes | Hydraulic disc | Hydraulic disc | Hydraulic disc | Hydraulic disc | Hydraulic disc |
| Wheel Size | 20 inches | 28 inches | 29 inches | 28 inches | 16 inches |
| Price Range (£) | £2,699-£4,499 | £2,598-£3,398 | £1,990-£2,290 | £2,400-£2,800 | £2,595 |
comparison of the ebikes features
Benefits of Lightweight eBikes
Lightweight eBikes offer numerous benefits, including:
Easier handling and better acceleration
Improved battery efficiency and range
Enhanced portability, especially for commuters
Simplified storage and transport
Reduced rider fatigue during longer rides
Tips for Maintaining a Lightweight eBike
Proper maintenance is essential to keep your lightweight eBike performing at its best. Follow these tips to ensure a smooth ride:
Regularly check and inflate tyres to the correct pressure
Clean and lubricate the chain to reduce wear and improve efficiency
Inspect the brakes and adjust or replace them as needed
Keep the battery clean and dry, and charge it according to the manufacturer's recommendations
Schedule periodic servicing at an authorised eBike dealer
Conclusion
The 5 most lightweight eBikes for easy maneuverability offer a perfect balance of performance, comfort, and portability. By choosing the right eBike for your needs, you can enjoy a hassle-free and enjoyable riding experience that will keep you coming back for more.
FAQs
Is it difficult to assemble a lightweight eBike?
Most lightweight eBikes come partially assembled, and the remaining assembly is typically straightforward. Always follow the manufacturer's instructions or consult a professional if you're unsure.
How does the weight of an eBike affect its range?
The weight of an eBike can impact its range as a heavier bike may require more energy to move. Lightweight eBikes are generally more energy-efficient, which can lead to increased range.
Are lightweight eBikes suitable for off-road use?
Some lightweight eBikes are designed for off-road use, while others are better suited for urban environments. Always check the manufacturer's specifications and choose a model designed for the type of riding you plan to do.
How can I reduce the weight of my current eBike?
To reduce the weight of your eBike, you can consider replacing heavier components with lighter alternatives, such as upgrading to a lighter battery, using carbon fibre or aluminium parts, or opting for lighter wheels and tyres.
Do lightweight eBikes have a lower weight capacity?
Lightweight eBikes may have a lower weight capacity compared to heavier models, but most are still designed to accommodate a wide range of riders. Always check the manufacturer's recommended weight limits before purchasing or riding an eBike.
Final Thoughts
We hope you found this article on the 5 most lightweight eBikes for easy manoeuvrability helpful in your search for the perfect eBike. Remember to consider factors like motor type, frame material, battery size, and placement, as well as wheels and tyres, when making your decision. With the right eBike, you'll enjoy a smooth, efficient, and enjoyable ride for years to come. Thank you for reading, and happy riding!