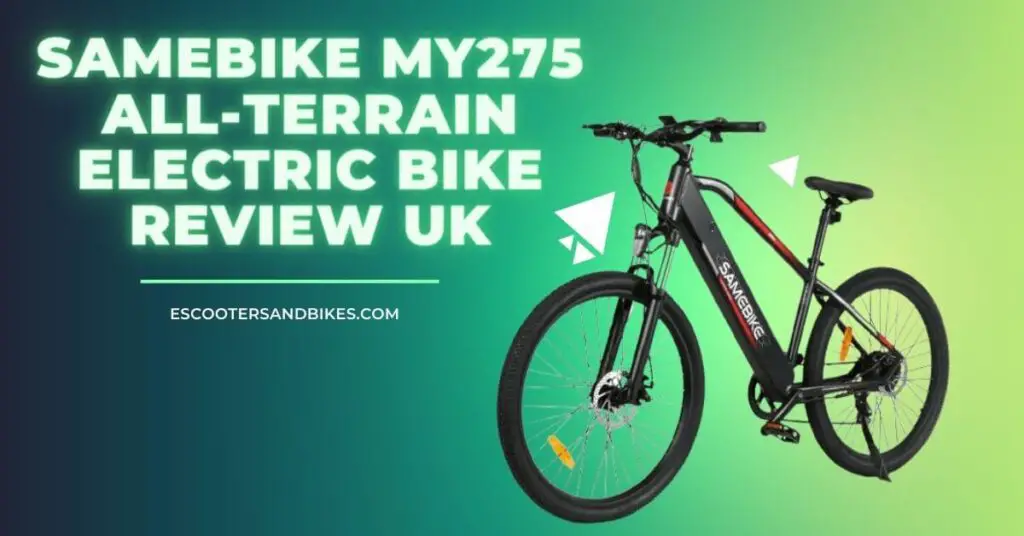 All recommendations within this article are informed by expert editorial opinion. If you click on a link in this story we may earn affiliate revenue.    
Introduction
Welcome to our Samebike MY275 E-Bike Review UK, where we'll delve deep into the features and performance of this versatile e-bike that's capturing the hearts of UK riders!
So, get comfy, grab your favourite beverage, and join us as we explore this remarkable all-terrain e-bike that's as British as a classic cup of tea (well, maybe not😁)!
Have you ever dreamt of conquering both city streets and off-road trails with ease, leaving traffic jams and crowded pavements behind while feeling the rush of excitement?
Or perhaps you envision yourself gliding through the scenic countryside on a sunny weekend, conquering any terrain that comes your way?
If that's the case, the Samebike MY275 E-Bike UK might just be your perfect companion!
This e-bike promises to deliver the ultimate fusion of convenience, style, and performance – all packed into a rugged package designed to handle everything the UK landscape has to offer.
Too good to be true?
Stick around as we put the Samebike MY275 e-bike review to the test, uncovering its secrets and determining if it's worth your hard-earned pounds.
So, without further ado, let's get this all-terrain e-bike adventure started!
Key Features
Performance
Motor And Speed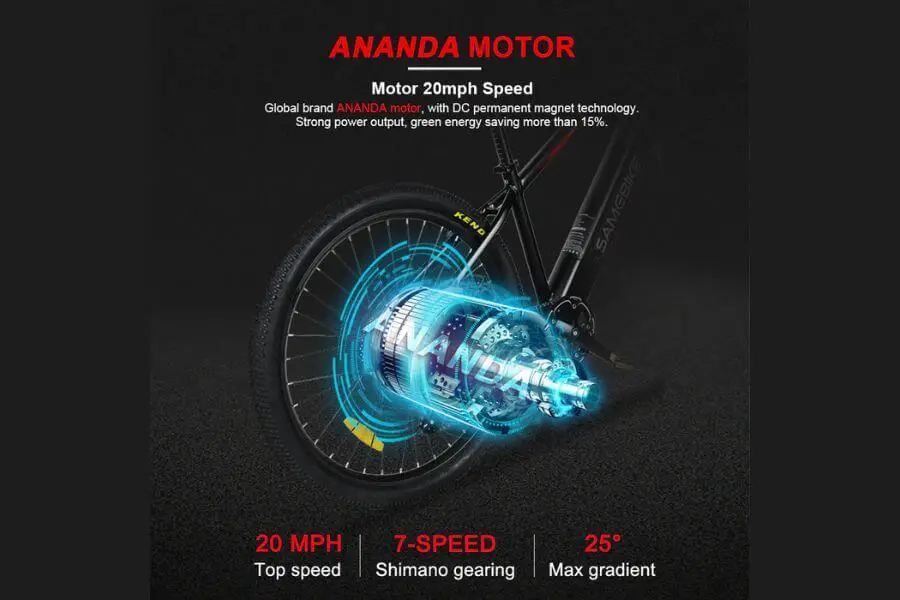 The Samebike MY275 is equipped with a powerful 350W brushless motor, providing you with a top speed of 25 km/h (15.5 mph) in electric mode.
The bike also offers three cycling modes: electric, pedal-assist, and regular biking, giving you flexibility for different riding scenarios.
Range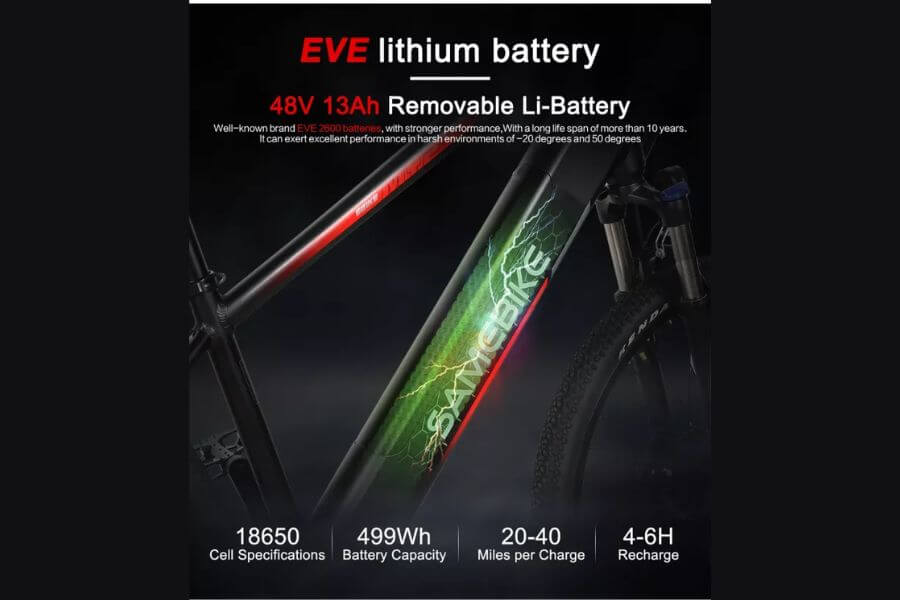 A vital factor in electric bikes is their range.
The MY275 boasts a 48V 13Ah lithium battery, allowing you to travel up to 80 km (50 miles) on pedal-assist mode or 40 km (25 miles) on full electric mode.
The battery is also removable, making it convenient to charge at home or the office.
Comfort and Safety
Suspension
The MY275's front suspension fork ensures a smooth ride on rough terrain, absorbing shocks and providing stability for comfortable off-road adventures.
This all-terrain e-bike is designed to handle various landscapes, making it perfect for UK's diverse countryside.
Brakes
Safety is crucial when riding an electric bike, and the Samebike MY275 doesn't disappoint.
It features front and rear disc brakes, providing excellent stopping power even in wet conditions.
The braking system ensures your safety while enjoying the bike's impressive performance.
Tyres
The all-terrain e-bike comes with 26-inch tyres, offering excellent grip on various surfaces, from muddy trails to slippery roads.
The tyres are designed to handle different conditions in the UK, making the MY275 a reliable companion for both off-road and urban cycling.
Design and Build
Frame
One of the standout features of the Samebike MY275 is its foldable aluminium alloy frame.
The foldable design makes it convenient for storage and transport, perfect for those with limited space or for taking the e-bike on public transport during commutes.
Display
The MY275 is equipped with an LCD, showing essential information such as speed, distance, battery life, and cycling mode.
The display is easy to read and user-friendly, ensuring you stay informed about your e-bike's performance during your rides.
Battery
As mentioned earlier, the MY275 has a removable 48V 10Ah lithium battery, which requires 4-6 hours to charge fully.
The battery's waterproof rating ensures protection from the elements, making the electric bike suitable for unpredictable UK weather.
Side-by-Side Comparison of Samebike MY275 Electric Bikes
| | | | | | | | | |
| --- | --- | --- | --- | --- | --- | --- | --- | --- |
| E-Bike Model | Motor Power | Battery Capacity | Frame Material | Wheel Size | Max Range | Max Speed | Weight | Affiliate Link |
| Samebike MY275 All-Terrain | 500W | 48V, 10.4Ah | Aluminum Alloy | 27.5″ | 80km | 35km/h | 27kg | Visit Website |
| Super73 ZX | 750W | 48V, 20Ah | Steel | 20″ | 80km | 45km/h | 34kg | Visit Website |
| Mate X Foldable 250W | 250W | 36V, 14Ah | Aluminum Alloy | 20″ | 100km | 25km/h | 32kg | Visit Website |
| Knaap AMS Electric Bike | 250W | 36V, 14Ah | Aluminum Alloy | 20″ | 70km | 25km/h | 27kg | Visit Website |
| Eleglide T1 Step-Thru Electric Trekking Bike | 250W | 36V, 10.4Ah | Aluminum Alloy | 26″ | 80km | 25km/h | 25kg | Visit Website |
A side-by-side comparison of Samebike my275 electric bike
Super73 S2 has a retro-inspired design and boasts a 500W motor, 20-inch fat tyres, and a top speed of 45 km/h.
It has a maximum range of up to 120 km, depending on the riding conditions.
The S2 comes with a 5-speed electronic gearbox and Tektro hydraulic disc brakes, ensuring a smooth and safe ride.
Its aluminium frame allows for a maximum load capacity of 150 kg.
Mate X 750W is a foldable fat tyre eBike with a powerful 750W motor and 20-inch tyres.
It offers a top speed of 45 km/h and a maximum range of up to 100 km.
The Mate X features an 8-speed Shimano transmission, Tektro hydraulic disc brakes, and a suspension fork for a comfortable ride.
Its aluminium frame can support a maximum load of 150 kg.
Knaap AMS Electric Bike: The Knaap AMS Electric Bike is a stunning blend of form and function, a true showstopper in the realm of e-bikes.
This two-seater electric bike, with its robust design and impressive battery capacity, is not only a head-turner but a workhorse as well.
It's perfect for those looking to combine the practicality of a bike with the comfort and power of an electric model.
Its ample storage space ensures you won't have to compromise on your essentials while you zip around town or explore scenic routes.
With its impressive power, the Knaap AMS provides an experience unlike any other, revolutionising your perception of what an e-bike can do.
Eleglide T1 Step-Thru Electric Trekking Bike: The Eleglide T1 Step-Thru Electric Trekking Bike is a testament to seamless functionality and sophisticated design.
It offers an effortlessly smooth ride, making it perfect for both urban commutes and outdoor adventures.
The step-thru frame design adds an element of convenience, allowing for easy mount and dismount. Its robust construction coupled with its powerful motor offers you the perfect blend of speed and stability.
Whether you're navigating city streets or going off the beaten path, the Eleglide T1 provides a comfortable, thrilling ride that caters to all your cycling needs.
With this e-bike, every journey becomes an adventure.
Pros and Cons
Pros
Powerful 350W motor for excellent performance
The impressive range for long rides and commutes
Comfortable and safe with suspension and disc brakes
Versatile all-terrain tyres for various surfaces
Foldable frame for easy storage and transport
LCD to monitor e-bike performance
Cons
Slightly heavy for some users
The top speed might be limiting for experienced riders
Product Specifications of Samebike MY275
| | |
| --- | --- |
| Specification | Details |
| Model | MY275 |
| Top Speed | 25km/h (15.5 mph) |
| Maximum Load | 150 kg (330 lb) |
| Max Grade | 25° |
| Waterproof Rating | IPX6 |
| Voltage | 48V |
| Motor Power | 48V 500W+ |
| Motor Type | Ananda M131SD high-speed brushless high-power motor |
| Throttle | Half-twist throttle |
| Charging Time | 4-6 hours |
| Travel Distance (Range) | Throttle mode: 25-35 km; Pedals-assisted mode: 40-80 km per charge |
| Tyres | 27.5 x 2.1 inches Kenda |
| Battery Capacity | 48V 13Ah 499Wh lithium-ion battery |
| Control System | Vector intelligent control system |
| Display | TFT LCD colour display with USB charger |
| Light Group | High-brightness LED front light, rear LED brake tail light, wheel reflectors |
| Frame | 6061 aluminium alloy |
| Front Fork | Hydraulic suspension fork with lock |
| Transmission | Shimano 7-speed RS35 |
| Brake Type | Dual mechanical disc brakes |
| Rim | Aluminium alloy with spokes |
| Mudplate | PVC |
| Weight | 30 kg (65 lbs) |
| Package Size | 1452380 cm |
Product specifications for the samebike my275 e-bike
Buyer's Guide
Factors to Consider
When looking for an all-terrain electric bike in the UK, you should consider factors such as performance, range, comfort, safety, design, and build quality.
The Samebike MY275 ticks all these boxes, making it an excellent choice for riders looking for a reliable e-bike.
Price and Warranty
The MY275 offers great value for its price, which ranges from £800 to £1,000.
The electric bike also comes with a one-year warranty, covering the motor, battery, and controller, giving you peace of mind when making your purchase.
Maintenance Guide
Regular Checks
To keep your Samebike MY275 in top condition, perform regular checks on the tyres, brakes, suspension, and battery.
Ensure the tyre pressure is optimal, the brakes function correctly, and the suspension system is well-lubricated.
Cleaning and Lubrication
Clean your electric bike regularly to prevent dirt and debris from affecting its performance.
Use a gentle cleaner and lubricate the chain, derailleur, and other moving parts to maintain smooth operation.
Battery Care
Proper battery care is essential for prolonging your e-bike's life.
Charge the battery regularly, avoid extreme temperatures, and store it in a cool, dry place when not in use.
Conclusion
The Samebike MY275 all-terrain electric bike offers excellent performance, comfort, safety, and durability, making it a fantastic choice for riders in the UK.
With its powerful motor, impressive range, and versatile design, this e-bike is perfect for both off-road adventures and daily commutes.
The foldable frame and user-friendly LCD display add to its appeal, providing convenience and ease of use.
Frequently Asked Questions
What is the top speed of the Samebike MY275 electric bike?

The Samebike MY275 has a top speed of 25 km/h (15.5 mph) on electric mode, which is standard for electric bikes in the UK.




How long does it take to charge the MY275's battery?

The 48V 10Ah lithium battery of the MY275 takes 4-6 hours to charge fully.




Can I ride the Samebike MY275 in wet conditions?

Yes, the MY275 is designed to handle wet conditions, thanks to its waterproof battery and excellent braking system. However, it is recommended to ride cautiously in slippery conditions and avoid deep water.




Is the Samebike MY275 suitable for tall riders?

The MY275 has an adjustable seat, making it suitable for a wide range of rider heights. However, it is recommended to test the bike for comfort before purchasing.




How often should I perform maintenance on my Samebike MY275?

Regular maintenance is essential for keeping your e-bike in top condition. Perform checks on tyres, brakes, suspension, and battery monthly, and clean and lubricate the chain and moving parts every few months or as needed, depending on usage.



My Final Thoughts
Thank you for taking the time to read my Samebike MY275 E-Bike Review UK.
After examining the features and performance of the Samebike MY275, it's clear that this e-bike is an excellent choice for commuters, off-road enthusiasts, or those who simply love exploring the great outdoors.
Its robust design, impressive range, and versatility make it a standout option in the world of all-terrain electric bikes.
As always, here's a little joke at the end of all my articles to keep things light-hearted:
Why can't an e-bike play football?
Because it can't kick off, it only charges!
I'm sorry about the jokes lol, Please forgive me 😅
I hope my Samebike MY275 e-bike review UK has provided valuable insights into this exceptional e-bike and its many features.
I genuinely appreciate you, my fantastic readers, for taking the time to read my articles.
Your support means the world to me, and I look forward to continuing our journey together as we explore the exciting world of electric bikes.
Please feel free to leave a comment and keep the conversation going. I reply to all genuine comments!
Stay tuned for more reviews, and happy riding!