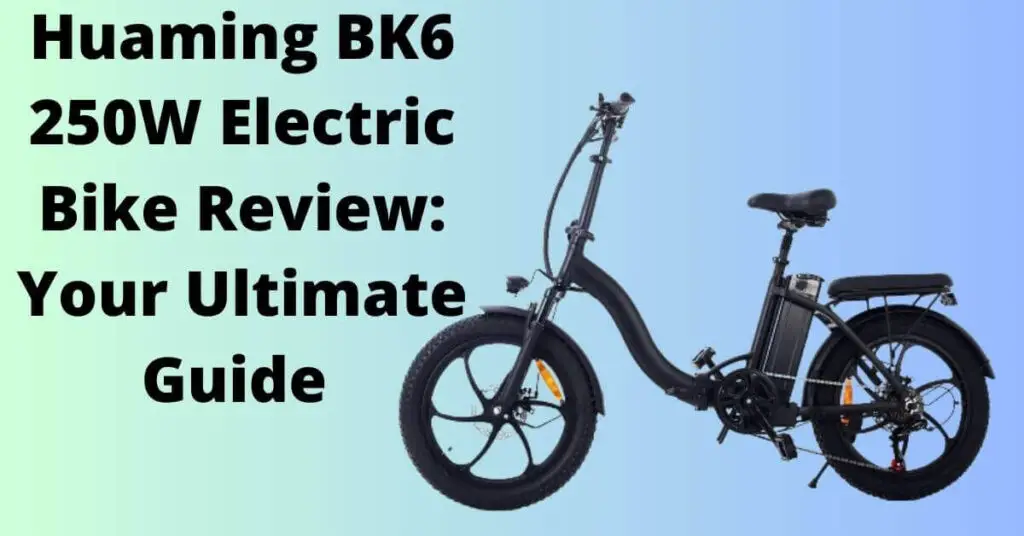 All recommendations within this article are informed by expert editorial opinion. If you click on a link in this story we may earn affiliate revenue.
Introduction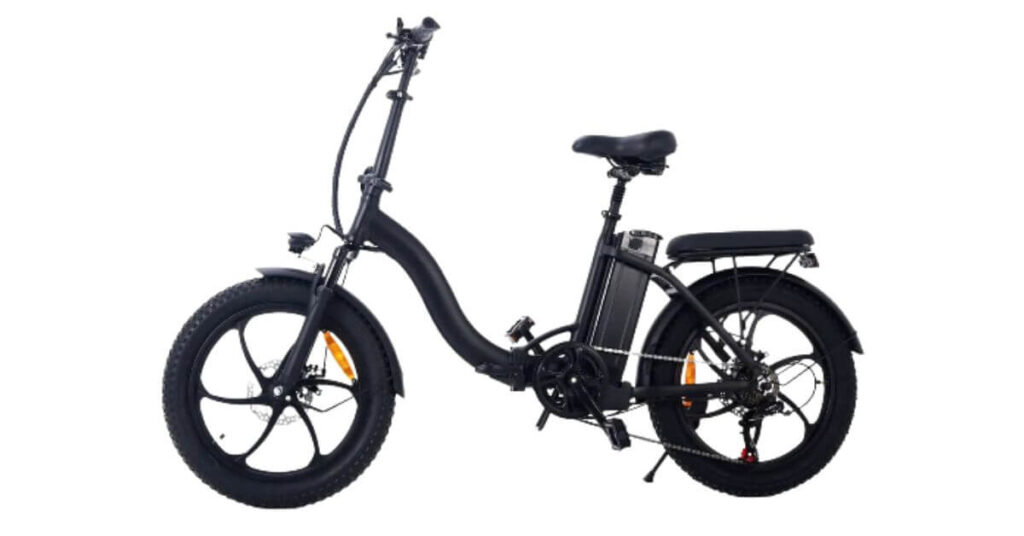 Welcome, dear readers, to a world where the hum of an electric motor replaces the roar of a petrol engine and where the journey becomes just as enjoyable as the destination.
Welcome to the world of electric bikes, a realm rapidly transforming how we think about transportation across the UK.
In this ever-evolving landscape, one model has emerged as a beacon of innovation and efficiency – the Huaming BK6 250W Electric Bike.
This e-bike, with its unique blend of style, power, and convenience, has been turning heads and winning hearts in the e-bike community.
Whether you're an e-bike fan or a curious newcomer, this comprehensive review is designed to give you an in-depth look at what makes the Huaming BK6 250W a game-changer in the world of e-bikes
So, buckle up and get ready for an exciting ride into the future of transportation!
Detailed Review of Huaming BK6 250W
Riding Experience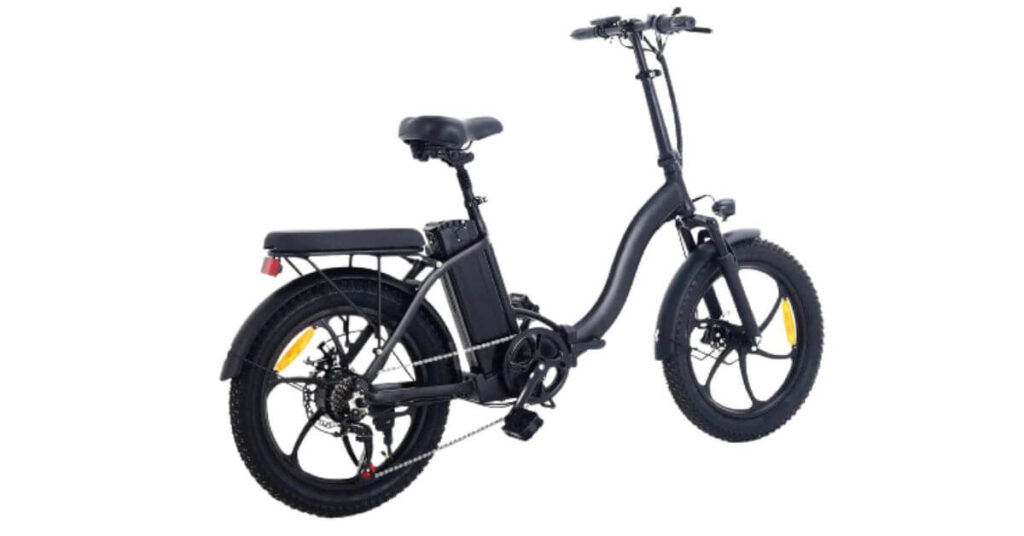 Taking the BK6 for a spin is an experience in itself.
The seamless integration of the motor and the pedal-assist system ensures a smooth, consistent ride that is as close to a traditional cycling experience as it can get.
With its power and efficiency, conquering steep inclines and long-distance rides becomes effortless.
Battery Performance
The BK6 doesn't disappoint when it comes to battery performance.
The 36V 10AH lithium-ion battery consistently delivers a range of up to 60 miles on a full charge under ideal conditions.
This range makes it an excellent choice for both daily commuting and long weekend rides.
Moreover, the removable feature of the battery allows for easy charging, both on and off the bike.
Design and Comfort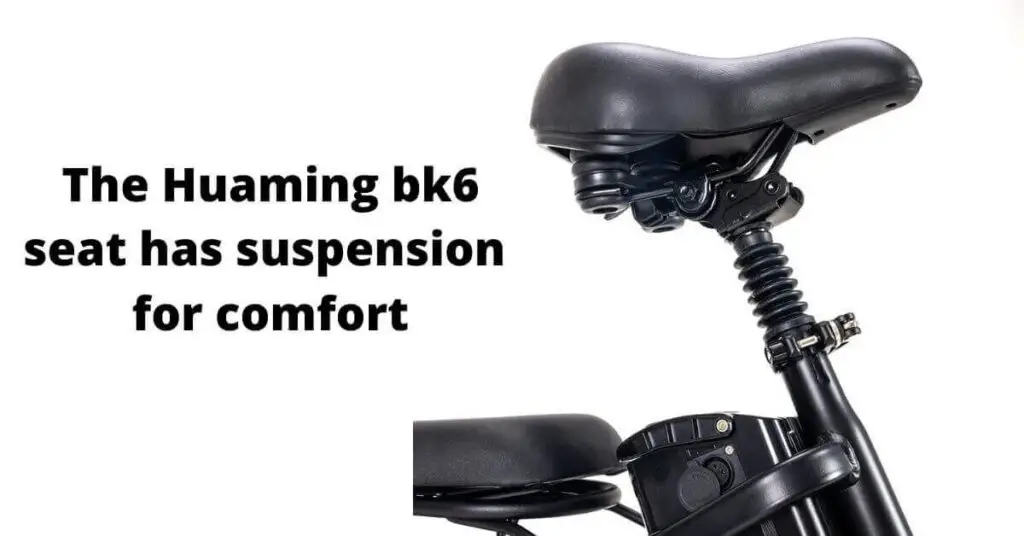 The attention to detail on the BK6 is commendable. The aluminium frame provides the perfect balance between lightness and strength.
The adjustable saddle and handlebars allow for a personalised riding experience, and the addition of a comfortable grip reduces fatigue on long rides.
Safety Features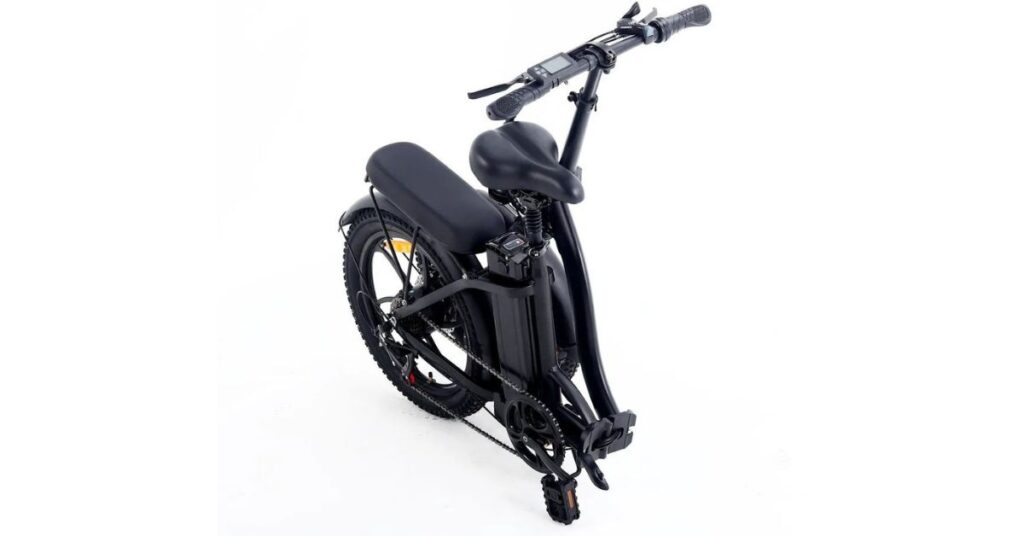 No review would be complete without considering the safety features of a bike.
The BK6 is designed with rider safety in mind.
The disc brakes provide reliable stopping power in all weather conditions, and the puncture-resistant tyres reduce the risk of flats.
The bike also comes equipped with a bright LED headlight for visibility during night rides.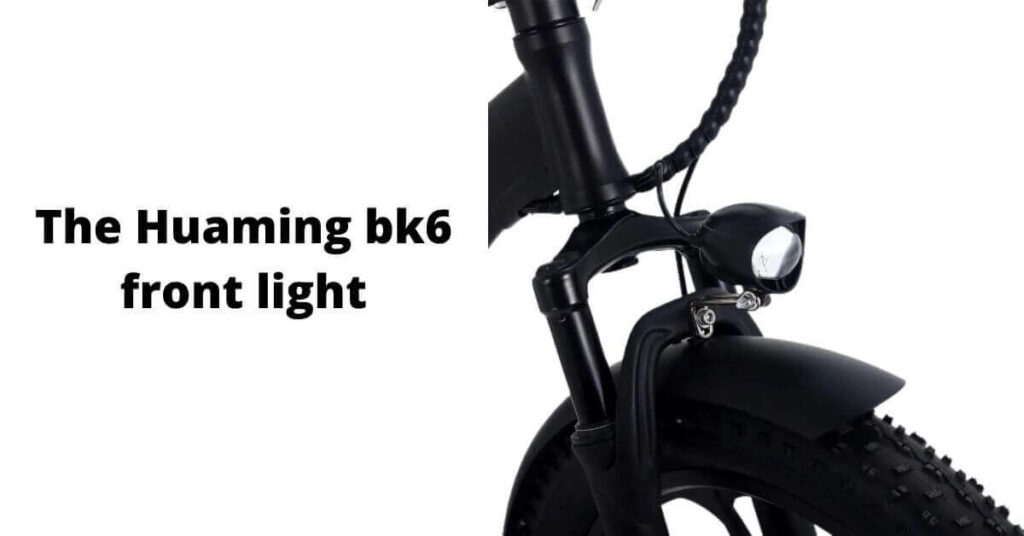 Comparison with Competitors
ONEBOT S6:
The ONEBOT S6, priced at £969.00, offers a similar motor power to the Huaming BK6 with a 250W motor. It boasts a maximum speed of 25km/h, which is ideal for commuting and recreational use.
The 36V 5.2Ah Lithium-ion battery provides a range of 25-35km in pure electric mode and 35-50km in assisted mode.
This range is comparable to the Huaming BK6's range of up to 60 miles. The ONEBOT S6 also features a rear suspension, dual disc brakes, and front lights, enhancing its safety and performance.
Its easy magnetic folding system makes it a convenient choice for urban riders.
ENGWE C20 Pro: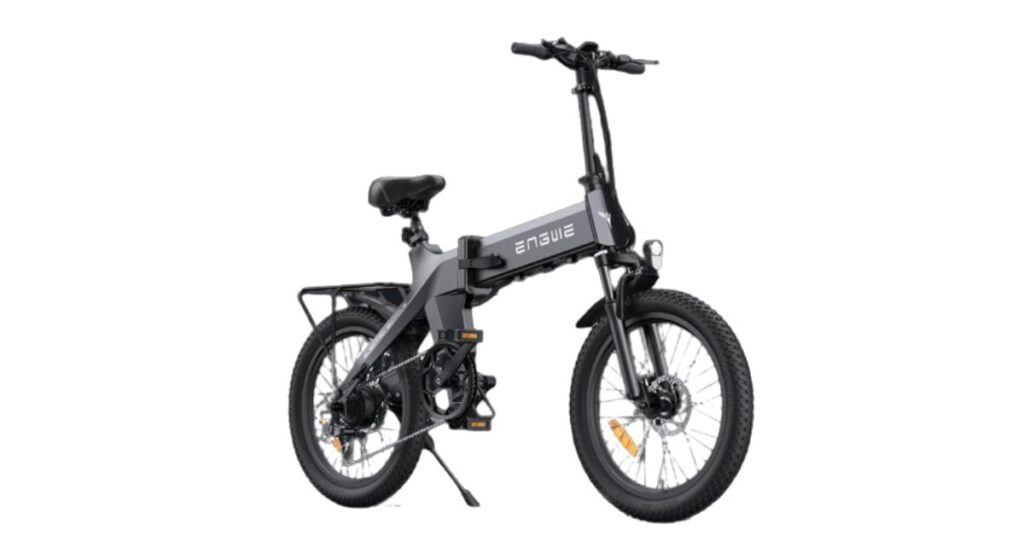 The ENGWE C20 Pro, priced slightly higher at £980.00, also features a 250W motor, matching the Huaming BK6 in terms of power.
It offers a maximum speed of 25km/h and a larger battery capacity with a 36V 15.6Ah Lithium-ion battery.
This results in a longer range of up to 80km, surpassing the Huaming BK6's 60-mile range.
The ENGWE C20 Pro stands out with its Moped Mode, allowing it to ascend steep slopes and inclines.
It also features a height-adjustable seat and handlebar for enhanced comfort, and 20×3.0-inch air-filled tires for smooth rides even on uneven roads.
SAMEBIKE 20LVXD30-II: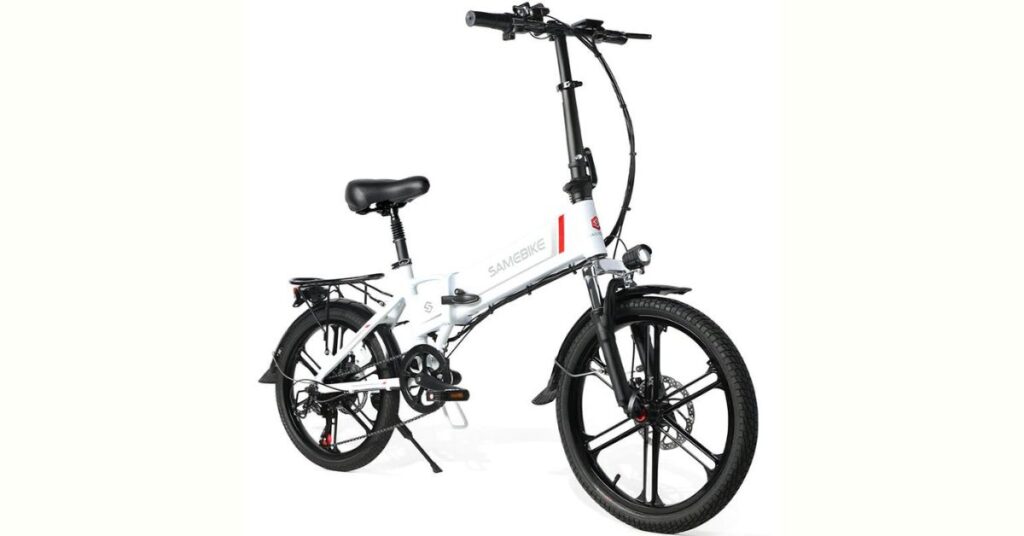 The SAMEBIKE 20LVXD30-II, priced at £949.00, stands out with its powerful 350W motor, offering more power than the Huaming BK6's 250W motor.
It matches the top speed of 25km/h offered by the other e-bikes.
The 48V 10.4Ah Li-ion battery provides a range of 40km in pure electric mode and 70km in moped mode, which is comparable to the Huaming BK6's range.
The 20-inch inflatable rubber tyres offer versatility for various terrains.
The folding design and adjustable saddle and handlebar heights add to its convenience and comfort.
It also features a built-in phone holder, which is a unique feature not found in the Huaming BK6.
ST3IKE ADO A16 XE: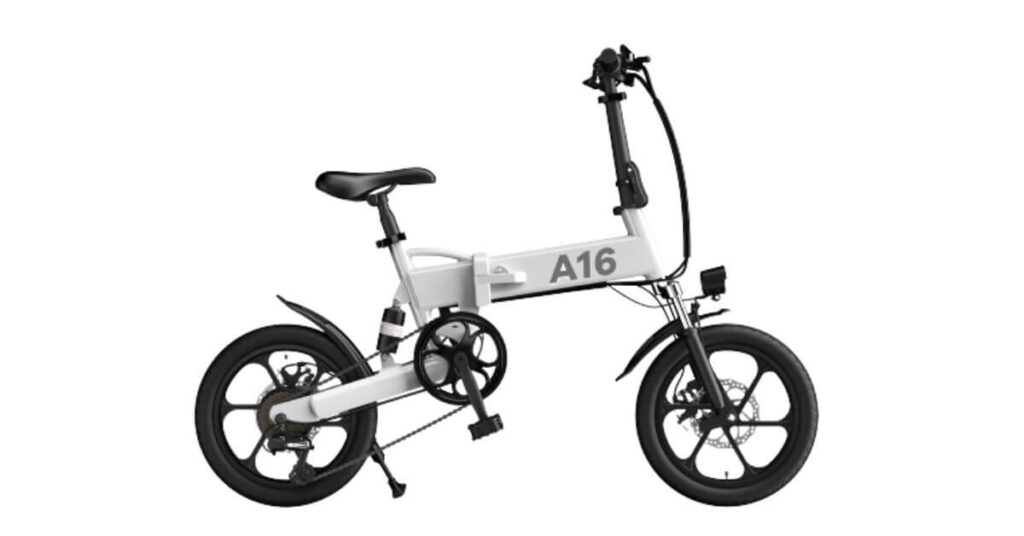 The ST3IKE ADO A16 XE, currently on sale for £899.00, is a lightweight and ultra-compact e-bike, weighing just 21kg.
While the motor power is not specified, it features a 6061 aluminium alloy frame for lightweight and rigidity.
The fold-and-go system makes it highly portable, ideal for those who want to bring their e-bikes on public transport or in the car boot.
The onboard computer with an LCD screen provides all the ride information, and an integrated USB port allows for charging electronic devices on the go.
These features make it a technologically advanced option compared to the Huaming BK6.
ADO A20+: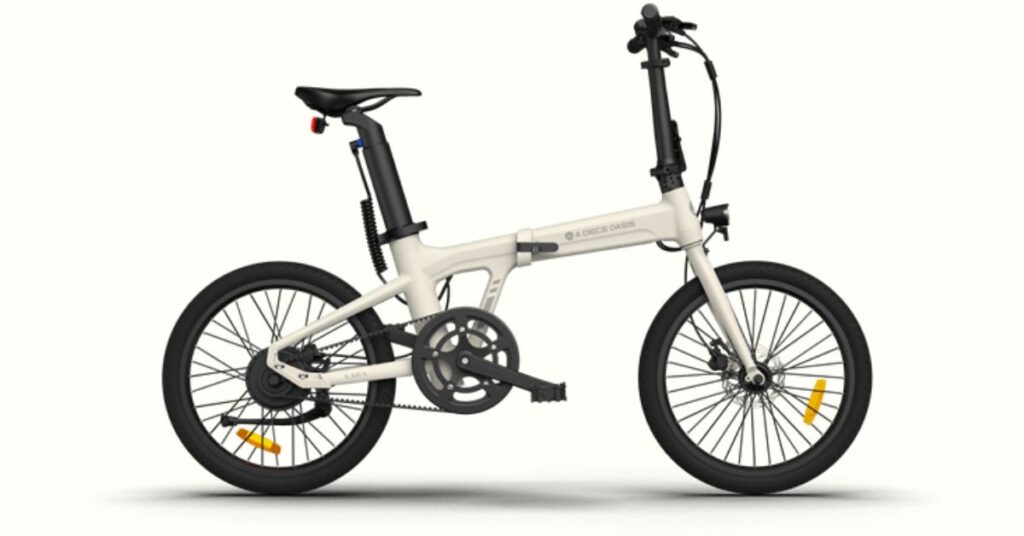 The ADO A20+, currently on sale for £949.00, is equipped with a 250W motor and a 36V 10.4Ah battery, similar to the Huaming BK6.
It offers a range of up to 80km, which is achieved through improved energy recovery.
The bike is also suitable for off-road use, thanks to the suspension on both the front wheel and the saddle.
The frame is made of an aluminium alloy, and the bike weighs 24kg.
The G-Drive smart control system minimizes energy loss while driving, and the 250W motor allows it to speed up to 25km/h with ease.
The Shimano 7-speed transmission and IPX5 waterproof rating add to its versatility and durability.
The foldability and lightweight design make it very portable, similar to the Huaming BK6.
Pros and Cons of Huaming BK6 250W
Like any product, the BK6 has its advantages and disadvantages. Here's a look at some of them:
Pros:
Strong 250W motor
Long-range removable battery
A durable and lightweight frame
Comfortable riding experience
Good value for money
Cons:
Maximum speed limited to 15.5mph
Longer charging time compared to some competitors
Lack of colour options
Maintenance Guide
Caring for your Huaming BK6 250W Electric Bike can prolong its life and maintain its performance. Here are some basic maintenance tips:
Battery Care
Always use the charger that came with your bike to avoid damaging the battery.
Try to avoid completely draining the battery before charging it.
Store the battery in a cool, dry place to preserve its lifespan.
General Maintenance
Regularly check the tyre pressure and inflate them to the recommended level.
Keep the bike clean, especially the chain and gears, to prevent rust and wear.
Regularly inspect your brakes for signs of wear and replace them if necessary.
Buyer's Guide
What to Look for in an Electric Bike?
Battery: Check the battery life and how easy it is to charge.
Motor: Consider the power of the motor and how it affects the bike's speed.
Comfort: Look for adjustable components for a personalised riding experience.
Safety features: Good quality brakes and lights are essential for safe riding.
Conclusion
The Huaming BK6 250W Electric Bike strikes a commendable balance between price and performance.
With its robust motor, long-range battery, and comfortable design, it caters well to the daily commuter or the weekend adventurer.
While it may have its drawbacks, like limited speed and longer charging time, the positives significantly outweigh the negatives.
If you're in the market for an affordable, reliable, and enjoyable e-bike experience, the BK6 is well worth your consideration.
Frequently Asked Questions (FAQs)
What is the battery life of the Huaming BK6 250W Electric Bike?
The battery of the Huaming BK6 250W Electric Bike, under optimal conditions, can power your ride for up to 60 miles on a single charge. However, factors such as the rider's weight, the terrain, and the level of pedal assist used can influence this range.
Can the Huaming BK6 250W Electric Bike be used for off-road journeys?
The Huaming BK6 250W Electric Bike is capable of handling light off-road use, but its primary design is geared towards urban and suburban environments. For specific off-road usage, it's recommended to consult with the manufacturer.
What is the maximum weight that the Huaming BK6 250W Electric Bike can support?
The Huaming BK6 250W Electric Bike is designed to support a maximum rider weight of approximately 120kg.
Is it possible to use the Huaming BK6 250W Electric Bike manually without the motor assist?
Yes, the Huaming BK6 250W Electric Bike can function as a regular bike without the motor assist, offering versatility for a variety of trips.
Where can I purchase the Huaming BK6 250W Electric Bike in the UK?
You can purchase the Huaming BK6 250W Electric Bike from a number of online retailers and selected physical bike stores in the UK. Ensure to buy from a trusted seller to guarantee the authenticity of the product.
Final Thoughts
As we reach the end of our journey exploring the Huaming BK6 250W Electric Bike, it's clear that this model is more than just an e-bike – it's a statement of style, a testament to technological advancement, and a symbol of sustainable transportation.
Offering a harmonious blend of functionality, aesthetics, and value for money, it's a compelling choice for both seasoned e-bikers and those just dipping their toes into the e-bike waters.
As always a little joke from my extensive collection.
A pair of cows were talking in the field. One says, "Have you heard about the mad cow disease that's going around?"
"Yeah," the other cow says. "Makes me glad I'm a penguin." 😅😅😅
Thank you, dear readers, for accompanying us on this electrifying journey.
Your time and attention are greatly appreciated.
We hope this review has shed light on the Huaming BK6 250W Electric Bike and helped you make an informed decision.
Until next time, happy cycling, and remember – the future is electric!