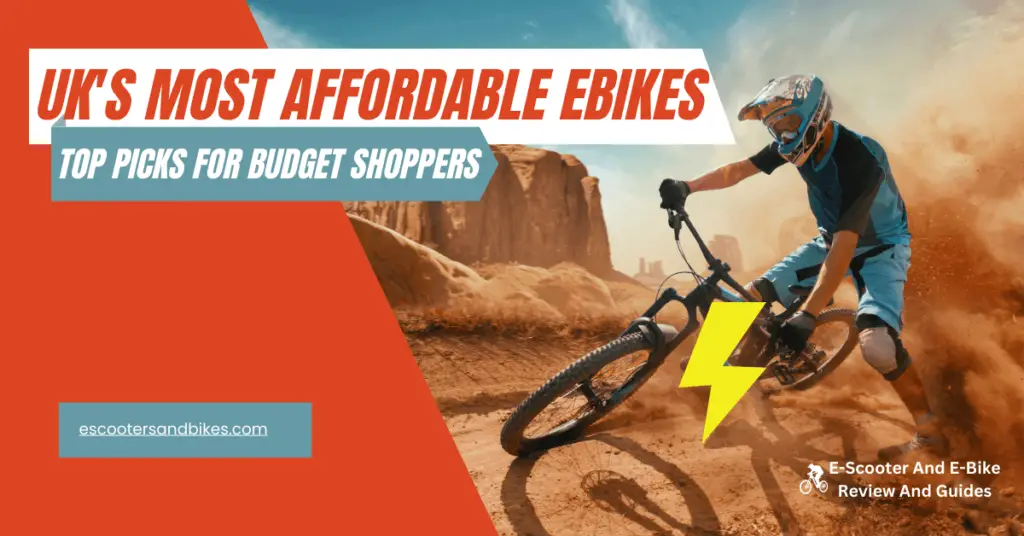 All recommendations within this article are informed by expert editorial opinion. If you click on a link in this story we may earn affiliate revenue.  
Introduction
Navigating the ever-growing E-Bike market can be a daunting task, especially when looking for an affordable option that doesn't compromise on quality.
In this comprehensive guide, we will showcase the UK's most affordable E-Bikes available in the UK.
We will discuss the essential features to look for and answer common questions related to affordable E-Bikes.
We aim to provide you with all the information you need to make an informed decision.
Essential Features to Consider When Buying an Affordable eBike
When searching for a budget-friendly eBike, keep the following features in mind to ensure you get the best value for your money:
Motor Power: Motor power is a crucial factor in determining an eBike's performance. Look for a motor with at least 250W to provide enough power for daily commutes and leisurely rides.
Battery Capacity: The battery capacity directly affects the E-Bike's range. Opt for a battery with a minimum of 36V 10Ah to cover adequate distances on a single charge.
Top Speed: Most eBikes in the UK are limited to a top speed of 15.5 mph due to legal restrictions. However, some off-road eBikes may offer higher speeds.
Maximum Range: Assess the eBike's maximum range to ensure it can cover the distances you plan to travel. A range of at least 30 miles is ideal for daily commuting.
Weight and Portability: If you require an eBike for multi-modal commuting or easy storage, consider its weight and folding capabilities.
Additional Features: Look for useful features such as front and rear lights, suspension, and racks or fenders that may enhance your riding experience.
UK's Top Affordable eBikes: In-Depth Reviews
ADO A20 AIR Ultra-Light Folding eBike (New 2023)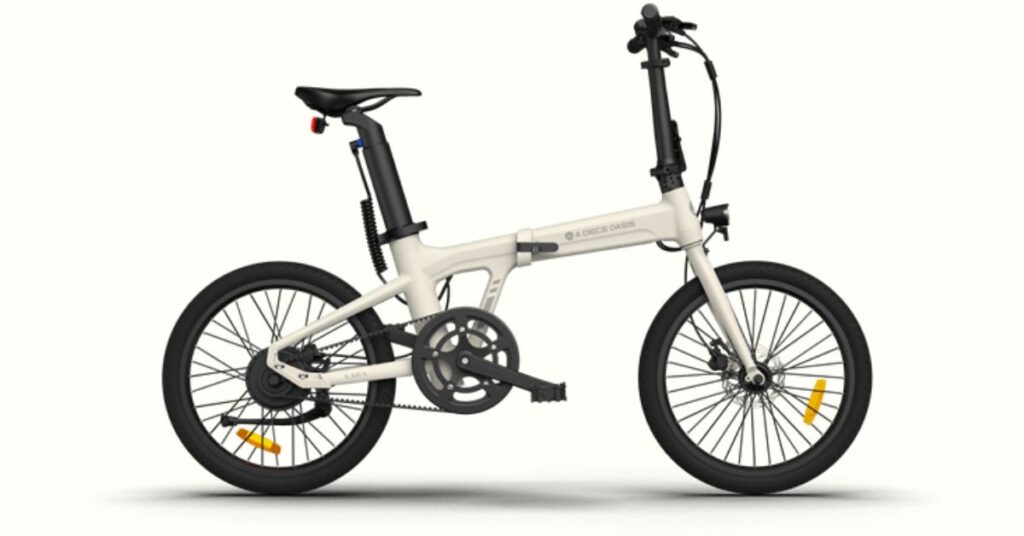 Meet the ADO A20 Air ultra-light, an embodiment of urban mobility.
This 20-inch foldable e-bike is a blend of efficient torque sensing, a carbon belt drive, and a feather-light aluminium frame.
Designed for city commuters, it promises up to 100km of smooth rides.
Access real-time data either through its vibrant LCD screen or the ADO Ebike app.
If you're looking for an e-bike that offers unmatched performance without compromising on style, the A20 Air is the one.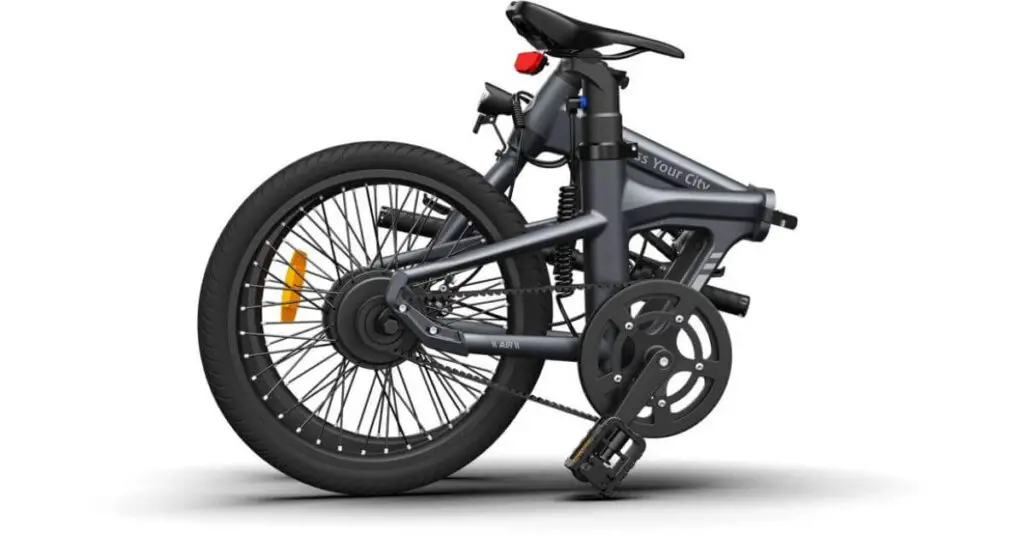 Price: £1,299.00
Key Features:

250W 36V 42Nm Torque Motor
Samsung 18650 Lithium 36V Battery
Three-segment Folding Design

Pros:

Ultra-lightweight, making it easy to carry and store.
Extended battery range suitable for long commutes.
Carbon drive belt ensures smooth riding.

Cons:

Premium pricing might be a barrier for some.
BK5 Plus 250W 36V Folding Electric Bike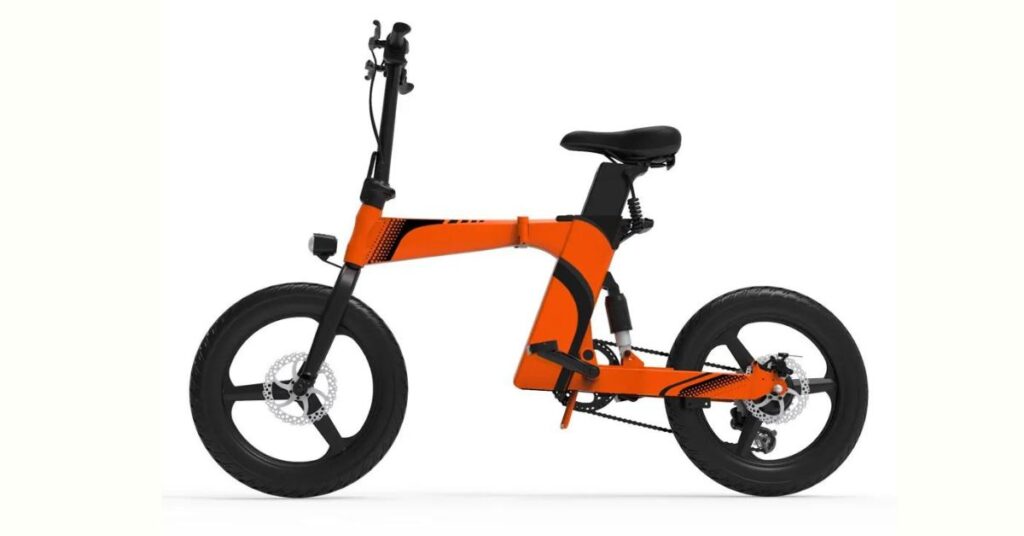 The BK5 Plus foldable electric bike stands as a testament to modern e-bike engineering.
With its 250W motor and 20-inch tyres, it promises agility and power in one compact package.
Its magnesium alloy frame ensures durability, while the Shimano 7-speed gear system enhances ride efficiency.
Whether you're navigating city streets or exploring trails, the BK5 Plus ensures a ride that's smooth and unforgettable.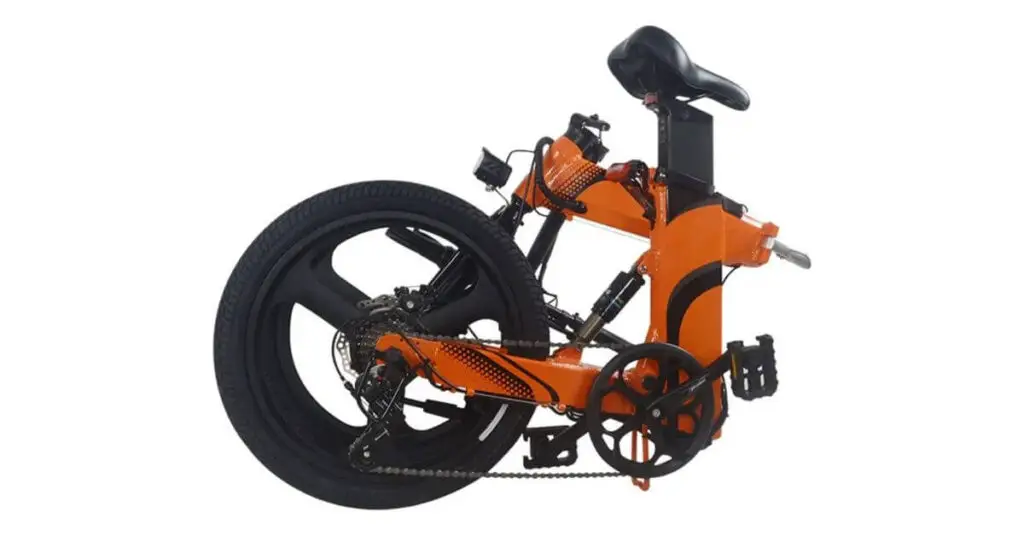 Price: £880.00
Key Features:

250W Motor
18650 Lithium 36V/8Ah Battery
Shimano 7-Speed Gear System

Pros:

Sturdy magnesium alloy frame.
Long battery life with mixed mode usage.
The compact design makes it easy to transport.

Cons:

Might be heavy for some users due to the magnesium frame.
ELEGLIDE T1 Step Through Electric Trekking Bike Unisex | UK Stock 2023 Model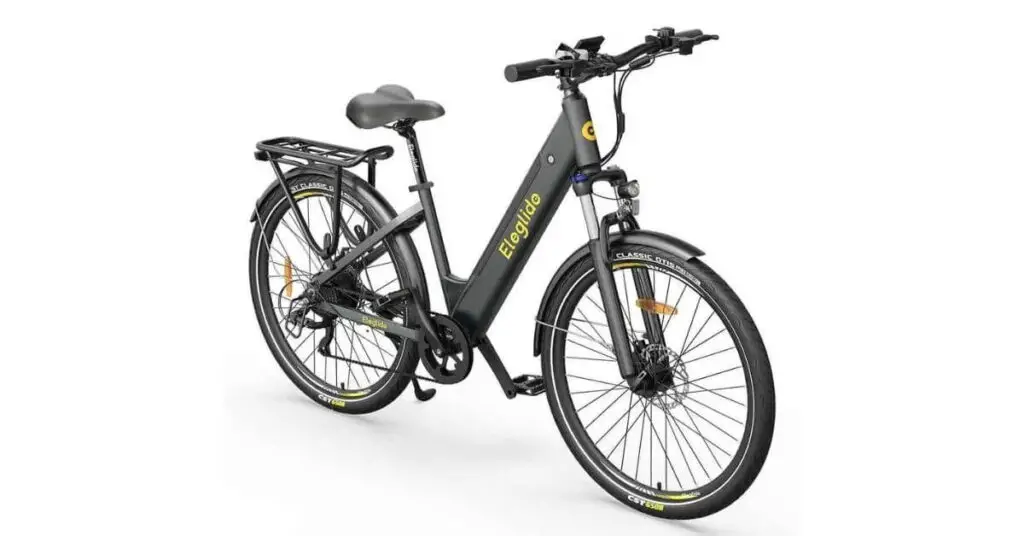 Experience a ride like no other with the Eleglide T1 Step-Thru.
Powered by a 250W brushless motor, this e-bike can reach speeds of up to 25 km/h and boasts an impressive range of up to 100km in assist mode.
The 27.5″ CST tyres ensure adaptability across city streets, while the professional Shimano 7-speed gear enhances the riding experience.
For those who prioritize comfort, the hydraulic suspension with lockout and intelligent LCD display further elevate the Eleglide T1's appeal.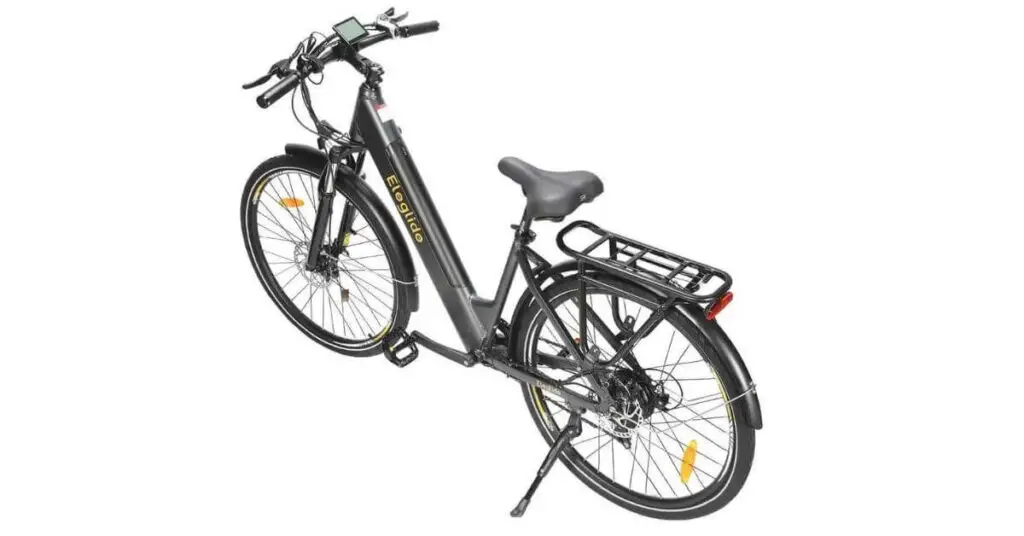 Price: £999.00
Key Features:

250W Brushless Motor
450Wh Lithium-ion Battery
7-Speed Shimano Gear

Pros:

Long battery life suitable for extended rides.
Versatile tires adaptable to various terrains.
Intelligent LCD display offers real-time data.

Cons:

Might be on the pricier side for some consumers.
ST3IKE ADO A26+ Urban Family Bike 250W | UK Stock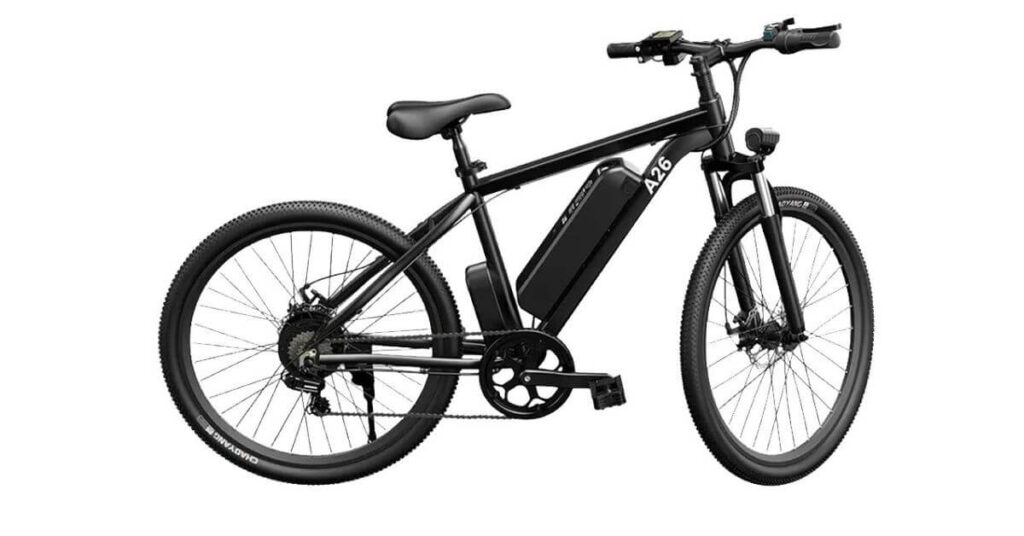 Dive into urban adventures with the ST3IKE ADO A26+ Electric Bike.
Crafted from aviation-grade aluminium Alloy, it ensures durability and lightweight manoeuvring.
Designed with human ergonomics in mind, and combined with dual disc brakes and a robust steel fork, it promises a ride that's both comfortable and safe.
With its 12Ah Lithium-Ion battery and 250W brushless motor, speed and freedom are right at your fingertips.
For those seeking a mix of performance and affordability, the ADO A26+ is a prime choice.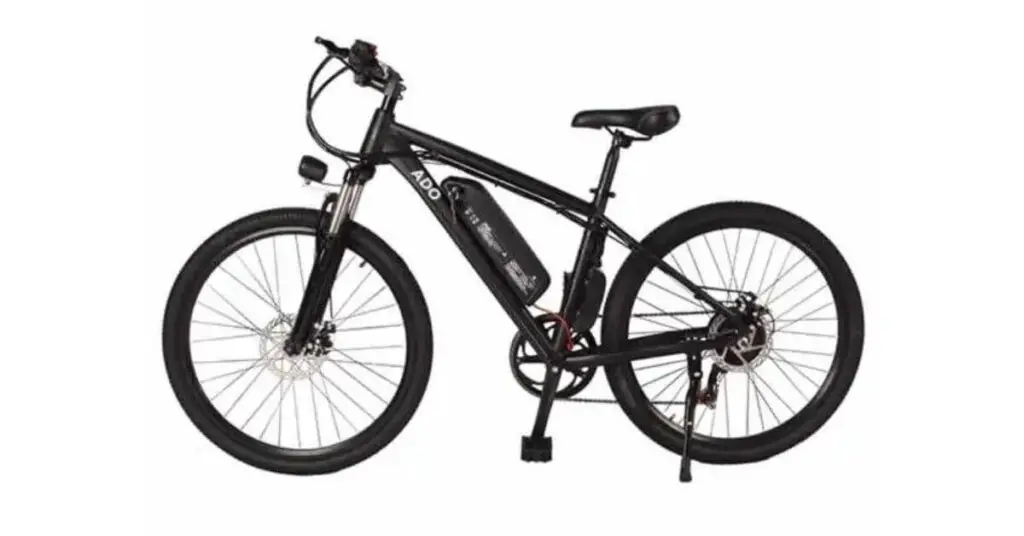 Price: £899.00
Key Features:

250W Power Brushless Motor
12Ah Lithium-Ion Battery
Aviation Grade Aluminum Alloy Frame

Pros:

Strong and lightweight frame.
Human body mechanics design ensures comfortable riding.
High affordability for the features offered.

Cons:
DYU D3F 14 Inch Small Mini Bike Folding Electric Ebike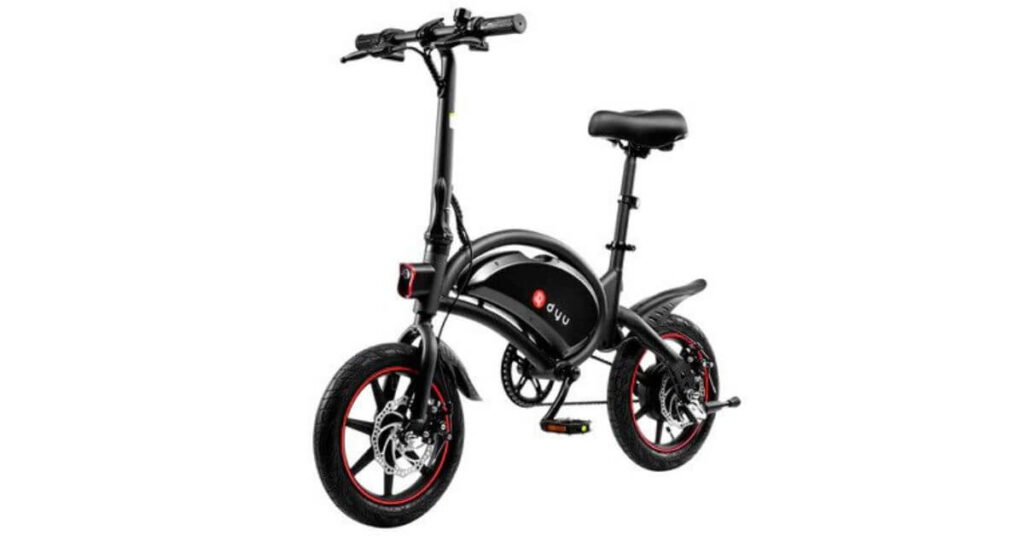 Introducing the new DYU D3F, a fusion of style and efficiency.
Drawing inspiration from the sleek design of dolphins, this e-bike is not just a visual treat but also a reliable companion for both short and long journeys.
Packed with a 250W brushless rear hub motor and a robust 36V 10AH Lithium-ion battery, it ensures a ride that lasts up to 40km on electric power alone.
Its ergonomic design, combined with an array of features, ensures that the DYU D3F stands out in the crowd.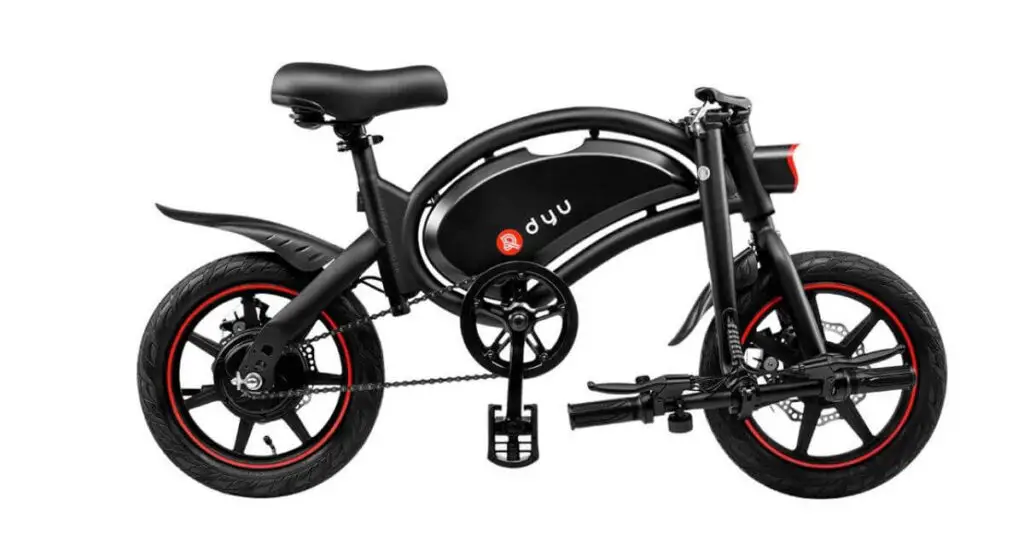 Price: £699.00 (Discounted to £599.00)
Key Features:

250W Brushless Rear Hub Motor
36V 10AH Lithium-ion Battery
Dolphin-inspired Aerodynamic Design

Pros:

Lightweight metal frame.
Long battery range.
Aesthetic and functional design.

Cons:

Smaller body size might not be suitable for all riders.
Huaming Shark BK6 48V 250W 20″ Tyres Folding Ebike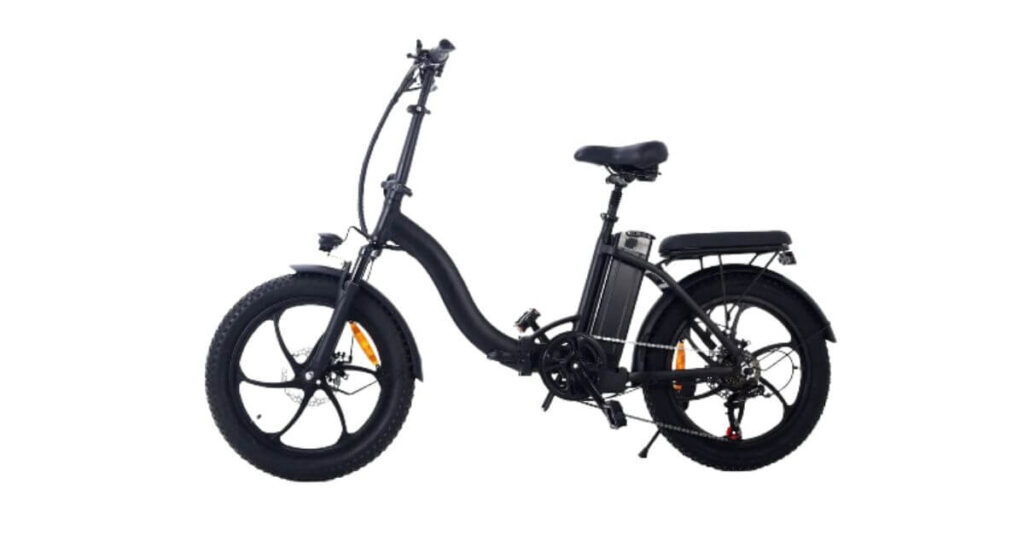 Step into the future of e-biking with the Huaming Shark BK6.
This e-bike, with its front and rear disc brakes, 250W motor, and large 48V battery, is a marvel in modern biking.
Its 20-inch tyres make it easy to handle, and the folding design ensures it's always ready for the next adventure.
Whether you're commuting to work or heading out for a leisurely ride, the Shark BK6 promises a ride that's efficient, comfortable, and above all, exhilarating.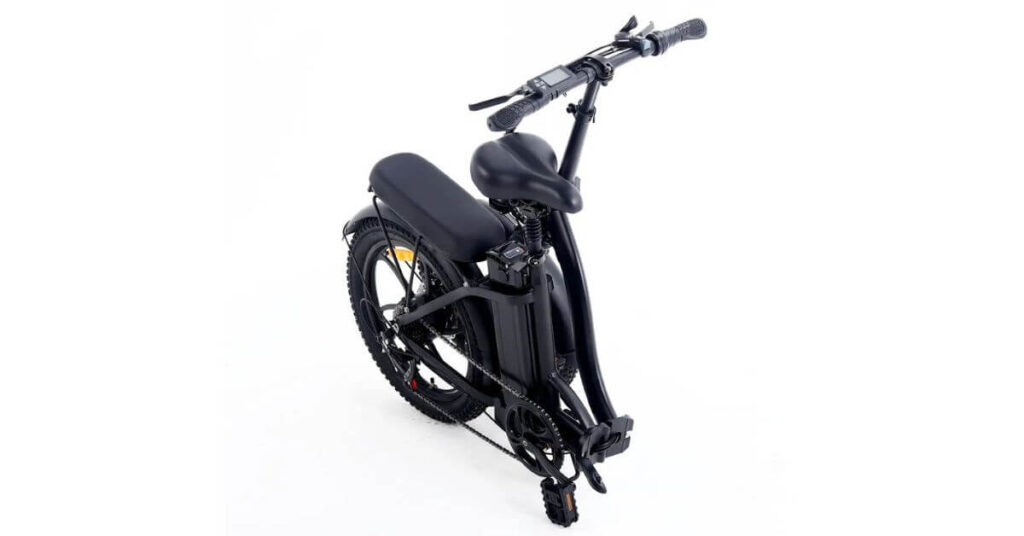 Price: £1,300.00 (Discounted to £890.00)
Key Features:

250W Motor
48V Battery
Front Suspension Fork

Pros:

Sturdy brakes for enhanced safety.
Large tyres offer smooth rides.
Long-lasting battery life.

Cons:

Might be bulky for some due to the 20-inch tires.
DAYLYRIDE Gray Fox YA20 Folding Ebike 500W 48V Removable Battery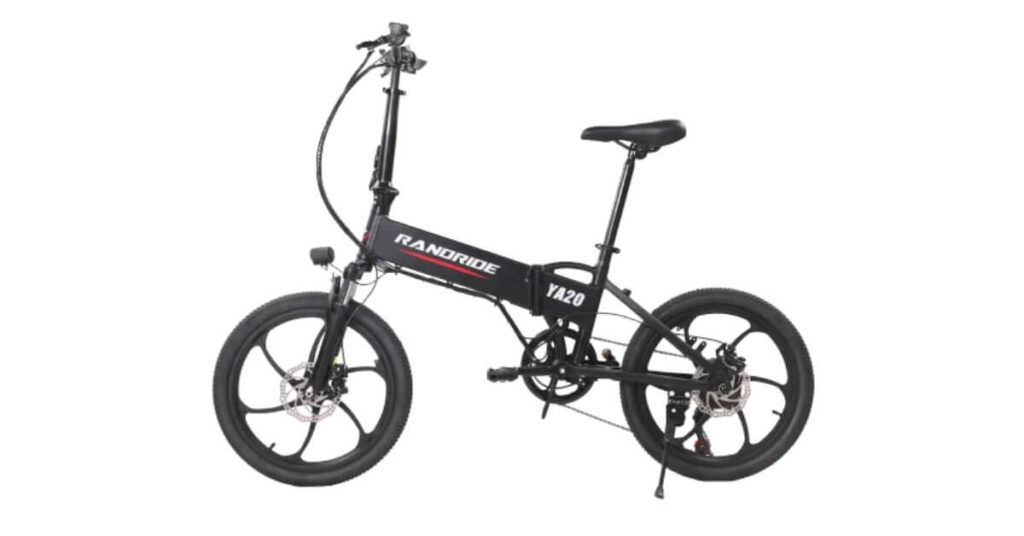 Discover the balance of power and convenience with the DAYLYRIDE Grey Fox.
This folding e-bike, with its 500W motor, is designed for those on the go.
Compact yet robust, it promises rides that are smooth even on challenging terrains.
Its motor offers 5 levels of power assistance, giving you a much-needed boost in tricky junctions.
If you're looking for a blend of affordability and top-notch features, the Grey Fox is worth every penny.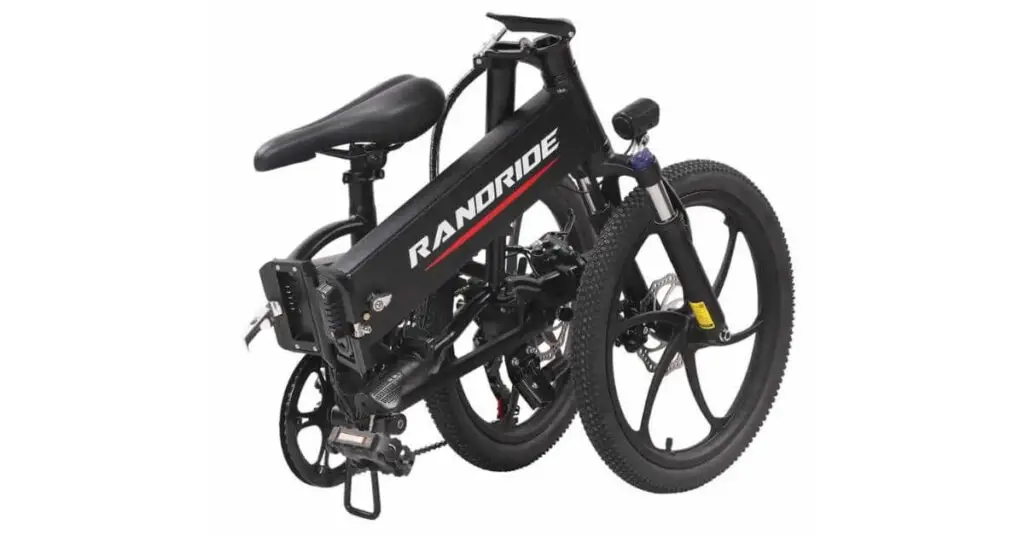 Price: £1,080.00 (Discounted to £859.00)
Key Features:

500W Rear Hub Brushless Motor
48V 15Ah 18650 Lithium-ion Removable Battery
5 Degrees of Power Assistance

Pros:

High-powered motor suitable for challenging terrains.
Long battery range.
Compact and foldable design.

Cons:

Might be on the higher end of the pricing spectrum.
Maintenance Tips for Affordable eBikes
Regular Cleaning: Keep your E-Bike clean by wiping down the frame, components, and tires after every ride. A clean bike not only looks good but also ensures that dirt and grime don't accumulate, causing potential issues down the line.
Battery Care: Always charge your eBike's battery according to the manufacturer's instructions. Avoid overcharging or discharging the battery completely, which can shorten its lifespan. Store the battery in a cool and dry place when not in use.
Tire Pressure: Maintain the correct tire pressure as recommended by the manufacturer. Properly inflated tires improve ride comfort, handling, and overall performance while reducing the risk of punctures.
Brake Checks: Regularly inspect your E-Bike's brakes for wear and tear. If you notice any issues, such as decreased stopping power or squeaking sounds, it may be time to replace the brake pads or adjust the brake cables.
Lubrication: Lubricate your E-Bike's chain, gears, and other moving parts with a suitable lubricant. This helps to reduce friction and wear, prolonging the life of your E-Bike components.
As you can see, taking care of your E-Bike doesn't have to be a chore.
With some simple maintenance steps, you can keep your affordable eBike running smoothly for years to come.
Conclusion
In an age where sustainable transportation and fitness are rapidly gaining traction, e-bikes have emerged as a prime choice for many.
The UK's e-bike market offers a plethora of options, but finding the most affordable without compromising on quality can be a challenge.
This review has shed light on some of the best affordable e-bikes available in the UK, each bringing its unique set of features and benefits to the table.
FAQs
What are the top affordable e-bikes in the UK for 2023?
Our guide has highlighted several leading models, such as the ST3IKE ADO A26+, DYU D3F, and ELEGLIDE T1, all of which offer a blend of performance and value.
Which budget-friendly e-bikes in the UK have the longest battery life?
The ADO A26+ and ELEGLIDE T1 are notable for their extended battery ranges, allowing riders to travel up to 100km on a single charge.
Are affordable e-bikes in the UK suitable for both city commuting and off-road riding?
Absolutely! Models like the DAYLYRIDE Gray Fox and Huaming Shark BK6 are designed for versatility, making them ideal for both urban commutes and more rugged terrains.
How do the features of UK's most affordable e-bikes compare to pricier models?
Many of the budget-friendly e-bikes we've reviewed come packed with features comparable to higher-end models, including powerful motors, long-range batteries, and advanced display systems.
Which affordable e-bike brands in the UK offer the best warranties?
Warranty coverage can vary, but brands like DYU, ELEGLIDE, and ADO are known for their commitment to quality and often provide competitive warranties.
My Final Thoughts
Thank you, dear readers, for diving deep into our guide on the UK's most affordable e-bikes for 2023.
It's evident that the e-bike industry is flourishing, offering riders a blend of innovation, efficiency, and affordability.
Whether you're a city commuter, a weekend trail explorer, or someone seeking an eco-friendly transportation alternative, there's an e-bike out there tailored for you.
Our mission is to keep you updated with the latest trends, standout models, and breakthroughs in the e-biking world.
Remember, with the rapidly evolving e-bike technology, there's always something new on the horizon.
So, bookmark our page, and don't forget to revisit for more insights and updates on the best e-bikes in the UK market.
Your journey to sustainable and efficient commuting is just a pedal away!