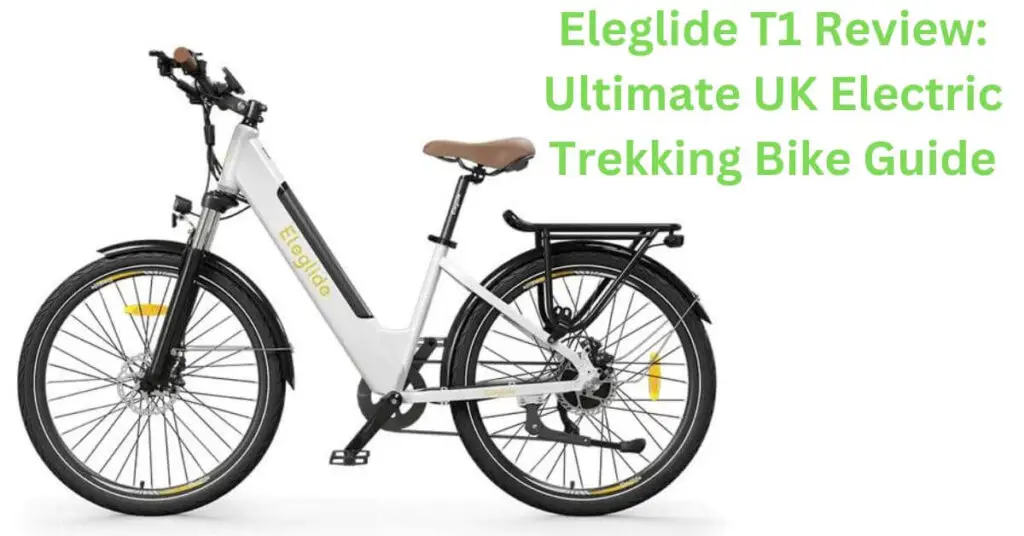 All recommendations within this article are informed by expert editorial opinion. If you click on a link in this story we may earn affiliate revenue.   
Eleglide T1 Review UK: The Ultimate Step-Thru eBike for Everyone

Hello there, fellow bike enthusiasts! Whether you're a seasoned rider or a newbie just getting started, I'm thrilled to welcome you to my Eleglide T1 review, the ultimate step-thru eBike for everyone.
Now, I know what you're thinking: "Another electric bike review? Yawn." But trust me, this one is different. Not only is the Eleglide T1 a stylish and practical choice for anyone looking to hit the road but it's also got a few surprises up its sleeve that I can't wait to share with you.
So buckle up (or should I say, helmet on?) and get ready for a ride that will make you forget you're even on an eBike. And don't worry, I promise not to let the AI-generated content take over – it's all me, the human behind the keyboard, bringing you my honest and humorous take on this fantastic bike. Let's roll!
Eleglide T1 Features: An Overview
Eleglide T1 Motor and Performance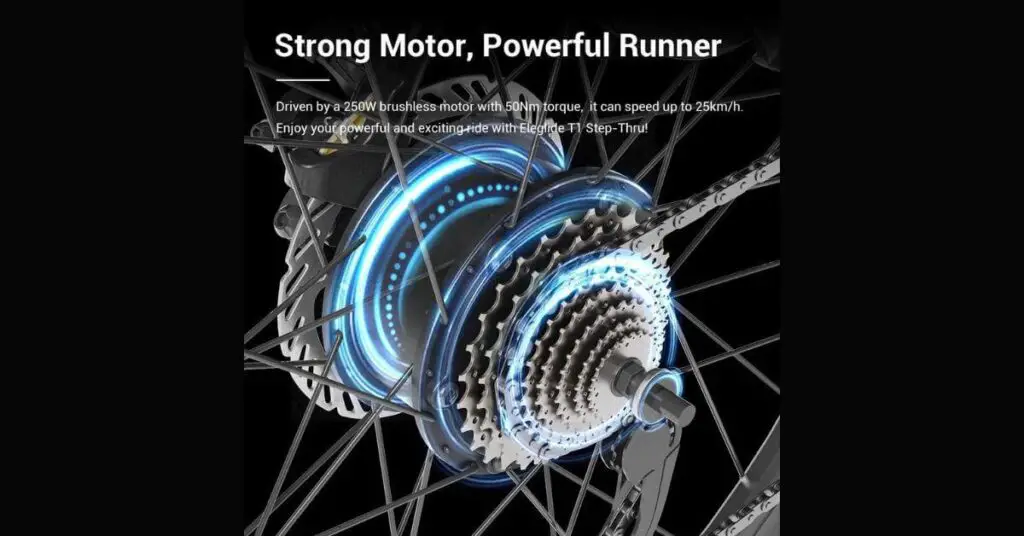 The Eleglide T1 boasts a powerful 250W brushless motor, offering a top speed of 25 km/h (15.5 mph). This electric trekking bike accelerates smoothly and provides enough power for tackling steep inclines, making it perfect for both urban commuting and long rides.
Eleglide T1 Battery Life and Range
Equipped with a 36V 10.4Ah lithium-ion battery, the Eleglide T1 offers an impressive range of up to 80 km (50 miles) on a single charge, depending on the level of pedal-assist and terrain. The removable battery also allows for convenient charging indoors or on the go.
Eleglide T1 Display and Gears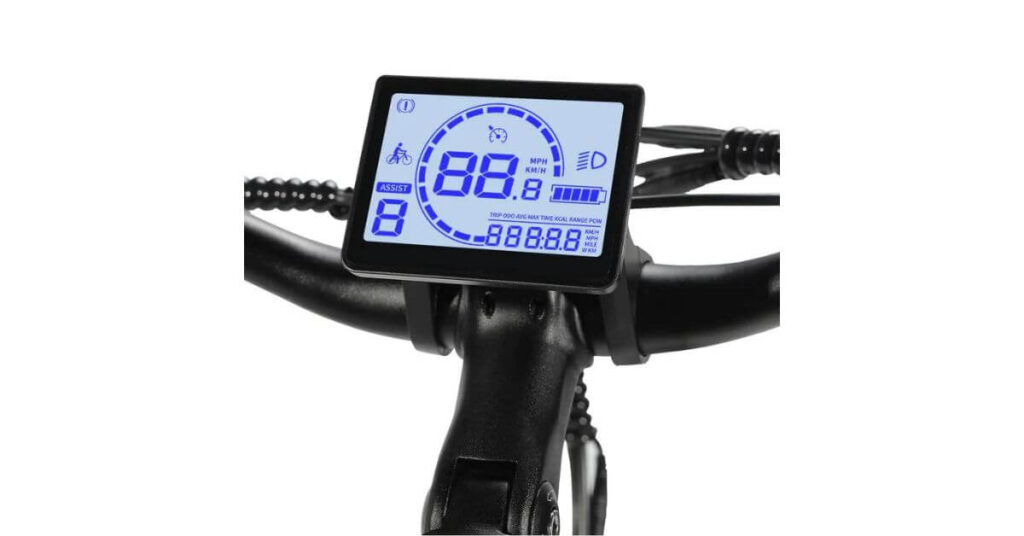 The Eleglide T1 features a user-friendly LCD display that shows essential information such as speed, distance, battery level, and pedal-assist level. The bike's 21-speed Shimano gears provide a smooth and versatile riding experience, enabling riders to easily adapt to different terrains and gradients.
Eleglide T1 Design: Style and Functionality Combined
Step-Thru eBike Frame and Suspension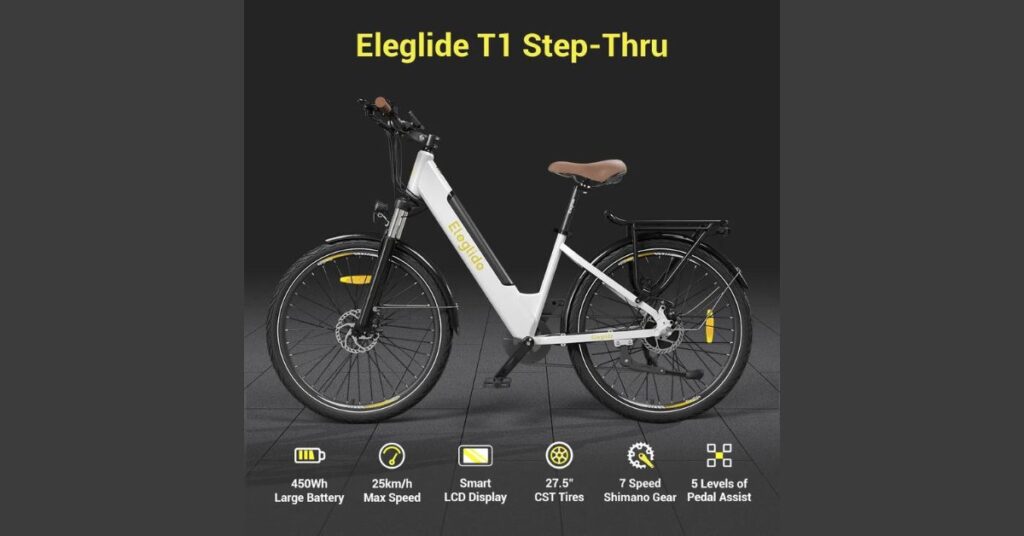 The Eleglide T1's step-thru frame design makes it an ideal unisex electric bike, providing easy access for riders of all heights and ages. Its front suspension fork absorbs shocks effectively, ensuring a comfortable and stable ride on various surfaces.
Eleglide T1 Brakes and Safety Features
Safety is a top priority for the Eleglide T1, which features reliable Tektro disc brakes that ensure quick and efficient stopping power. The bike also comes with front and rear lights and reflective tyres for enhanced visibility in low-light conditions.
Product Specs Table: Eleglide T1
| Specification | Eleglide T1 |
| --- | --- |
| Brand | Eleglide |
| Model | T1 Step-Thru |
| Colours | White / Grey |
| Net Weight | 26 kg – 57.3 lbs |
| Unfolded Size | 1790 x 680 x 1118 mm |
| Size of Frame | 27.5″ x 17″ |
| Length of Handlebar | 660 mm |
| Height of Saddle (from the ground) | 32″-39″ |
| Recommended Rider Heights | 155-195cm (5.09ft-6.39ft) |
| Max Load | 120 kg – 264 lbs |
| Max Speed | 25 km/h (Can be adjusted to 32 km/h) |
| Max Range | 50 km (Electric Mode), 100 km (Assist Mode) |
| Speed Levels of Assist/Electric Mode | 12/16/20/23/25 km/h |
| Waterproof Level | IPX4 |
| Material | Aluminium Alloy |
| Braking System | Front & Rear Disc Brakes + Auto Power-off Design |
| Saddle | Selle Royal (SR) |
| Motor Rated Power & Voltage | 250W, 36V |
| Max Instantaneous Power | 500W |
| Max RPM | 260 |
| Max Output Torque | 50 Nm |
| Derailleur Brand | Shimano |
| Number of Gears | 7 (Rear) |
| Suspension | Mechanical Damping with Lockout |
| Battery Capacity | 12.5Ah |
| Voltage | 36V |
| Charging Time | 4-6h |
| Standard Power Consumption | 450Wh |
| Protection System | Yes |
| Charger Input | 100-240V, 1.8A |
| Output | 42V, 2A |
| Tyre Brand | CST |
| Size | 27.5″ x 1.75″ |
| Type | Pneumatic Tyre |
| Tyre Pressure | 45-65PSI |
| Best Tire Pressure | 50PSI (Front), 55PSI (Rear) |
| Display | 3.5″ LCD |
| Package Size | 1480 x 250 x 830mm |
| Gross Weight | 30.5 Kg – 67.2 lbs |
Product Specs Table For The Eleglide T1 E-Bike
Eleglide T1 Pros and Cons
Pros
Versatile electric trekking bike suitable for various terrains
Long battery life and impressive range
Easy-to-read LCD display
21-speed Shimano gears for smooth shifting
Step-thru frame design for accessibility
Reliable Tektro disc brakes for safety
Cons
May be too heavy for some riders
Not ideal for extreme off-road use
Eleglide T1 vs Competitors: How Does It Stand Out?
Bike Name
Eleglide T1
Eleglide Tankroll 26
Eleglide CityCrosser
Samebike MY275
Superior Rock Machine Torrent INT e50
Bezior M2
Motor Power
250W
740W
250W
500W
250W
250W
Battery Capacity
12.5Ah
10Ah
10.4Ah
10.4Ah
11.6Ah
10.4Ah
Max Speed
25-32 km/h
45 km/h
25 km/h
30 km/h
25 km/h
25 km/h
Max Range
50-100 km
60-80 km
50-80 km
40-80 km
100 km
60-80 km
Frame Material
Aluminium Alloy
Aluminium Alloy
Aluminium Alloy
Aluminium Alloy
Aluminium Alloy
Aluminium Alloy
Wheel Size
27.5″ x 1.75″
26″ x 4.0″
27.5″ x 1.75″
27.5″ x 2.1″
29″
26″
Gears
7 (Rear)
7 (Rear)
7 (Rear)
21
10
7 (Rear)
Suspension
Mechanical Damping with Lockout
Front & Rear
Front
Front & Rear
Front & Rear
Front
Waterproof Level
IPX4
IPX4
IPX4
IPX4
IPX4
IPX4
Price (approx)
£1,085.00 

£1,249.00 

£1,199.00 

£1,249.00
£1,149.00
£2,992.00 – £3,325.00
£1,269.00
Eleglide t1 vs competitors comparison table
Eleglide Tankroll 26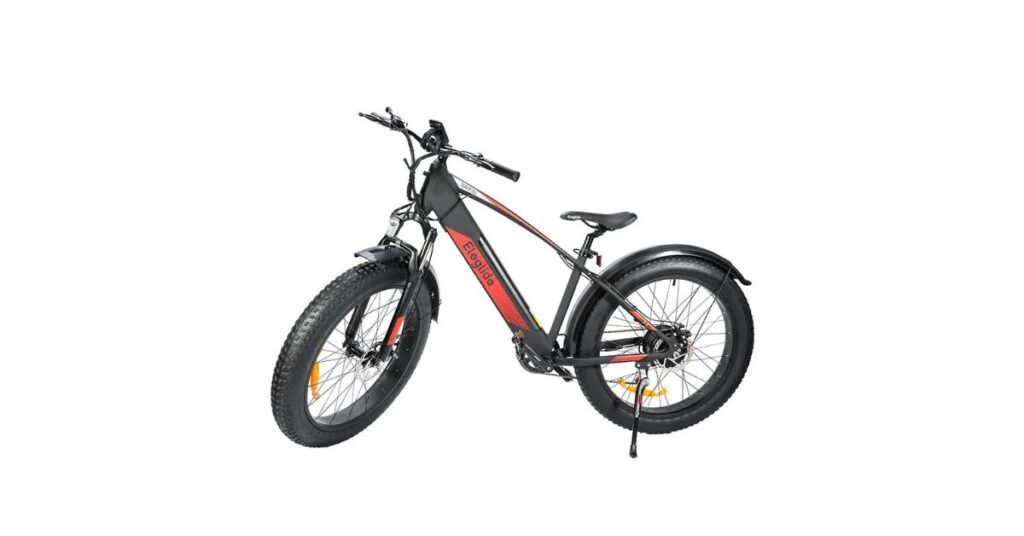 The Eleglide Tankroll 26 is a powerful fat tyre electric bike with a 740W motor and 10Ah battery, capable of reaching a max speed of 45 km/h and a range of 60-80 km. Its aluminium alloy frame and front and rear suspension make it perfect for off-road adventures.
Eleglide Citycrosser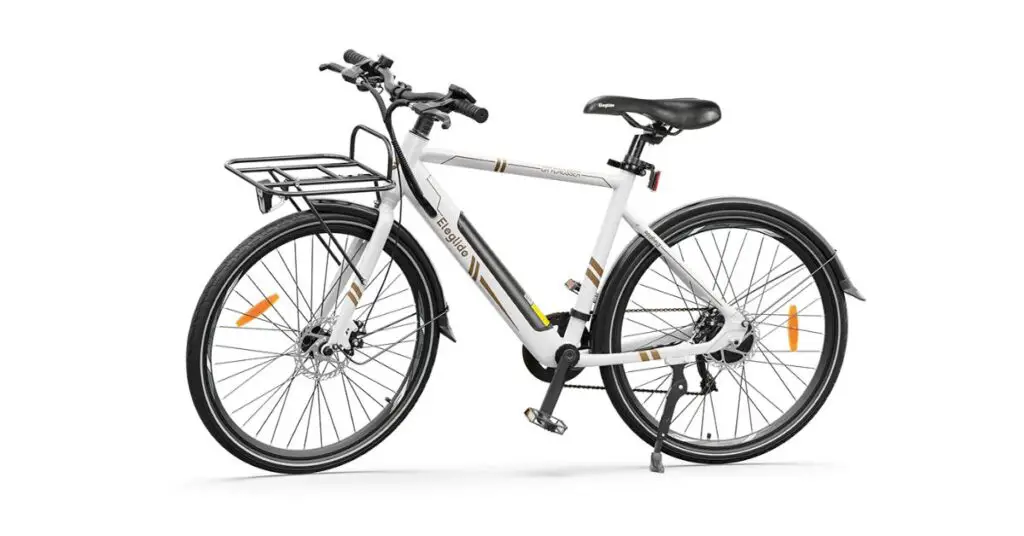 The Eleglide CityCrosser is a sleek electric bike designed for urban commuters, featuring a 250W motor, 10.4Ah battery, and a max range of 50-80 km. Its aluminium alloy frame and front suspension ensure a smooth and comfortable ride in the city.
Samebike MY275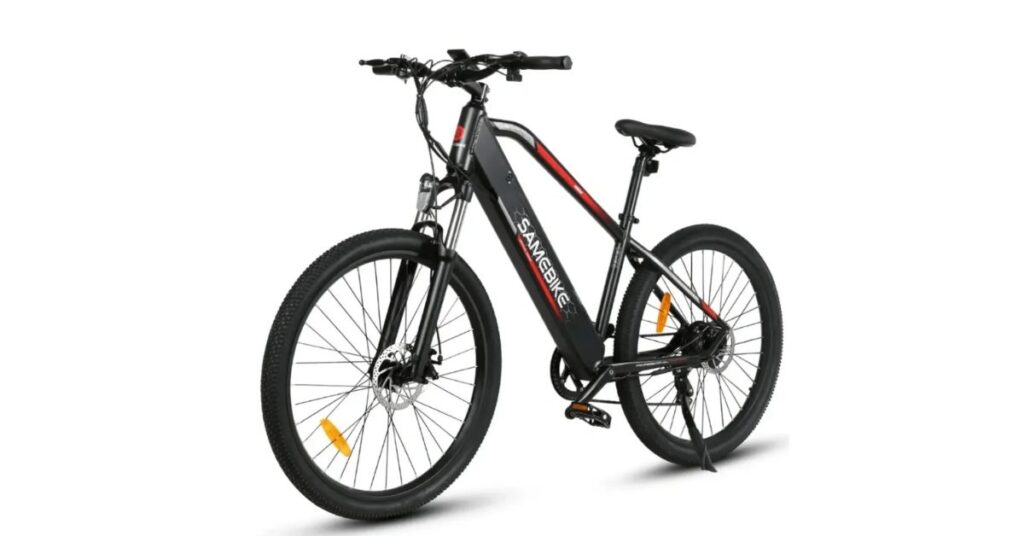 The Samebike MY275 is an all-terrain electric bike with a 500W motor and 10.4Ah battery, offering a max speed of 30 km/h and a range of 40-80 km. Its aluminium alloy frame, 21 gears, and front and rear suspension make it a great choice for various terrains and cycling adventures.
Superior Rock Machine Torrent INT e50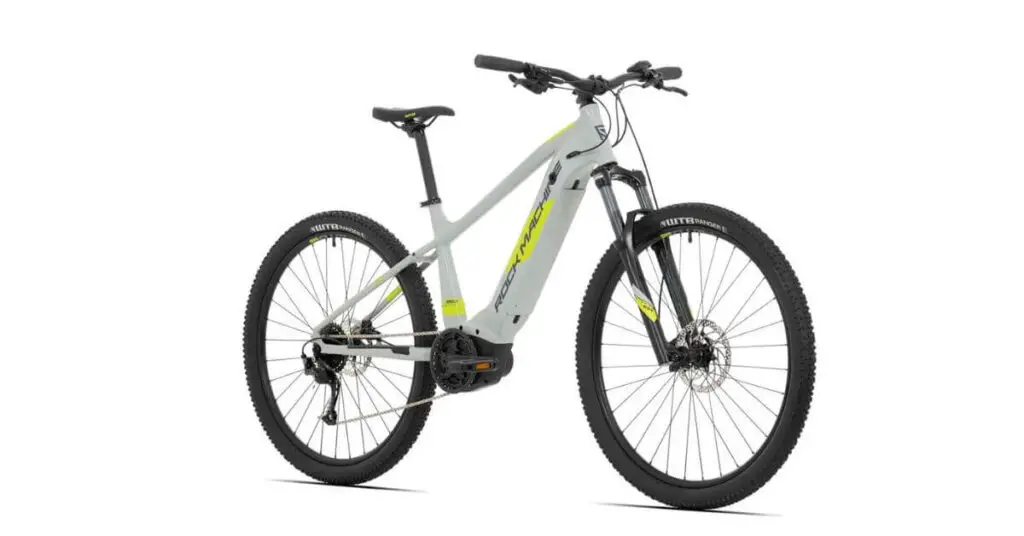 The Superior Rock Machine Torrent INT e50 is a high-quality eBike with a 250W motor and 11.6Ah battery, providing a max range of 100 km. It features a 29″ wheel size, aluminium alloy frame, 10 gears, and front and rear suspension, making it suitable for both on and off-road cycling.
Bezior M2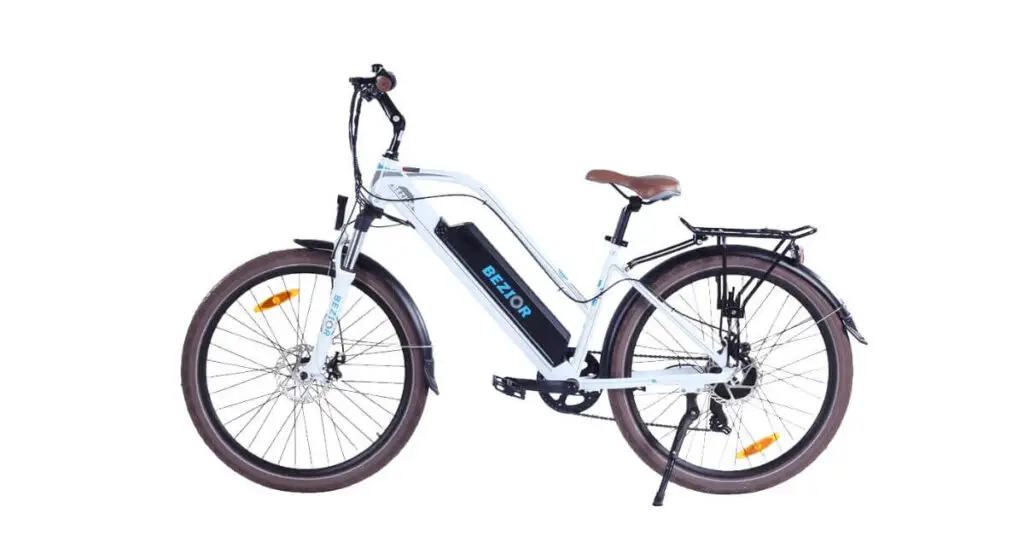 The Bezior M2 is a women's electric bicycle with a 250W motor and 10.4Ah battery, offering a max speed of 25 km/h and a range of 60-80 km. Its 26″ aluminium alloy frame and front suspension make it a comfortable and reliable option for female riders.
These eBikes offer various features and capabilities to suit different needs and preferences. Compare their specifications and prices using the comparison table and paragraphs above, and choose the one that best fits your requirements.
Eleglide T1 Comfort, Off-Road Capabilities, and Accessories
Comfortable Riding Experience
The Eleglide T1 is designed with comfort in mind, featuring a padded saddle and ergonomic grips for extended rides. Its front suspension and wide tyres also contribute to a smooth and stable ride on various surfaces.
Off-Road Capabilities
While not specifically designed for extreme off-road adventures, the Eleglide T1 performs well on light trails and gravel paths, thanks to its suspension and multi-terrain tyres. For those seeking more off-road capabilities, it's worth considering a dedicated mountain eBike.
Eleglide T1 Accessories
The Eleglide T1 comes equipped with essential accessories such as mudguards, a rear rack, and lights, making it suitable for commuting and touring. Additional aftermarket accessories can be added to customise the bike according to the rider's preferences and needs.
Eleglide T1 Price and Value for Money
The Eleglide T1 offers excellent value for money, considering its features, performance, and build quality. Priced competitively in the electric bike market, it is an attractive option for those looking for a versatile and reliable eBike without breaking the bank.
Eleglide T1 Maintenance and User Experience
Regular maintenance is crucial for ensuring the longevity and reliability of your Eleglide T1. Basic tasks such as cleaning, tyre pressure checks, and brake adjustments can be performed by the owner, while more complex maintenance should be carried out by a professional.
User experience is generally positive, with riders praising the Eleglide T1's smooth performance, comfortable ride, and impressive range. Some users may find the bike slightly heavy, but this is a common trait among eBikes.
Eleglide T1 Warranty and Best Practices
The Eleglide T1 comes with a 1-year warranty covering the frame, motor, and battery, offering peace of mind to customers. To get the most out of your eBike, it's essential to follow best practices such as charging the battery correctly, storing the bike in a dry and secure location, and adhering to routine maintenance schedules.
Eleglide T1 for Beginners and Experienced Riders
The Eleglide T1 is an excellent choice for both beginners and experienced riders, thanks to its accessible step-thru frame design and versatile performance. Its ease of use, coupled with a wide range of features, make it a popular option for those looking to enter the world of electric bikes, as well as seasoned riders seeking a reliable and comfortable trekking eBike.
In conclusion, the Eleglide T1 stands out as a top choice for those in the UK market seeking a versatile, comfortable, and reliable electric trekking bike. With its impressive features, performance, and affordability, it caters to both beginners and experienced riders, making it a great addition to anyone's cycling adventures.
Customising Your Eleglide T1 Experience
Personalising Your Eleglide T1
The Eleglide T1 is a versatile eBike that can be further customised to suit individual preferences and requirements. Some popular aftermarket accessories include panniers, phone mounts, and additional lighting to enhance your riding experience.
Eleglide T1 for Different Riding Styles
Whether you're a casual commuter, a long-distance tourer, or an occasional off-road adventurer, the Eleglide T1 can be adapted to suit various riding styles. By adjusting the tyre pressure and suspension settings, riders can fine-tune the bike's performance to meet their specific needs.
Joining the Eleglide T1 Community
By choosing the Eleglide T1, you become part of a growing community of eBike enthusiasts who value quality, performance, and style. Engaging with fellow Eleglide T1 owners through online forums and social media platforms can provide valuable tips, insights, and camaraderie.
Expanding Your Eleglide T1 Adventures
Exploring the UK on Your Eleglide T1
The Eleglide T1 is the perfect companion for discovering the UK's diverse landscapes and picturesque countryside. With its impressive range and adaptability, riders can confidently tackle both urban commutes and scenic long rides, exploring the best that the UK has to offer.
Participating in Eleglide T1 Events and Group Rides
Joining group rides and events organised by the Eleglide T1 community or local eBike clubs is a great way to expand your horizons, meet like-minded individuals, and share your passion for electric biking. These events often cater to varying levels of experience, making them suitable for both beginners and seasoned riders.
Final Thoughts on the Eleglide T1
Thanks for taking the time to read my Eleglide T1 Review UK. After examining the features and performance of the Eleglide T1, it's clear that this eBike is a superb choice for adventurers, commuters, or those who simply enjoy a leisurely ride across various terrains. Its impressive design, remarkable range, and adaptability make it a standout option in the world of electric trekking bikes.
As always, here's a little joke at the end of all my articles to keep things light-hearted:
Why can't a bicycle stand up by itself?
Because it's always two-tired!
I hope my Eleglide T1 Electric Trekking Bike Review UK has provided valuable insights into this exceptional eBike and its numerous features. I genuinely appreciate you, my fantastic readers, for taking the time to read my articles. Your support means the world to me, and I'm excited to continue our journey together as we explore the amazing realm of electric bikes. Please feel free to leave a comment and keep the conversation going. I reply to all genuine comments! Stay tuned for more reviews, and happy riding!