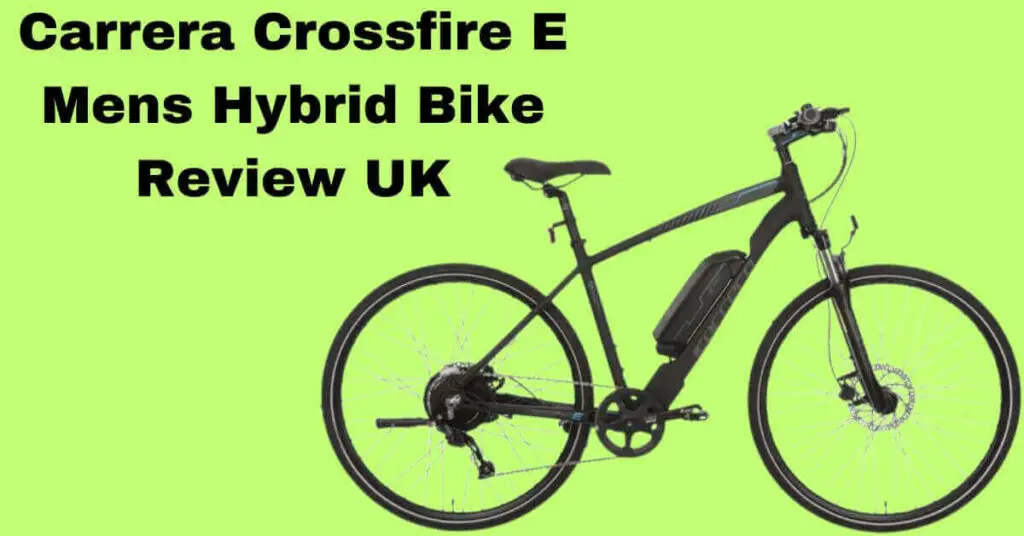 All recommendations within this article are informed by expert editorial opinion. If you click on a link in this story we may earn affiliate revenue.
Introduction
Welcome back, dear friends! I've missed our chats about the newest, coolest, and most eco-friendliest transportation gear out there. Have I got a surprise for you today?
What if I told you your search for the ideal blend of traditional and electric biking might be over? What if there existed an e-bike that didn't compromise on versatility, performance, or your budget?
Say hello to the Carrera Crossfire E Men's Electric Hybrid Bike. This gem combines the best of both worlds, offering remarkable prowess whether you're conquering city streets or exploring trails.
In today's in-depth review, we're going to peel back the layers of this exceptional e-bike, diving headlong into its specifications, standout features, and even the potential downsides.
But that's not all, folks! I'm also going to equip you with a detailed maintenance guide to keep your bike purring like a kitten for many wonderful journeys ahead.
So, whether you're a hardened urban commuter or a free-spirited weekend explorer, sit back, grab your favourite beverage, and let's embark on a thrilling journey into the world of the Carrera Crossfire E. Buckle up!
History of Carrera Crossfire E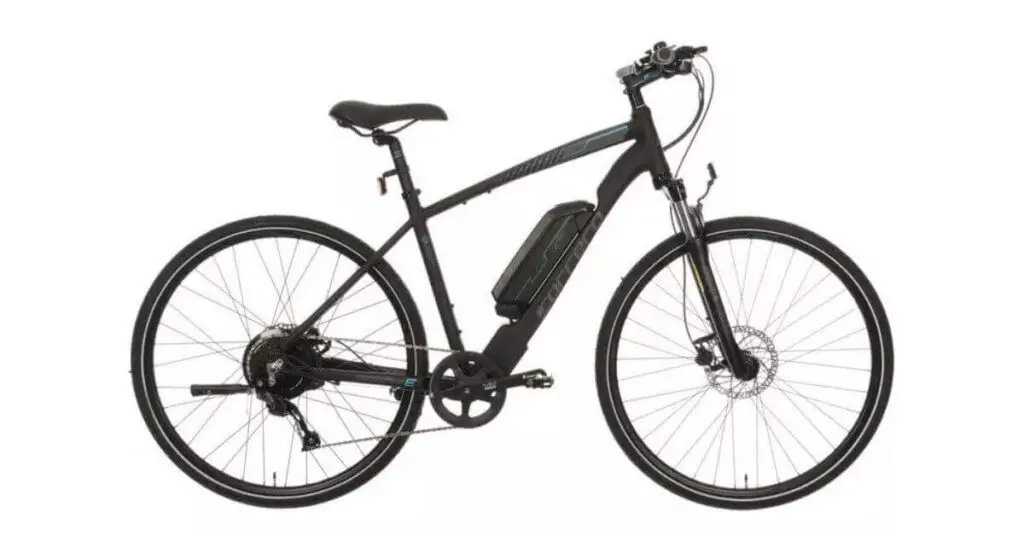 Carrera Crossfire E is a budget-range brand exclusive to Halfords, known for its regular and electrically-assisted e-bikes. The Crossfire E, a hybrid-style electric bike, stands as their latest offering from the 2020 model year.
It uses a rear hub motor from SR Suntour, a far-eastern component manufacturer famed for budget suspension forks.
SR Suntour's HESC system, first introduced around 2011, may not have gained the recognition it deserved due to the competition with Bosch's mid-drive motors and the more cost-effective hub motors from Bafang.
Despite this, the HESC system stands tall with its unique technology offering value for money and an overall impressive riding experience.
Specifications
Performance and Power
As a successor to the Vengeance E, the Carrera Crossfire E uses an upgraded, higher torque version of the SR Suntour motor, boosting its power substantially.
With a maximum speed of 15.5mph, the Crossfire E is certainly not a slouch on the roads.
The bike comes with a semi-integrated 417Wh battery, capable of delivering an average range of 25-30 miles, and a maximum range of up to 60 miles under optimal conditions.
The 6-hour recharge time ensures that your e-bike is always ready for your next adventure or commute.
Design and Build
Designed to cater to both on-road and off-road conditions, the Carrera Crossfire E is equipped with 28" Kenda K-935 tyres.
These tyres feature a smoothish central ridge for tarmac and a more aggressive tread pattern on the side for off-road conditions.
The crossbar frame of the test bike was well-made and smoothly finished, ensuring durability and long life.
The bike also comes with a step-through option, making it a perfect choice for riders who frequently need to hop on and off their bikes.
Unique Features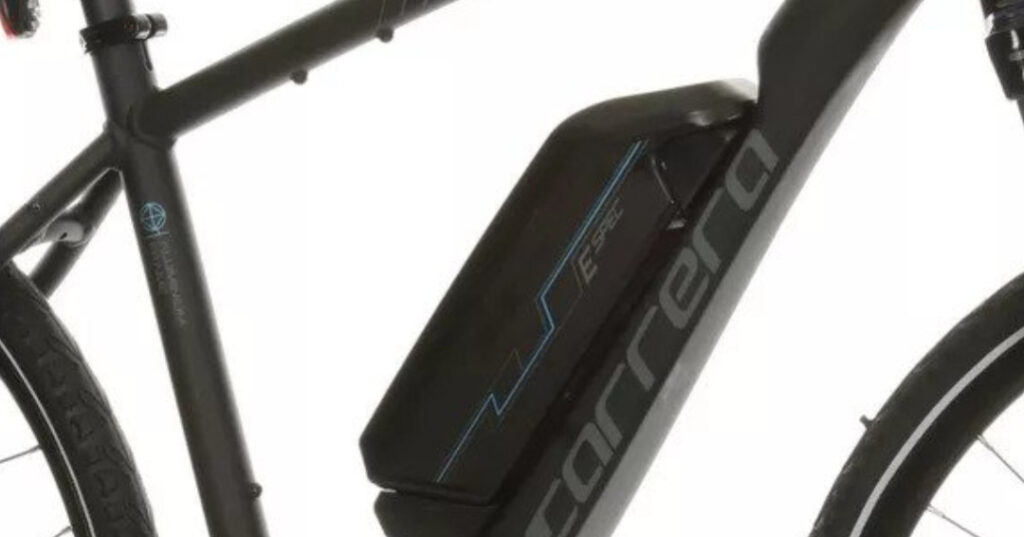 The Crossfire E's controller is neatly tucked away in the bottom part of the downtube but is easily accessible via a removable metal cover for any replacement needs.
The bike comes with a TFT multifunctional colour display with a separate handlebar remote, offering 4 assist modes – Eco, Tour, Sport, and Turbo.
The bike includes 9 Shimano gear shifters and a comfortable Carrera hybrid saddle, making it suitable for long-distance travel.
Despite the plethora of features, the Carrera Crossfire E manages to keep its weight at a manageable 23kg.
Detailed Review
On-Road Performance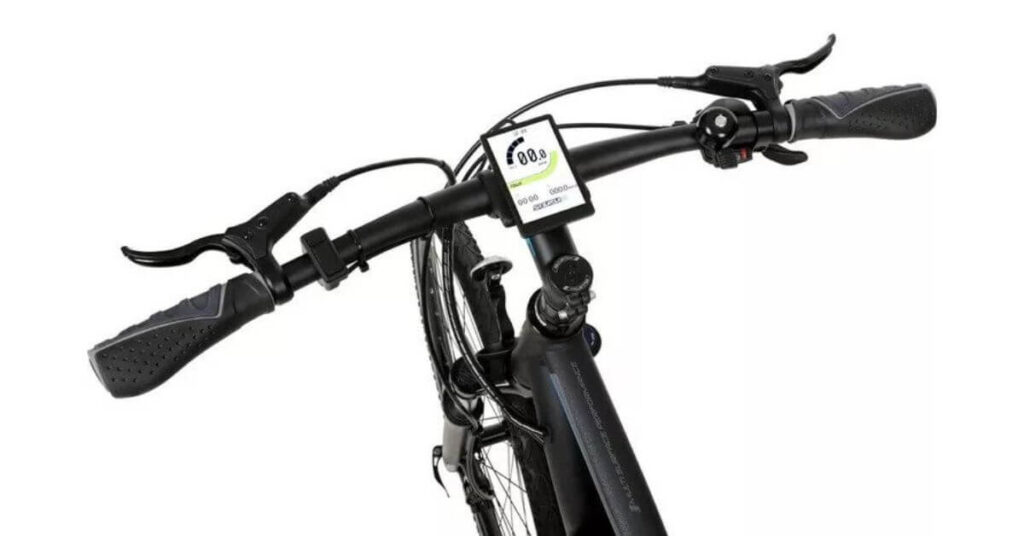 The Crossfire E shines on the road, thanks to its design and features. The smooth central ridge of the tyres makes for an easy ride on city roads.
The powerful motor and the responsive Shimano gear system ensure you have all the power you need at your fingertips.
The 4 assist modes come in handy, allowing riders to adjust the assistance level according to their needs.
The eco mode helps maximize the battery range on long commutes, while the turbo mode can give that extra push when you're late for work. The top speed of 15.5mph is more than enough for city commutes.
Off-Road Performance
The Crossfire E holds its own in off-road conditions too. The aggressive tread pattern on the sides of the tyres ensures a good grip on rough trails.
The front suspension with 75mm travel and hydraulic disc brakes provide comfort and safety during off-road adventures.
The high-torque motor and 9-speed gear system deliver ample power and control in off-road conditions.
However, the turbo mode will significantly reduce the battery range, so it's advisable to use it sparingly on long off-road trips.
Battery Life and Charging
The Crossfire E boasts a semi-integrated 417Wh battery, capable of delivering a commendable average range of 25-30 miles.
This means that for most daily commutes, you'd only need to charge the battery every couple of days. With the eco mode activated, the maximum range stretches up to a remarkable 60 miles.
Charging the Carrera Crossfire E is relatively straightforward. The e-bike comes with a 2 Amp manufacturer charger.
A full charge requires approximately 6 hours, which might seem a bit long. However, if you get into the habit of charging your bike overnight, you'll start every day with a full charge.
Size and Fit
| Height (Inch) | Height (cm) | Frame Size |
| --- | --- | --- |
| 5′ 3″ – 5′ 6″ | 160 – 168 | 17″ |
| 5′ 6″ – 5′ 10″ | 168 – 178 | 19″ |
| 5′ 10″ – 6′ 2″ | 178 – 188 | 21″ |
Table For the different bike sizes for each rider's height
The Carrera hybrid comfort saddle, adjustable seat post, and the option of a step-through frame make the Crossfire E a highly adaptable e-bike for different body types and riding preferences.
Value for Money
Considering the specification, performance, and overall quality of the bike, it offers excellent value for money.
The high-torque motor, hydraulic disc brakes, comfortable saddle, and the ability to switch between four assistance modes make the Crossfire E a solid purchase.
The Crossfire E has a Grade C rating, which means it offers good quality at a relatively affordable price.
Product Specifications
| Specification | Details |
| --- | --- |
| Type | Electric Hybrid Bikes |
| Approximate Weight | 23kg |
| Maximum Range | Average 25-30 miles (max 60 miles) |
| Maximum Speed | Assistance to 15.5mph |
| Motor Type | Suntour Performance Rear Wheel Drive |
| Recharge time | 6 hours |
| Gear Shifters | Shimano SL-M2010-R9 |
| Tyres | Kenda K-935 with Reflective Strip |
| System voltage | 36V |
| Removable Battery | Yes |
| Display | TFT multifunctional colour display with separate handle bar remote |
| Number of Gears | 9 |
| Frame Material | Alloy |
Product specifications table
Maintenance Guide
Maintaining your Crossfire E is essential to ensure a longer lifespan and optimal performance. Here are some tips:
Cleaning: After every off-road ride or in case of a dirty or muddy bike, give your bike a gentle wash using a sponge and warm soapy water. Avoid pressure washers as they can damage the bearings.
Tyre Pressure: Regularly check and maintain the correct tyre pressure (as specified by the manufacturer) to ensure a smooth ride and prevent punctures.
Battery Care: Avoid completely draining the battery. Try to recharge when it's around 20%. Keep the battery clean and dry, and don't expose it to temperatures below -10°C or above 60°C.
Brake and Gear Check: Regularly check your brakes and gear system for any wear and tear. Ensure that your brakes are responsive and your gears shift smoothly.
Professional Service: Despite good self-maintenance, get your e-bike professionally serviced at least once a year.
Conclusion
In conclusion, the Carrera Crossfire E is a versatile, well-constructed e-bike perfect for commuting or leisurely rides. It offers a blend of performance, comfort, and technology at a great value price.
While it may not compete with more expensive, high-end e-bikes, its features and specifications make it a compelling choice for those seeking a reliable, budget-friendly electric hybrid bike.
Frequently Asked Questions
Can the Carrera Crossfire E handle off-road trails?
While the Crossfire E is primarily designed as a hybrid bike, its Kenda K-935 tyres and front suspension make it capable of handling light off-road trails. However, it may not perform as well in more challenging or steep off-road conditions.
How long does the battery last on a single charge?
The battery of the Crossfire E can last for an average of 25-30 miles on a single charge. However, this can stretch up to 60 miles if used in eco mode.
Is the battery removable?
Yes, the battery is key removable, allowing for easy charging and the potential for battery upgrades.
What is the top speed the Crossfire E can reach with motor assistance?
The Crossfire E can reach up to 15.5 mph with motor assistance. It's important to note that in the UK, it's illegal for the motor to assist you when you're cycling over this speed.
Does the Crossfire E come with a warranty?
Typically, Carrera bikes come with a warranty. However, the specifics depend on the retailer. Make sure to check this information at the time of purchase.
Final Thoughts
The Carrera Crossfire E truly stands out as a diamond in the realm of budget e-bikes, offering compelling performance and superior quality without demanding a hefty investment.
Its thoughtful design, potent motor, and durable build render it an appealing choice for anyone on the hunt for a trustworthy and multifaceted e-bike.
Be it the daily commuter or the weekend explorer, the Carrera Crossfire E caters to a wide range of cyclists.
A heartfelt thank you to all my readers for staying with me until the end of this thorough Carrera Crossfire E review.
I trust this review has enlightened you about the notable features and capabilities of the Carrera Crossfire E, and its unique position in the e-bike market.
Enjoy your rides and stay safe!