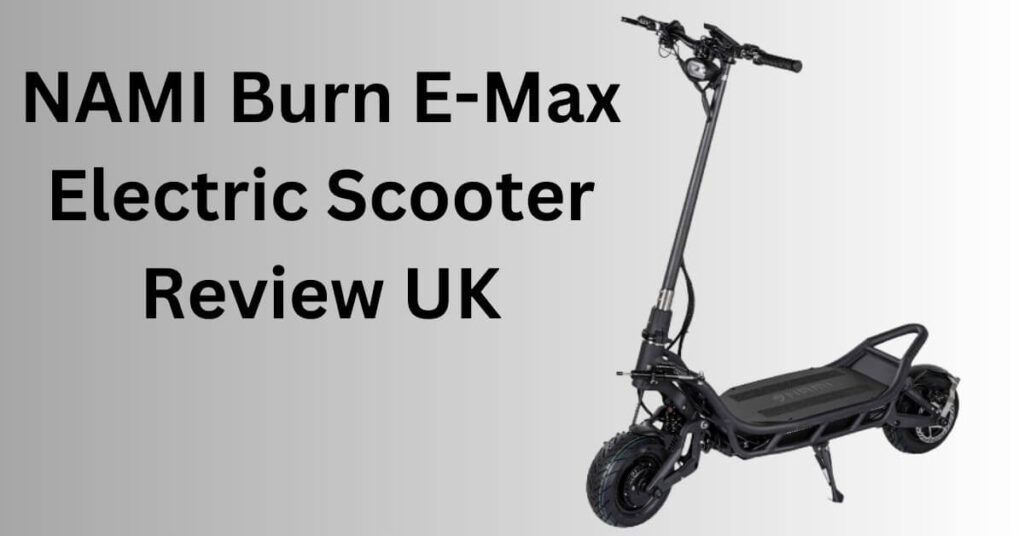 All recommendations within this article are informed by expert editorial opinion. If you click on a link in this story we may earn affiliate revenue.  
Introduction
Salutations, electric scooter enthusiasts! It's time to fasten your seatbelts as we set off on yet another riveting exploration into the universe of e-scooters! Today, our attention is firmly focused on the NAMI Burn-e MAX Electric Scooter, a genuine game-changer in the e-scooter landscape. But, before we dive straight in, let's take a nostalgic trip back in time.
Picture a young chap, knees covered in grease, managing a DIY scooter and bike repair hub from a quaint shed at the back of his house. Yes, indeed, that was me. I was the local scooter sage, bringing life back into forgotten scooters while juggling school work and the trials of adolescence.
Zoom forward a few decades (okay, perhaps a bit more), and here I stand, your dependable e-scooter guru. My zeal for scooters hasn't waned; instead, it's matured and amplified! Although I've swapped my greasy tools for a sleek laptop, my goal remains steadfast: to guide you through the electrifying cosmos of e-scooters.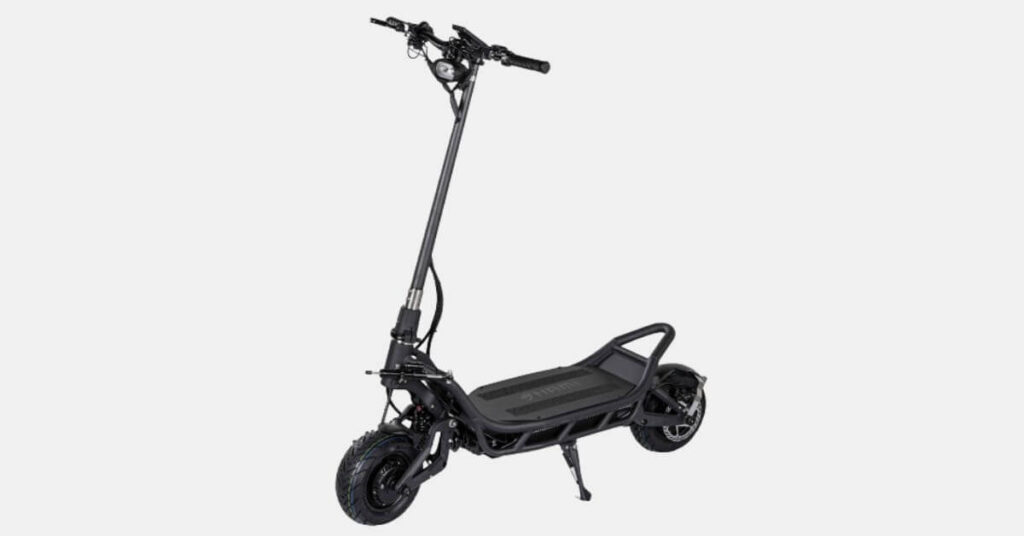 When you read a review here, you're not merely leafing through a bland rundown of features and specifications. You're harnessing knowledge borne out of a lifelong commitment to the world of scooters, honed over years with experience and proficiency. You're listening to someone who truly understands the thrill of riding an e-scooter because, believe me, I've taken quite a few spins around the neighbourhood!
So, without any further delay, let's change gears and delve into the depths of the NAMI Burn-e MAX Electric Scooter Review UK. Ready to throttle up? Let's roll!
NAMI Burn-e MAX: At a Glance
Features Overview
When it comes to electric scooters, the NAMI Burn-e MAX is a true trailblazer in the industry. It boasts a robust design, long-range, and superior speed capabilities. What's more, it also comes with an ultra-high-performing battery and motor, making it a true powerhouse among e-scooters.
Initial Impressions
Right out of the box, the Burn-e MAX doesn't disappoint. It's clear that this isn't a run-of-the-mill electric scooter, with its solid build quality and well-thought-out design.
Detailed Review
Design and Build Quality
The first thing you'll notice about the NAMI Burn-e MAX is its design. It has a sleek, black finish that looks both professional and stylish. The chassis is made from sturdy materials that can withstand regular use and rough handling. This is a scooter that's built to last, no doubt about it.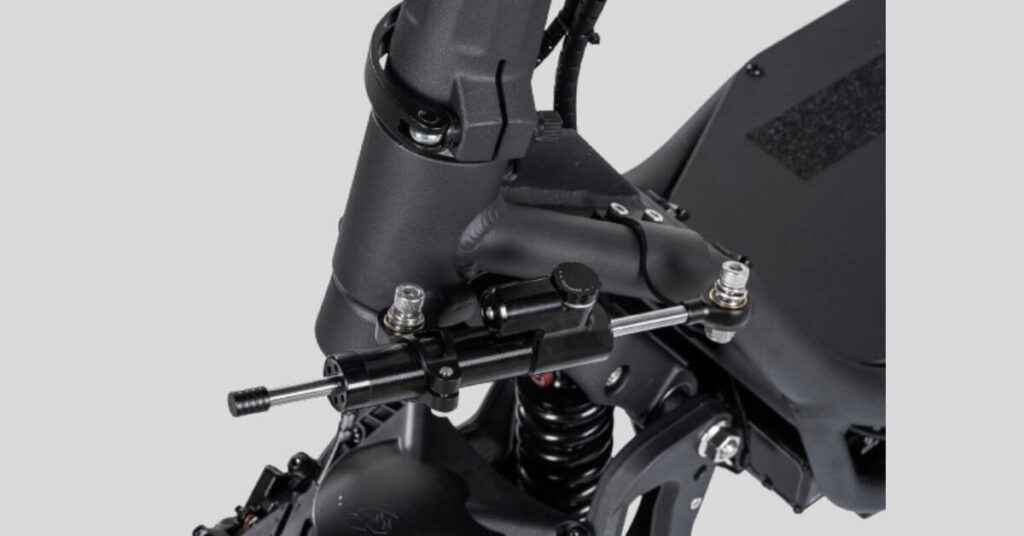 The design isn't just about the aesthetics either. There's clear attention to the practicality and functionality of the scooter, making it not only look good but perform well too.
Performance
Speed and Range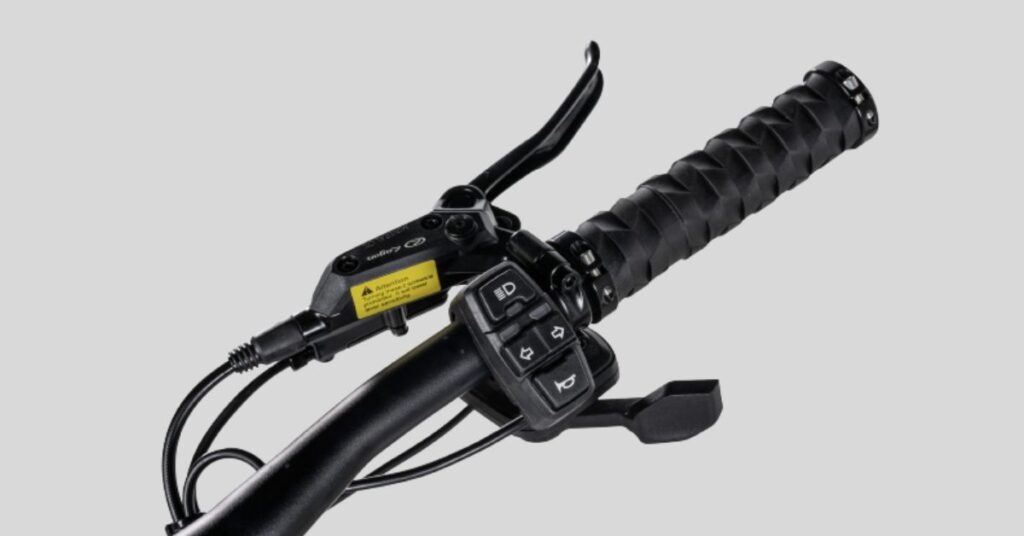 When it comes to speed, the NAMI Burn-e MAX certainly has a leg up on the competition. It offers a top speed that will satisfy even the most speed-hungry riders. Paired with an impressive range, this scooter is perfect for both short commutes and longer journeys.
Motor and Battery
The heart of the NAMI Burn-e MAX's superior performance is its powerful motor and battery. The motor provides enough torque for zippy starts and uphill climbs, while the battery ensures a long-lasting ride.
Comfort and Safety
Tires and Brakes
The NAMI Burn-e MAX doesn't compromise on comfort and safety. Its pneumatic tires offer a smooth ride, and the robust brakes ensure reliable stopping power.
Lighting and Display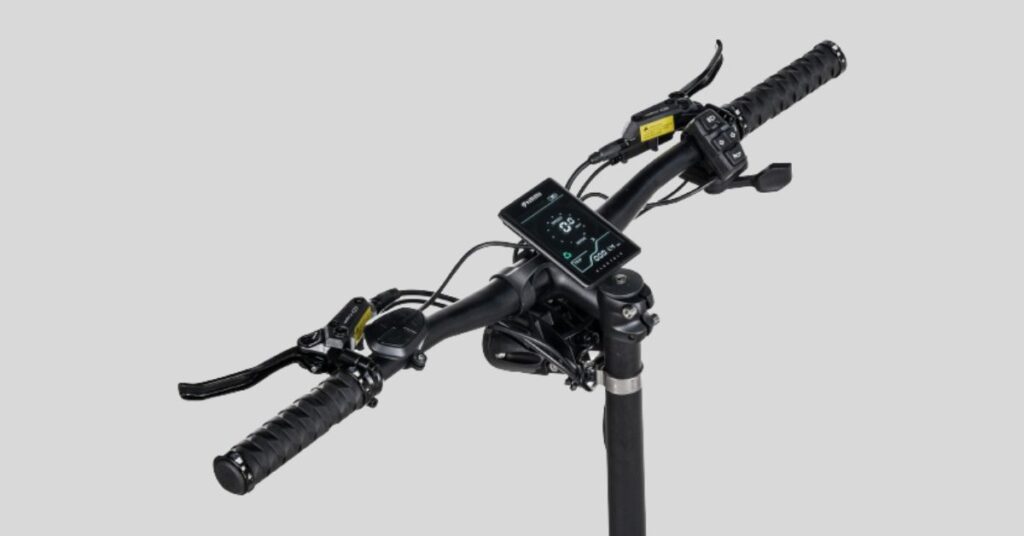 The scooter also features excellent lighting for night rides and a clear, user-friendly display that gives you all the necessary information about your ride.
Portability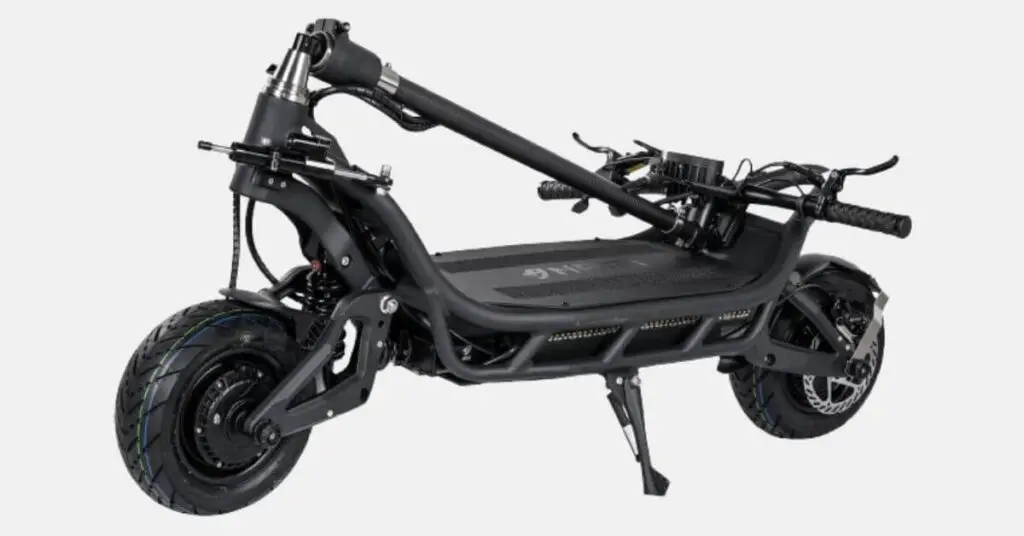 Despite its robust construction, the NAMI Burn-e MAX remains fairly portable, making it convenient for daily commuting and storage.
Comparison with Similar Electric Scooters
As part of this comprehensive review, we also compared the NAMI Burn-e MAX with other similar electric scooters in the market. Despite the tough competition, the Burn-e MAX holds its ground with its top-notch performance, build quality, and range. It certainly stands out as one of the most powerful and reliable e-scooters available in the UK market today.
Comparison of NAMI Burn-e MAX with Other Electric Scooters
| Specification | NAMI Burn-e MAX | Dualtron-X | NAMI Blast Max – 40Ah | Segway GT2 |
| --- | --- | --- | --- | --- |
| Top Speed | 95km/hr | 110km/hr | 85km/hr | 70km/hr |
| Max Range | up to 185km | up to 170km | up to 145km | 90km |
| Charge Time | 6 to 7hrs | 8+hrs | 7.5hrs | 8hrs |
| Weight | 50kg | 82kg | 46kg | 52.6kg |
| Max Load | 120kg | 200kg | 120kg | 150kg |
| Braking | Front and rear hydraulic 4 piston logan brakes | Front and Rear Hydraulic Brakes With 4 Piston Callipers | Front and Rear Logan hydraulic Disc Brake | Dual disc brakes |
Comparison table
NAMI Burn-e MAX with Other Electric Scooters
Dualtron X: This electric scooter is truly a beast in the realm of electric mobility. With a breathtaking top speed of 110km/hr, it stands at the apex of high-performance scooters. Its substantial weight capacity of 200kg makes it a suitable choice for heavier riders. However, its weight of 82kg makes it less portable compared to lighter models. The Dualtron X electric scooter offers a range of up to 170km, and its braking system boasts front and rear hydraulic brakes with 4 piston callipers, ensuring safe and efficient braking.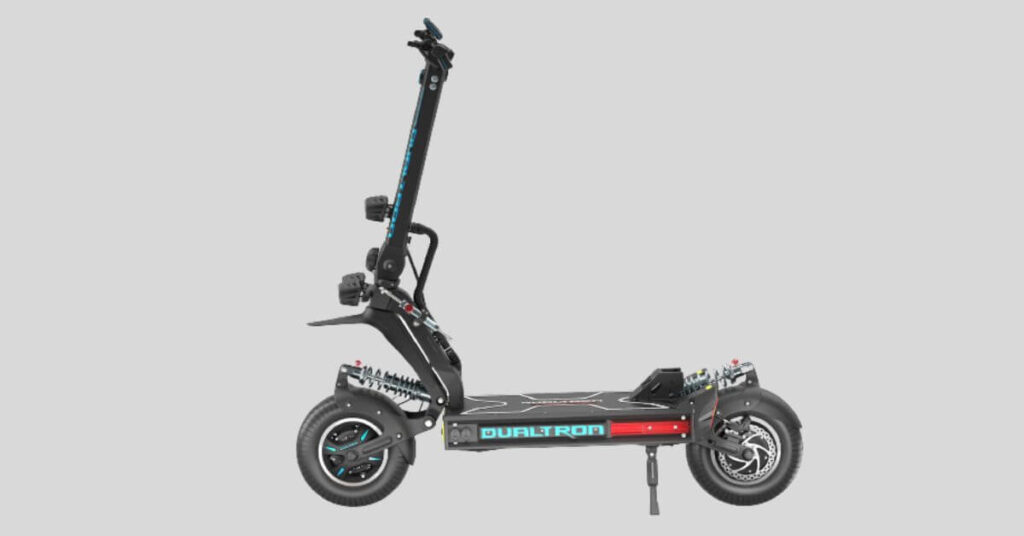 NAMI Blast MAX – 40AH: The NAMI Blast MAX – 40AH electric scooter is a superb blend of performance and portability. Boasting a top speed of 85km/hr, it offers excellent performance, while its lighter weight of 46kg makes it easier to transport. It comes with a respectable range of up to 145km, ensuring it can handle both short commutes and longer adventures. It's also equipped with Logan hydraulic disc brakes for superior braking performance.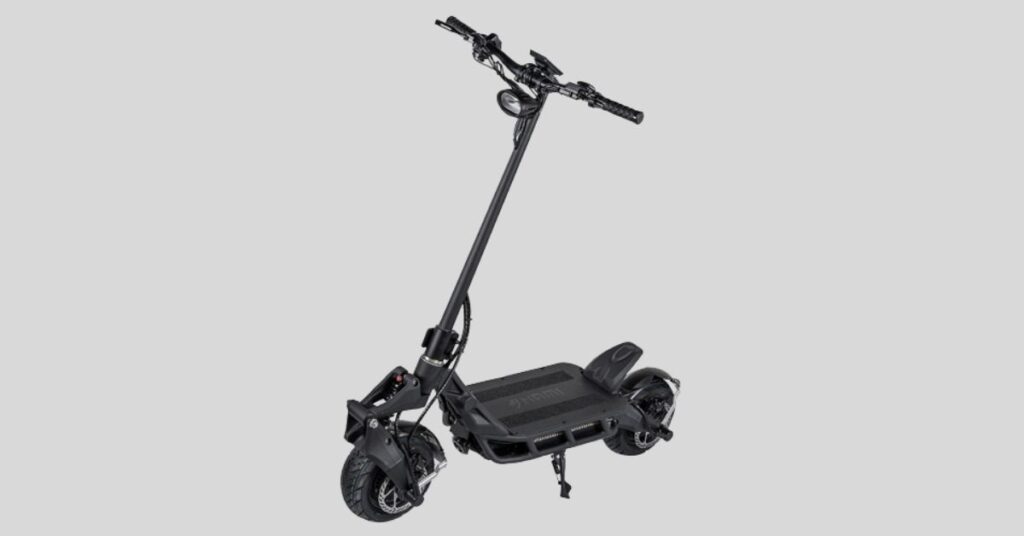 Segway GT2: The Segway GT2 electric scooter is a reliable and versatile electric scooter, delivering a balance of speed, range, and weight capacity. It can reach speeds up to 70km/hr, and it has a range of 90km, making it suitable for daily commutes. Despite its slightly heavier weight of 52.6kg, it can carry riders up to 150kg. The Segway GT2 electric scooter uses dual disc brakes for efficient stopping power. It may not be the fastest or longest-range scooter, but it is a dependable workhorse that won't let you down.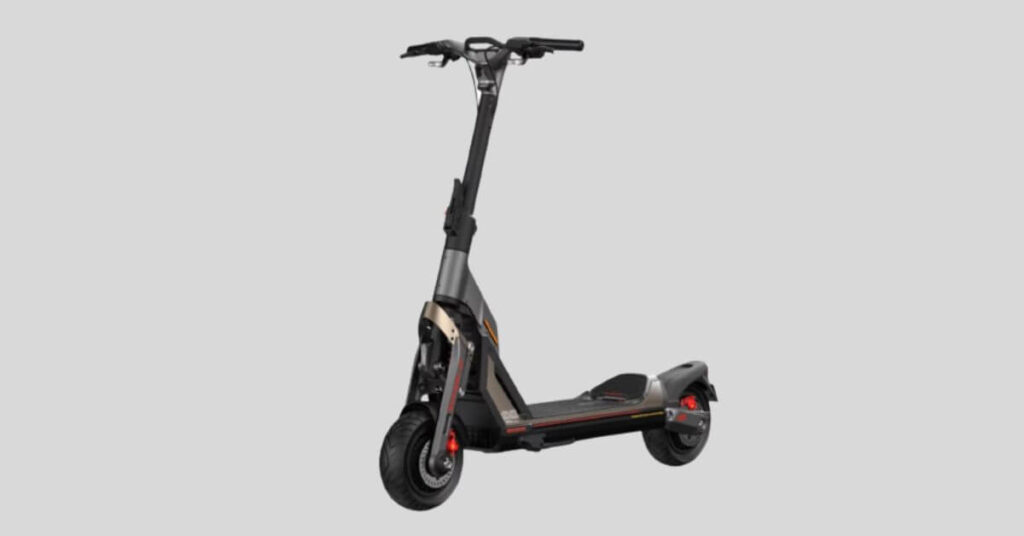 Buying Guide
What to Look for When Buying an Electric Scooter
When buying an electric scooter, it's essential to consider a few crucial factors. Speed, range, build quality, and safety features should be your top priorities. Also, take into account the scooter's weight and portability, especially if you plan to commute daily. Lastly, customer reviews and after-sales service can provide valuable insights into the scooter's performance and the company's reliability.
NAMI Burn-e MAX Electric Scooter Specifications
| Specification | Details |
| --- | --- |
| Top Speed | 95km |
| Max Range | Up to 185km (60kg load, 25 degrees of ambient temperature Based on the flat road 30km/h constant speed driving) |
| Standard Charge Time | 12 hours of charging time with a standard charger, 6 hours with a fast charger |
| Weight | 50 kg |
| Max Load | 120 kg |
| Braking | Front and Rear Logan full hydraulic brake with 160mm rotor and cooling fin pad |
| Motor Size | 1500W x2 with hall sensor / Peak at 4200W x2 (8400w peak power) |
| Display Features | Smart display with riding mode setting ability / Parameters setting for each controller is independent Smart cruise control / Over heat protection built in / IP65 |
| IP Water Resistance Rating | IP55 & IP65 |
| Lighting | 2000 lumen front led light, / Side LED strip integrated with turn signal / Motorcycle horn / IP55 |
| Size when folded LxWxH | 1346mm x 620mm x 640mm |
| Tyres | 11-inch tubeless CST slick tyre, Hybrid or off-road tyre available |
| Cable System and IP Rating | Quick connection for all electric components, for the cables near the handlebar and under the deck / IP 55 for the whole scooter |
| Deck to ground | 288mm |
| Battery | 72V 40Ah LG 21700 Cells |
| Frame | One-piece aviation aluminium welding frame / Solution and ageing heat treatment |
| Suspension | 165mm length KKE hydraulic coil shock with rebound adjustment |
| Controller | 12 mosfet / 50a max current controller x2 / Sine wave, ip65 |
| Folding System | Quick connection for all electric components, for the cables near the handle bar and under the deck / IP 55 for the whole scooter |
| Charger | 72v 5A Fast Charger |
| Handlebar | Patent-designed thread lock taper folding system / 304 stainless steel folding parts |
| Main Dimension | Overall size: 1346mm x 620mm x 1446 mm Hanlde bar to the deck, 1090mm in height Deck cover: 564x312mm, 766mm in length including rear foot rest |
| Package size | 140mm x 680mm x 300mm |
NAMI Burn-e MAX Electric Scooter Specifications
Pros and Cons of NAMI Burn-e MAX
Like any product, the NAMI Burn-e MAX has its strengths and weaknesses. Its main advantages are its robust design, superior performance, and impressive range. However, it's not the lightest scooter on the market, which could be a concern for some users. Its high-end features also come with a relatively high price tag, although many users find the investment worth it for the quality and performance it offers.
Maintenance Guide
Cleaning and Servicing
Proper maintenance is key to prolonging the life of your NAMI Burn-e MAX electric scooter. Regular cleaning is essential, and you should take care not to use harsh chemicals that could damage the scooter's surface. Regular servicing will also ensure your ride continues to perform at its best.
Battery Management
One of the most important aspects of maintaining an electric scooter is managing the battery correctly. This involves proper charging practices and avoiding complete discharges as much as possible.
Troubleshooting Common Issues
Even with proper maintenance, you may encounter issues with your electric scooter. The most common issues include reduced range, inconsistent performance, and problems with the braking system. Most of these issues can be resolved with basic troubleshooting, but you should always consult the user manual or seek professional help if needed.
Conclusion
In the world of electric scooters, the NAMI Burn-e MAX is undoubtedly a top contender. With its sturdy build, incredible performance, and eye-catching design, it stands out in the crowd. However, it's important to remember that it's not just about the specs – the riding experience is equally important. And from our testing, the NAMI Burn-e MAX electric scooter definitely delivers on this front.
The NAMI Burn-e MAX might not be the cheapest option on the market, but it's worth every penny. It offers unparalleled performance, comfort, and safety features that make it a worthy investment for both commuting and recreational riding. If you're after an electric scooter that delivers on all fronts, you can't go wrong with the NAMI Burn-e MAX.
Frequently Asked Questions
How long does the NAMI Burn-e MAX's battery last?
The battery life of the NAMI Burn-e MAX depends on several factors, including the rider's weight, the terrain, and the speed. However, under ideal conditions, it offers an impressive range that should suffice for most riders' needs.
Is the NAMI Burn-e MAX suitable for beginners?
The NAMI Burn-e MAX is a high-performance electric scooter, and while it's relatively easy to learn, it may be a bit too powerful for absolute beginners. However, with some practice and caution, new riders should be able to handle it.
Can the NAMI Burn-e MAX handle hilly terrains?
Absolutely. The NAMI Burn-e MAX comes with a powerful motor that provides enough torque for climbing hills. However, like any electric scooter, the speed and range will decrease significantly on steep inclines.
Is the NAMI Burn-e MAX waterproof?
While the NAMI Burn-e MAX has a certain level of water resistance, it's not fully waterproof. It's recommended to avoid riding in heavy rain or submerging it in water.
Where can I buy the NAMI Burn-e MAX in the UK?
The NAMI Burn-e MAX is available through various online and physical retailers in the UK. Always ensure to purchase from a reputable seller to ensure you receive a genuine product and proper after-sales service.
Final Thoughts
Before wrapping things up, let's take a moment to reflect on what we've covered. We delved deep into the NAMI Burn-e MAX electric scooter's features, its pros and cons, and how it stacks up against the competition. We also gave you a quick guide on maintaining your electric scooter to ensure it keeps running smoothly.
If we had to sum it up in a few words, the NAMI Burn-e MAX electric scooter is a remarkable piece of engineering, combining top-tier performance with high-quality design and unmatched safety features. Yes, it's a bit on the pricey side, but if you're looking for a premium electric scooter that won't let you down, the NAMI Burn-e MAX is undoubtedly a solid choice.
So, if you're considering making the leap to electric scooters, or if you're looking to upgrade your current ride, keep the NAMI Burn-e MAX electric scooter at the top of your list. We're confident that it will exceed your expectations and deliver an unrivalled riding experience.