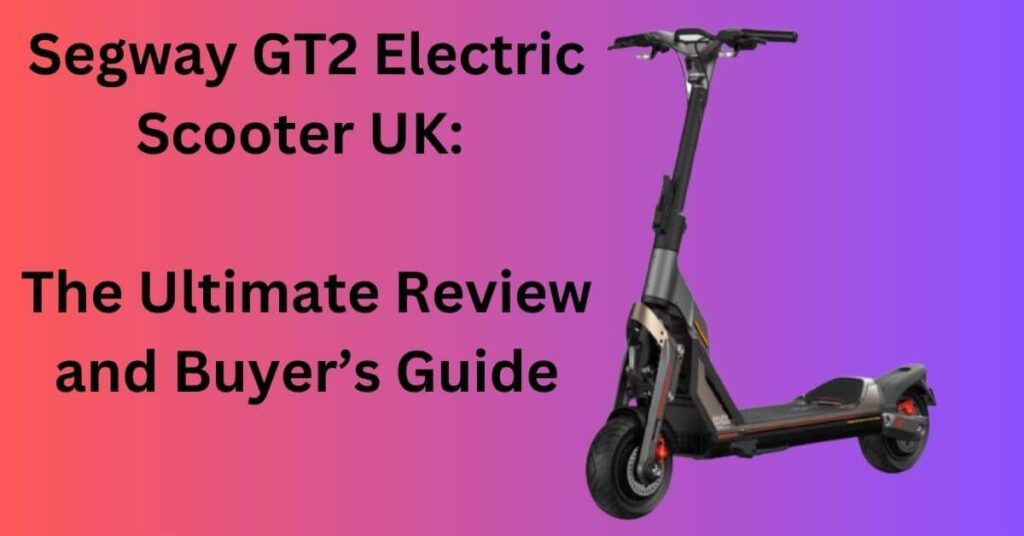 All recommendations within this article are informed by expert editorial opinion. If you click on a link in this story we may earn affiliate revenue.
Introduction
Alright, people! Buckle up because we're about to take a wild ride into the world of high-end electric scooters, and our vehicle of choice for this trip is none other than the mighty Segway GT2!
So, if you're looking for a comprehensive Segway GT2 review that breaks down every nut and bolt, every design intricacy, and all the vroom-vroom this beauty packs, then you've come to the right place. Just promise not to fall off your chair with excitement, okay?
Design and Features Overview
Segway GT2's Electric Scooter: Sleek and Sturdy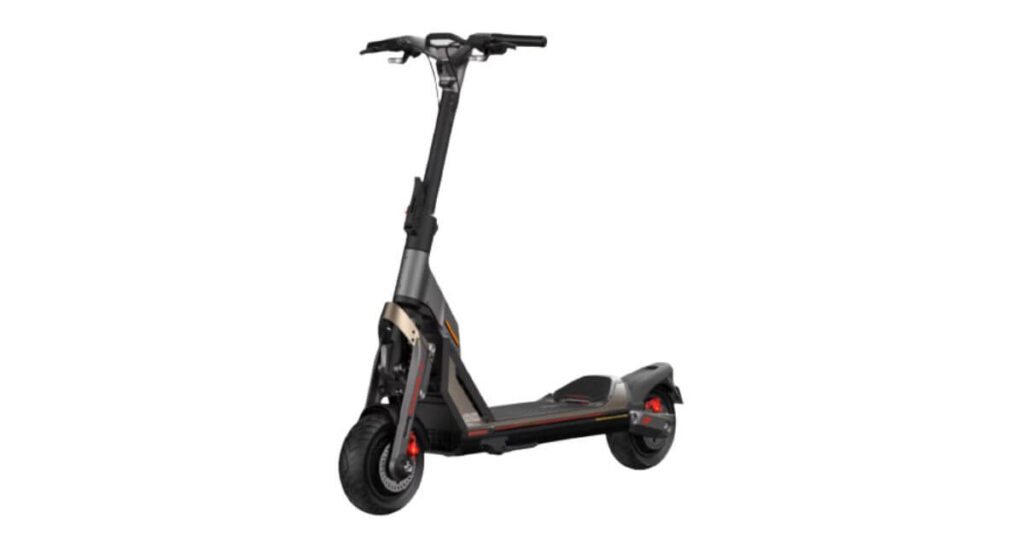 The Segway GT2 electric scooter is not just an electric scooter; it's a piece of engineering brilliance dressed in a sleek, cyberpunk-inspired aesthetic.
Just one glance at this scooter, and you'd be forgiven for thinking it belongs in a sci-fi movie. But the Segway GT2 isn't just about looks; it's a beast that means serious business!
The body is built from aviation-grade aluminium, and it can carry a hefty payload of up to 150 kg. This means this scooter won't bat an eyelid even if you've had one too many pizzas over the weekend (and who hasn't?). Let's delve deeper into its standout design features.
Standout Design Features
Wheels and Tires
On the GT2 electric scooter, it's not just about getting from A to B; it's about getting there with flair and comfort. The scooter boasts self-sealing, 27.94 cm by 9.14 cm front and rear wheels. Now, what does this mean for you?
Well, it offers enhanced ride quality, superior grip and stability, and a reduced chance of unexpected punctures. So, no more worrying about your scooter giving up in the middle of the ride!
The Segway GT2's tires are pre-slimed (sounds weird, but it's a good thing!), ensuring added puncture resistance.
The tire height improves ground clearance, so your scooter won't scrape the underdeck even during a light off-roading adventure. Yes, you heard it right, off-roading on a scooter! Who said scooters were just for smooth pavements?
Scooter Deck
Imagine stepping onto the deck of a luxury yacht. Now replace the boat with the Segway GT2, and that's the kind of experience you get with this scooter's deck. The deck is large, and wide, and allows for side-by-side or front-and-back foot placement.
Covered in textured rubber, the standing area offers a firm grip, ensuring you stay put even during those adrenaline-filled, high-speed adventures. But the game-changer here is the never-seen-before front foot pocket.
Just slide your foot in, and you'll feel as snug as a bug in a rug. Not only does it feel like a warm hug for your foot, but it also provides excellent fender protection and debris protection. With the Segway GT2, it's all about the small details that make a huge difference.
The rear end of the scooter deck has a clever wedge design, providing an excellent angle for resting the heel of your back-placed foot. Whoever said ergonomics couldn't be sexy clearly hadn't met the Segway GT2.
Build Quality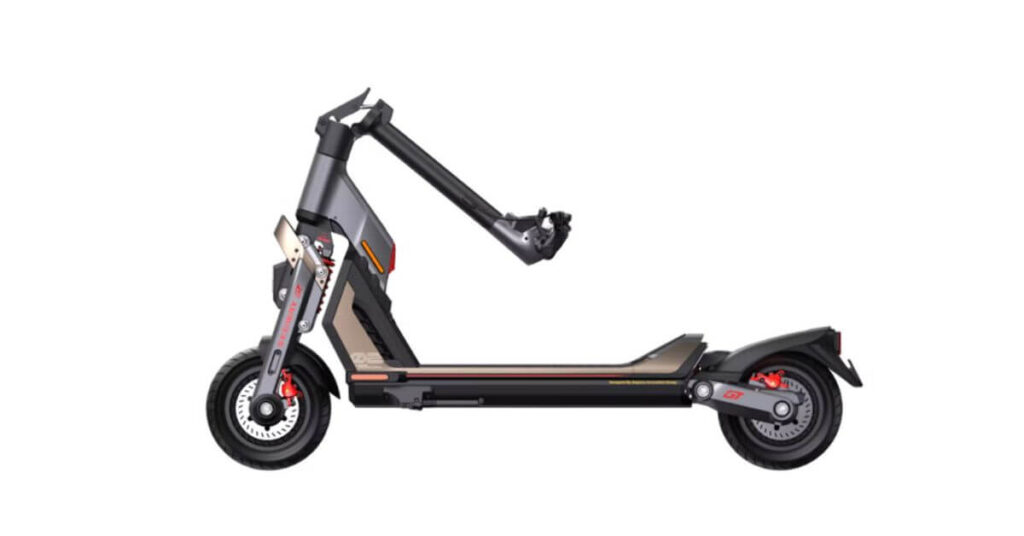 When you unbox the Segway GT2, you'll find yourself face-to-face with one of the most refined electric scooters on the market. It feels like it's carved out of a solid piece of scootanium (yes, we've just invented a new element on the periodic table).
Transparent Passive Matrix OLED Display
You'll notice the transparent passive matrix OLED display. Now, that's a mouthful, isn't it? But what it means is you'll be looking at something that closely resembles a heads-up display on a fighter jet. Think futuristic, clear, and stunningly beautiful.
Segway App Integration
The integration with the Segway app takes the GT2 to new heights of functionality. Turn on zero-start, set lighting effects, and use the brakes and throttle simultaneously – it's all on your smartphone!
Plus, it lets you put your scooter into Sentinel mode, which basically turns your scooter into a vigilant guard. Move it a little, and it lights up like a Christmas tree. Move it more, and it sounds like a rock concert. Talk about having a personal bodyguard!
Exquisite Engineering Details
Beyond the fancy display and the app, the Segway GT2 boasts numerous design marvels.
From high-performance batteries with a Heat Flux Multi-layer Cooling system (engineer-speak for some super-cool cooling tech) to the security Torx screws where the handlebars mount – every aspect screams premium quality.
Other design highlights include the rubber edge at the front of the fairings, the rubber-sealed charging port cover, and the unique design of the deck that provides excellent fender protection.
The IPX4 water resistance rating means you don't have to worry about the occasional water splash. However, with the scooter's high-tech design and electronic components, we still wouldn't recommend a joy ride in the rain. This isn't Noah's Ark, after all!
Final Thoughts on Design and Features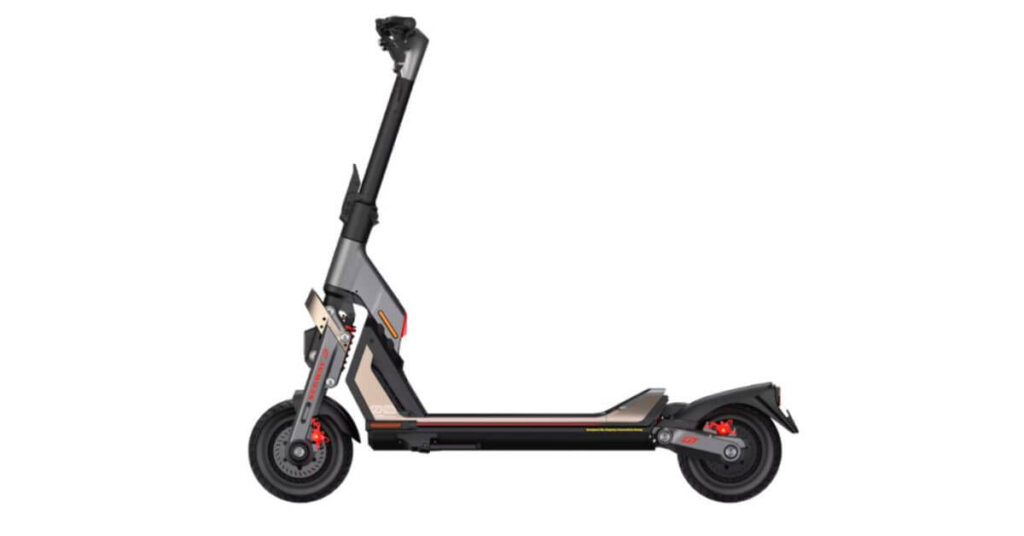 The Segway GT2 is a stunner, not just in terms of looks but also regarding innovative features and thoughtful design elements. It truly pushes the boundaries of what an electric scooter can be and raises the bar for future developments in this field.
Performance Review
Power and Speed
What's that old saying? Oh yes, "With great power comes…a super-fun ride!" Okay, we might have tweaked that a bit. The Segway GT2 flaunts dual motors that output a combined nominal power of 3000w and a peak of 6000w. Hold onto your hats, folks, because this baby can reach a top speed of 70km/h. It's not just an electric scooter, it's a bullet on wheels!
Range
One word – Unbelievable! On a full charge, the Segway GT2 can take you up to a staggering 90km. Whether you're exploring cityscapes or going on off-road adventures, the GT2 is your loyal companion that won't give up until you do.
Braking
It's not just about going fast but also about stopping safely. The Segway GT2 comes equipped with dual disc brakes, ensuring that you can quickly and safely come to a stop when you need to.
Pros and Cons Analysis
The Upsides
Incredible power and range
Ground-breaking design and innovative features
Unrivalled build quality
Excellent braking performance
Advanced app integration
The Downsides
Hefty price tag
Not the most lightweight scooter on the market
Could have a higher water resistance rating
Electric Scooter Comparison
| Electric Scooter | Price (Discounted Price) | Max Speed | Max Range | Brakes |
| --- | --- | --- | --- | --- |
| NAMI Burn-e 28ah | £3,150.00 (£2,990.00) | 45 MPH | 80 MILES | HYDRAULIC DISC BRAKES |
| Dualtron Thunder 2 | £3,200.00 (£2,880.00) | 62 MPH | 105 MILES | HYDRAULIC DISC BRAKES |
| NAMI Burn-e 32ah | £3,900.00 (£3,750.00) | 60 MPH | 93 MILES | HYDRAULIC DISC BRAKES |
| AER 557 | £3,499.00 | 27 MPH | 20 MILES | HYDRAULIC DISC BRAKES |
| Segway GT2 | £3,200.00 | 70 km/hr (Approx. 43 MPH) | 90 km (Approx. 56 miles) | Dual disc brakes |
Electric Scooter Comparison Table
NAMI Burn-e 28ah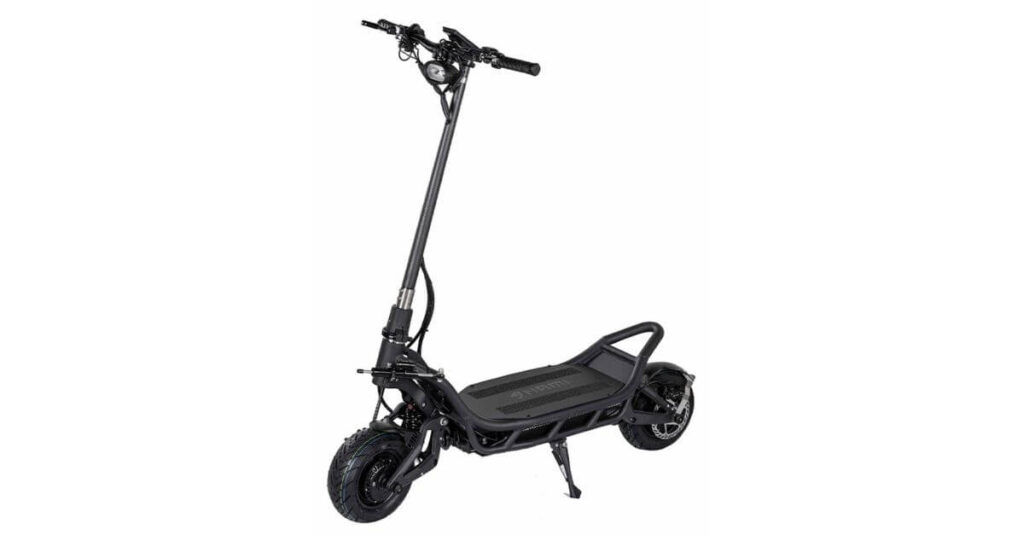 The NAMI Burn-e 28ah is known for its potent blend of speed and range. At a max speed of 45mph, it offers thrilling rides, and the impressive 80 miles range ensures that the fun lasts longer.
At a discounted price of £2,990.00, it's quite a bargain for those seeking the perfect blend of power and endurance. You can read my in-depth review here.
Dualtron Thunder 2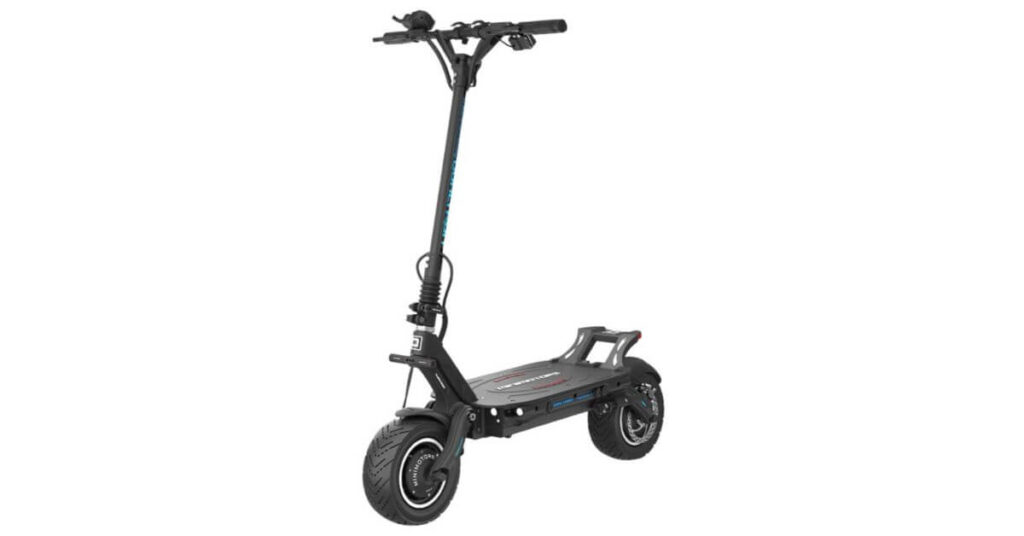 Dualtron Thunder 2 brings on board mind-boggling speed and fantastic range. With a top speed of 62mph and an incredible 105 miles range, it's a must-have for riders who value speed and love long rides. With a discounted price of £2,880.00, it's a great choice for high-speed enthusiasts.
NAMI Burn-e 32ah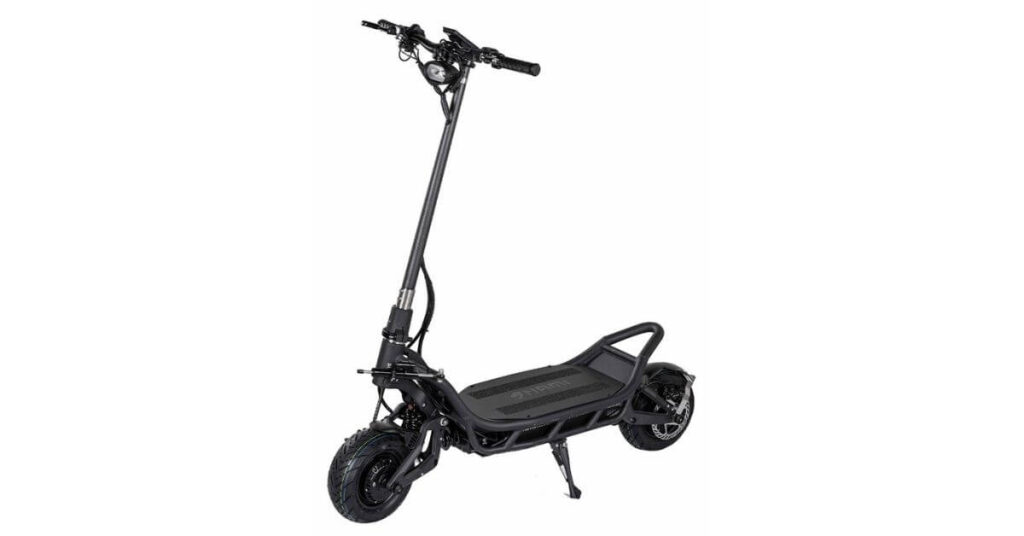 The NAMI Burn-e 32ah offers a step up from its 28ah sibling. This beast can reach up to 60mph and has a range of 93 miles. The hydraulic disc brakes ensure smooth and safe stops. For a discounted price of £3,750.00, it's a top-tier choice for power and endurance seekers.
AER 557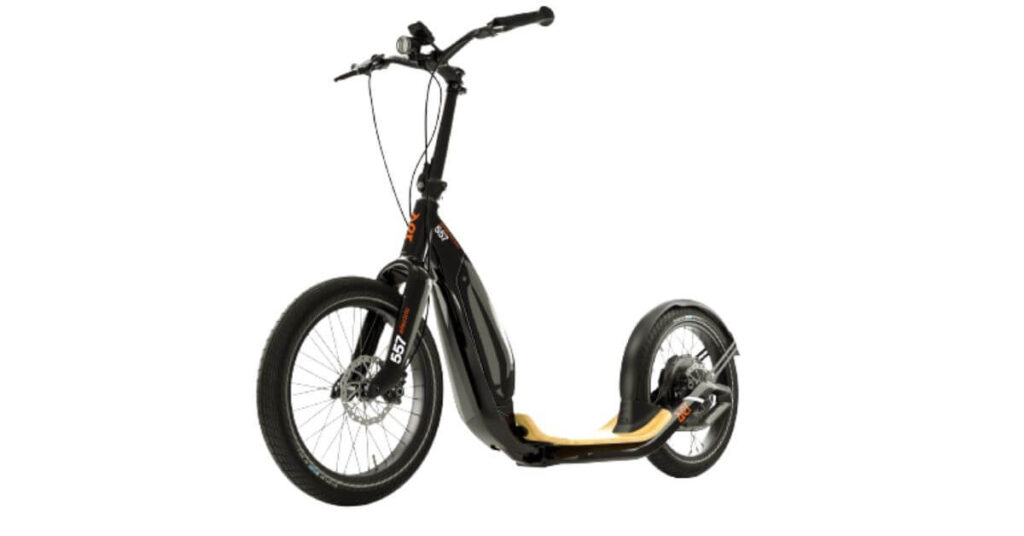 The AER 557 is a more modest and eco-friendly offering. With a top speed of 27mph and a range of 20 miles, it's an excellent choice for quick, short trips around the city. The hydraulic disc brakes offer safety and reliability. At a price of £3,499.00, it's a great urban commuting solution. Read the full AER 557 review here
Segway GT2 Product Specs
| Specification | Detail |
| --- | --- |
| Price | £3,200.00 |
| Top Speed | 70 km/hr (Approx. 43 MPH) |
| Max Range | 90 km (Approx. 56 miles) |
| Charge Time | 8 hours (dual charge) |
| Weight | 52.6kg |
| Max Load | 150kg |
| Brakes | Dual disc brakes |
| Motor Power | 3000 * 2 W |
| Display | Digital with Transparent PM OLED |
| Wheel Type | Tubeless pneumatic tyres with jelly layer 11″ |
| Lighting | 9 W LED front |
| Shock Absorption | Adjustable hydraulic damping |
| IP Rating | IPX4 |
| Battery Capacity | 1512Wh |
Segway GT2 Product Specs Table
Maintenance Tips
Proper maintenance will ensure your Segway GT2 stays in top condition for a long time. Here are some tips:
Regularly check the tire pressure and condition.
Clean the scooter after every off-road adventure to prevent the buildup of dirt and debris.
Check the brakes regularly to ensure they are working correctly.
Keep the scooter dry whenever possible and avoid riding in the rain.
Regularly update the Segway app to benefit from the latest features and performance tweaks.
User Review Summary: Segway GT2 Delivers an Exhilarating Ride
Mr M applauds the Segway GT2 for its robust construction and smooth throttle. The scooter's dual-mode speed and stability impressed him.
Even though he mentioned a minor hiccup with a slightly weak horn and a noise from the front end on bumpy rides, he's overall satisfied with his GT2. A thumbs-up for the GT2's performance and security features!
Is the Segway GT2 Worth Your Money?
In short, if you're someone who values performance, design, and innovation, and is willing to pay a premium for these features, the Segway GT2 is worth every penny. But if you're looking for something more affordable or lightweight, you may want to explore other options.
Frequently Asked Questions
1. What makes the Segway GT2 different from other electric scooters?
The Segway GT2 stands out in terms of its powerful performance, superior build quality, unique design, and innovative features. Some unique aspects include a transparent PM OLED display, dual motors with incredible power output, and an unusually large range.
2. Is the Segway GT2 waterproof?
The Segway GT2 comes with an IPX4 rating, which offers protection from water splashes from any direction. However, it's not advisable to ride the scooter in heavy rain or submerge it in water.
3. Can I ride the Segway GT2 off-road?
Absolutely! With its robust build, powerful motors, and 11″ tubeless pneumatic tyres, the Segway GT2 is more than capable of handling off-road conditions. Just remember to clean it afterwards to prevent dirt and debris build-up.
4. What is the maximum load capacity of the Segway GT2?
The Segway GT2 can comfortably carry up to 150kg. This makes it an excellent choice for larger riders or those who often carry heavy backpacks or packages.
5. How long does the Segway GT2 take to charge?
The Segway GT2 takes approximately 8 hours to fully charge with a dual charger. So you can easily leave it to charge overnight and wake up to a fully charged scooter ready for the day's adventures.
Final Thoughts
Well, folks, that wraps up our comprehensive review of the Segway GT2. This beastly scooter is not just a step, but a giant leap forward in electric scooter technology.
Its power, design, and range are nothing short of a revelation in the industry. It's a premium product with a premium price tag, but we believe that for the discerning rider who demands the very best, it's a price well worth paying.
Thank you for spending your valuable time with us. We hope this guide has provided the insights you were seeking about the Segway GT2. And remember – life is like riding an electric scooter. To keep your balance, you must keep moving!
Until next time, safe and happy scooting!