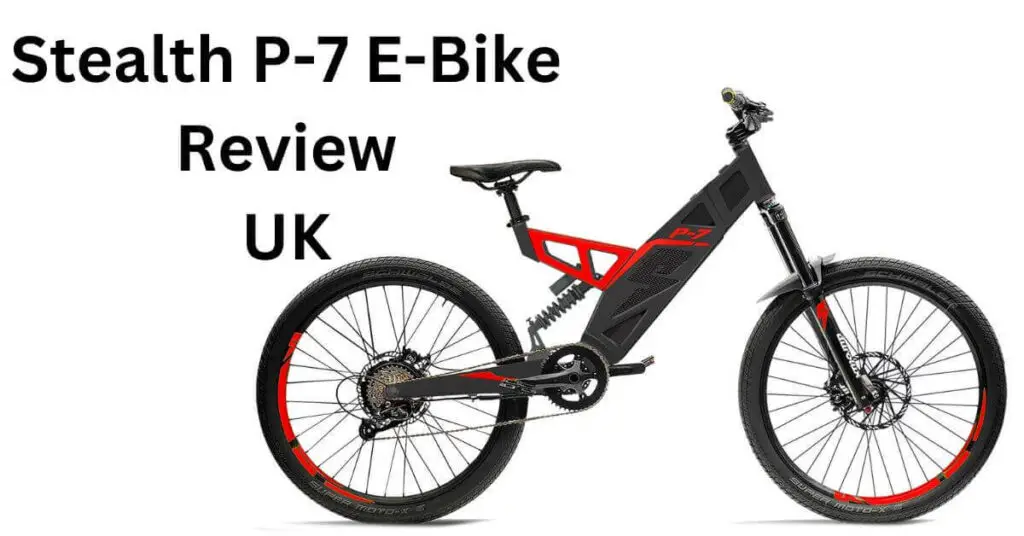 All recommendations within this article are informed by expert editorial opinion. If you click on a link in this story we may earn affiliate revenue.   
Introduction: The New Age of E-Bikes
Hey, Welcome back everyone or if you a new reader Thanks for being here!
Today, we're diving deep into the world of e-bikes, specifically focusing on the Stealth P-7.
If you're a biking enthusiast, you've probably heard about the buzz surrounding it.
But is it worth your hard-earned money?
Let's find out in this comprehensive Stealth P-7 electric bike review.
The Powerhouse: What's Under the Hood?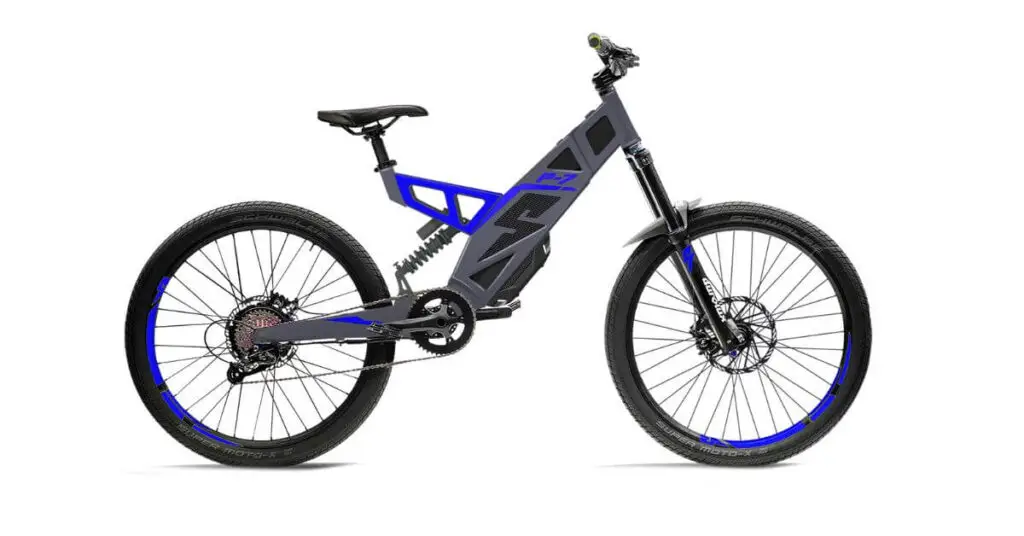 Motor and Speed
The P-7 is equipped with a 1,500W brushless DC hub motor.
This beast can propel you to a top speed of 25 km/h.
Now, you might think, "Is that it?"
But trust me, when you're weaving through rugged terrains, that's more than enough.
Battery Life: Go the Distance
One of the standout features in our Stealth P-7 electric bike review is the impressive 1500Wh battery.
Imagine cruising up to 150 km without needing a recharge.
For those long rides through the UK's picturesque countryside, this bike won't let you down.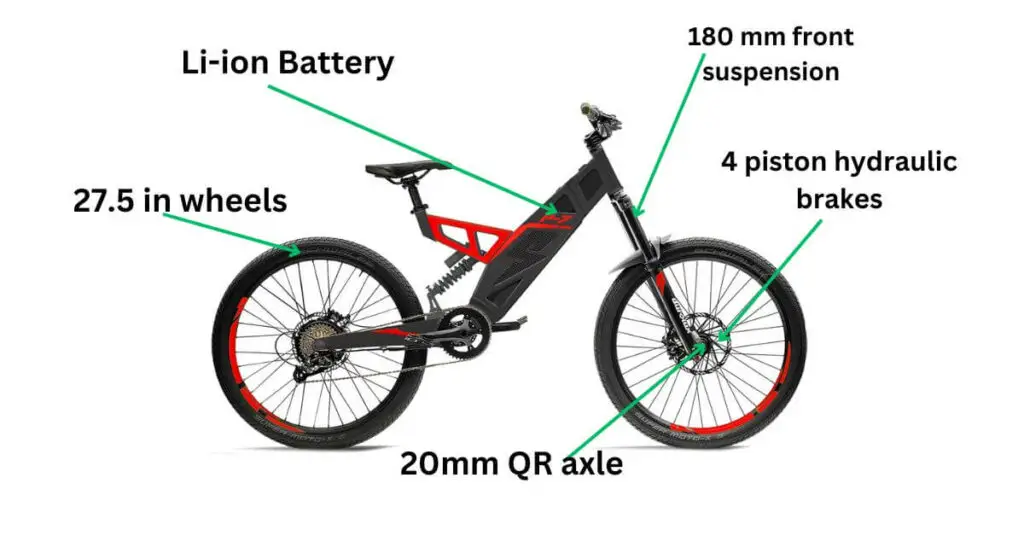 Build and Design: A Perfect Blend of Strength and Aesthetics
Lightweight Yet Durable
Made with an aircraft-grade 4130 CrMo frame, the P-7 promises strength without compromising on weight.
It's a bike that can take a beating but won't weigh you down.
Suspension System: Conquering Challenging Terrains
Mountain biking is all about the thrill of challenging terrains.
With the P-7's high-quality front and rear suspension, every ride is smooth and responsive, even on the most rugged paths.
Features That Shine: Beyond the Basics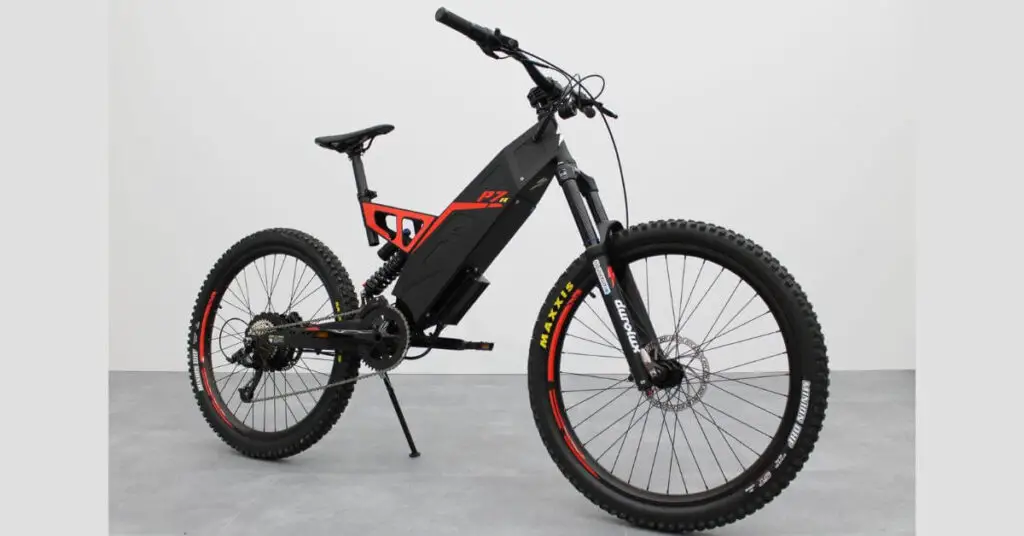 Braking System
Safety first, right? The 2 piston Magura MT4 brakes with 180mm rotors ensure that you can stop on a dime, no matter the conditions.
Gearing Up: 9-speed Derailleur System
Whether you're climbing steep inclines or racing downhill, the 9-speed derailleur system guarantees you'll always find the perfect gear.
Stealth P-7 Specifications
Top Speed: 25km/h
Max Range: Up to 150km
Weight: 31.5kg (34kg with upgraded battery)
Max Load: 120kg
Braking: Magura MT4 – Hydraulic 2 pistons
Battery Capacity: 1.0kwh – 1.5kwh (for upgrade)
Peak Power: 750w
Noise: 65db
Comparisons: Stealth P-7 vs Other E-Bikes
| Specification | Stealth P-7 | Stealth F-37 | Stealth H-52 | Stealth P-7R | Super73-RX Mojave |
| --- | --- | --- | --- | --- | --- |
| Top Speed | 25km/h | 60km/h | 80km/h | 45km/h | 25km/h |
| Max Range | 100/150 km | 60km | 70km | 100-150km | 120+km |
| Charge Time | 3 hr | 3 hrs | 3 hrs | 3 hrs | 6/7 hrs |
| Weight | 31.5 kg | 49kg | 60kg | 34kg | 36kg |
| Max Load | 120kg | 120kg | 120kg | 120kg | 150kg |
| Braking | Magura MT4 2 piston hydraulic brakes | Formula Minicross 65 – Hydraulic 4 Pistons | Formula Minicross 65 – Hydraulic 4 Pistons | Magura MT4 – Hydraulic 2 pistons | Full hydraulic brakes |
Comparison table Stealth P-7 vs. Other E-Bikes
Stealth F-37: This e-bike is designed for speed enthusiasts. With a top speed of 60km/h, it's built for adrenaline-pumping rides. However, this speed comes at the expense of range, with a maximum of 60km. Its weight of 49kg makes it less portable than the P-7 but its robust construction ensures durability. Read our in-depth review here
Stealth H-52: The H-52 is a beast of an e-bike. With a staggering top speed of 80km/h and a range of up to 70km, it is designed for those who crave speed and power. The H-52 is the heaviest of the lot, weighing in at 60kg, but its robust build is designed to withstand the most demanding conditions.
Stealth P-7R: This model offers a balance between speed and range, with a top speed of 45km/h and a max range of up to 150km. It's lighter than both the F-37 and H-52, making it more portable. Its durable construction and impressive range make it an ideal choice for long-distance riders and off-road enthusiasts.
Super73-RX Mojave: This e-bike is designed with the urban rider in mind. It boasts a top speed of 25km/h, similar to the P-7, and an impressive range of over 120km. It stands out for its longer charge time of 6/7 hours and its higher weight limit of 150kg, making it a good choice for heavier riders. Read our in-depth review here
Maintenance Guide for the Stealth P-7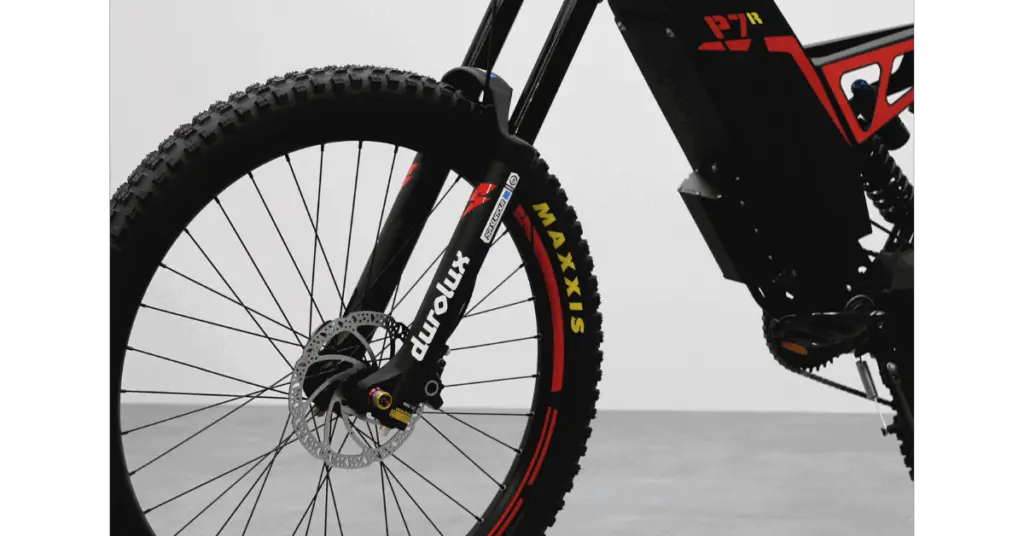 UK E-Bike Laws and the Stealth P-7: A Detailed Look
In the UK, e-bikes or "Electrically Assisted Pedal Cycles" (EAPCs) fall under specific regulations.
For an e-bike to be termed an EAPC, it must:
Have a motor that doesn't assist beyond 15.5 mph.
Not exceed 250 watts with its electric motor.
Have pedals that can propel it.
EAPCs have the freedom to ride on cycle paths and anywhere else regular bicycles can go.
How Does the Stealth P-7 Measure Against UK Laws?
The P-7, with its robust 1,500W motor and a top speed of 25 km/h, doesn't fit the EAPC criteria. Thus, UK laws see it differently.
Pros and Cons of Stealth P-7 in the Light of UK Laws
Pros:
Power and Speed: Its powerful motor and top speed make it stand out among e-bikes. Perfect for those who want more from their ride.
Off-road Mastery: The P-7 is tailor-made for private terrains and challenging trails.
Unique Appeal: Using the P-7 can give you an advantage in private races or off-road biking events.
Cons:
Legal Limitations: Not fitting the EAPC mould means you can't use the P-7 on public roads or cycle paths without legal concerns.
Insurance and Licensing: Its attributes might require you to get a license and insurance in some scenarios.
Potential Misadventures: Unintentional breaches of the law can happen if riders use the P-7 in areas where it's not allowed.
The Not-So-Great Bits: Cons to Consider
While our Stealth P-7 electric bike review is mainly on the positive side, it's essential to remember that no product is perfect.
Some riders believe the P-7's price tag is a bit steep.
There are also concerns about its comfort and versatility compared to other e-bikes in the market.
The Bottom Line
Mountain biking enthusiasts who want the power of an e-bike will find the Stealth P-7 to be a compelling choice.
It's designed to handle tough terrains and promises an exhilarating ride.
However, potential buyers should consider its price point and weigh it against their specific needs.
And, importantly, be aware of the UK's e-bike regulations to avoid any legal missteps.
FAQ's
What is the maximum range of the Stealth P-7?
The Stealth P-7 offers an impressive maximum range of up to 150km on a single charge.
How long does it take to charge the Stealth P-7?
The Stealth P-7 can be fully charged and ready to ride again in under 3 hours from a standard 110V/240V household wall outlet.
What is the maximum weight that the Stealth P-7 can carry?
The Stealth P-7 has a maximum weight capacity of 120kg.
What are the ideal uses for the Stealth P-7?
The Stealth P-7 is suitable for both urban commuting and off-road adventures, thanks to its robust build, impressive range, and user-friendly controls.
My Final Thoughts

Thank you for taking the time to delve into this detailed Stealth P-7 E-Bike review UK.
From the urban jungle to off-road trails, the Stealth P-7 stands out as a versatile and reliable companion.
Its well-rounded features, from its impressive battery range to its sturdy construction, make it a noteworthy participant in the electric bike market.
Now, as per tradition, I'll share a bit of light-hearted humour:
Why don't e-bikes get tired?
Because they always have the power to go on!
I'll admit, I'm a better e-bike reviewer than a comedian, but I can't resist a good pun! 😅
I hope this Stealth P-7 E-Bike review UK has shed new light on this remarkable electric bike.
Your continued readership fuels my passion for this field, and I am immensely grateful for your support.
Our journey through the world of e-bikes is only beginning, and I eagerly anticipate the discoveries that lie ahead.
Don't forget to leave a comment and keep the conversation alive – I always appreciate genuine feedback!
Stay tuned for more in-depth e-bike reviews, and until next time, enjoy the ride!