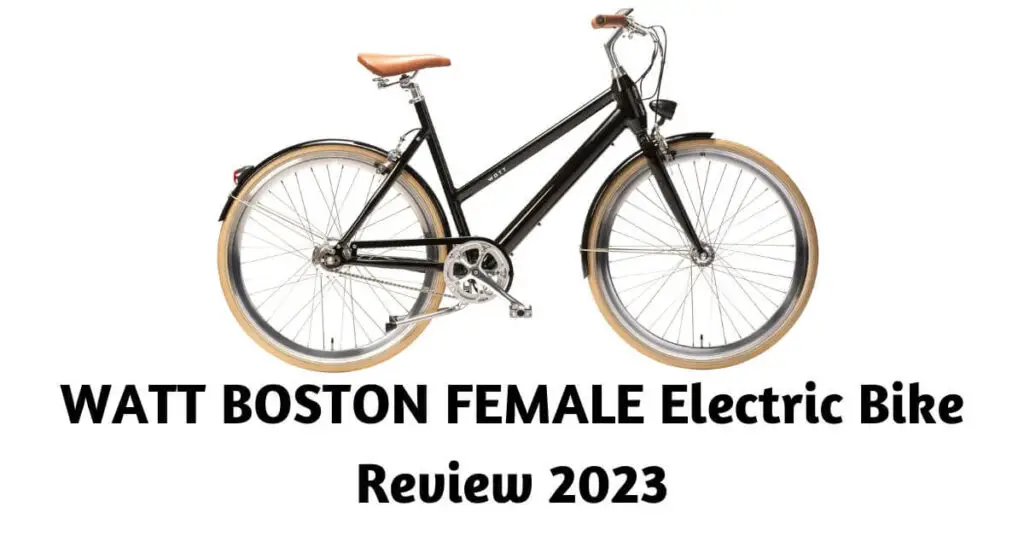 All recommendations within this article are informed by expert editorial opinion. If you click on a link in this story we may earn affiliate revenue.    
Introduction
Have you been searching for the perfect e-bike tailored for women?
Look no further!
The WATT BOSTON FEMALE electric bike 2023 edition might just be the ideal fit for your urban UK adventures.
But is it worth the investment?
Let's dive deep into this comprehensive review.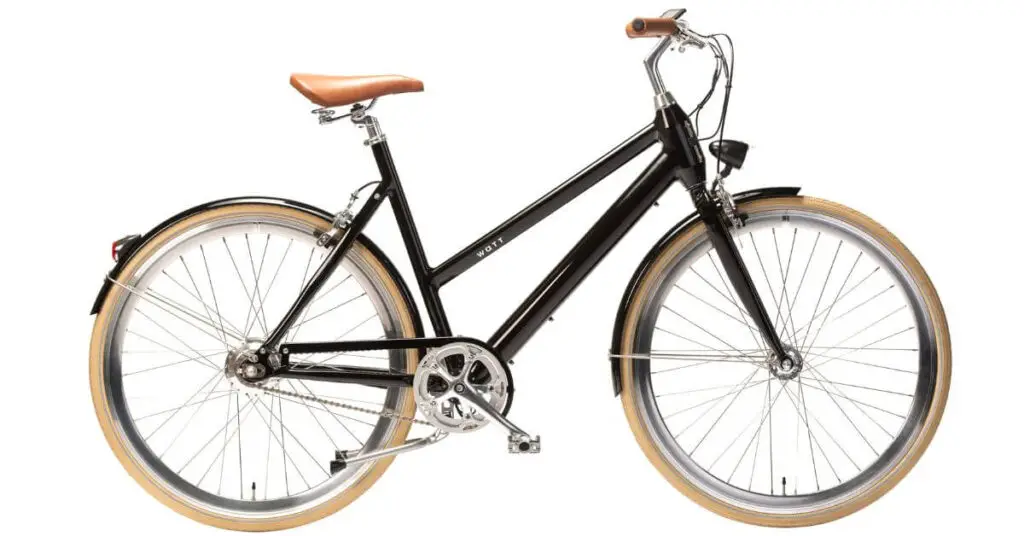 The Core Specifications
Motor and Performance
At the heart of the WATT BOSTON FEMALE electric bike is a 250-watt rear-wheel hub motor, a popular choice known for its efficiency and reliability.
When you're navigating the streets of London, or any other city in the UK for that matter, this bike ensures a smooth journey.
Battery and Range
The bike boasts a 36V – 10.5Ah lithium battery, cleverly integrated into the frame, presenting a sleek look.
On a full charge, you can expect a range of 40-70 km.
However, like with all e-bikes, factors such as terrain, rider's weight, and level of assistance can affect this.
Speed and Gearing
With a top speed of 25 km/h, this bike keeps you within the UK's e-bike regulations.
The 7-speed Shimano gears offer versatility, whether you're tackling hills or cruising on flat roads.
Features Tailored for Women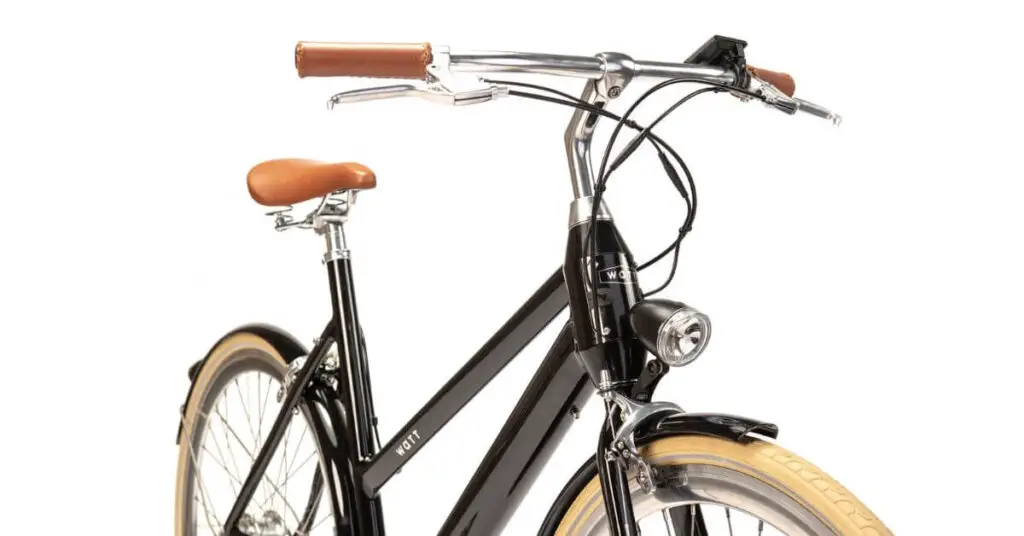 Comfort and Design
The WATT BOSTON FEMALE electric bike doesn't just stop at impressive technical specs; it has features that cater specifically to women.
The comfortable saddle with a female-centric cutout, coupled with the swept-back handlebar, offers a relaxed riding position.
Moreover, the lower standover height ensures easy mounting and dismounting.
Additional Noteworthy Features
From its mechanical disc brakes ensuring safety on the wet UK streets to the 28″ alloy wheels equipped with puncture-resistant tires, the bike is designed for the urban environment.
With a weight of just 19 kg and available in two sizes (48 cm and 54 cm), it caters to a range of riders.
Why the WATT BOSTON FEMALE Electric Bike Stands Out in 2023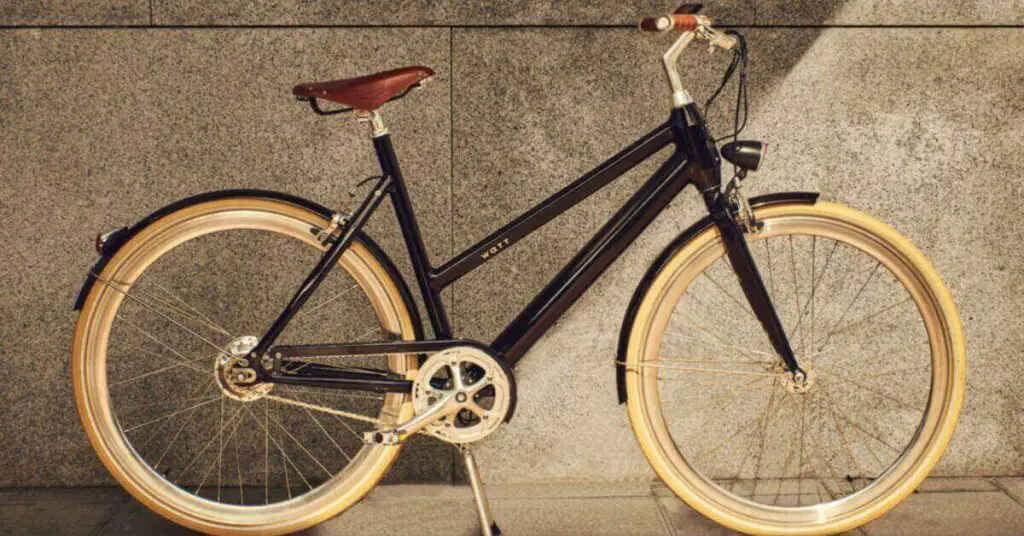 Aesthetics and Build
The frame of the Boston bike, made of aluminium and painted black, exudes elegance.
Its weight, around 17.5 kg, ensures that even without pedal assistance, riding is a breeze.
Additionally, the metal mudguards, painted to match the frame, add a touch of sophistication.
Lighting and Visibility
Safety first!
The bike is equipped with front and rear lights, along with reflective bands, ensuring you're visible during those late-evening rides in the UK.
Motor Positioning and Power
The electric motor, positioned in the rear axle, offers a power of 250 watts.
With 5 settings, you can choose the assistance level, from a leisurely 5 km/h to a brisk 25 km/h.
The unique 2.75 gear ratio ensures optimal power distribution.
The Verdict
In the burgeoning e-bike market of 2023, the WATT BOSTON FEMALE electric bike has established itself as a top contender, especially for women in the UK.
It perfectly marries functionality with aesthetics, all at a price point of £1,590.00.
FAQ's
How does the WATT BOSTON FEMALE electric bike handle wet UK conditions?
Thanks to its mechanical disc brakes and puncture-resistant tires, it's a reliable companion for those rainy days.
What's the battery life of the WATT BOSTON FEMALE electric bike?
Typically, you can expect a range of 40-70 km, but factors like terrain and rider's weight can influence this.
Can I adjust the seat height for my comfort?
Absolutely! The bike offers an adjustable saddle height, ensuring a comfortable ride for everyone.
Is the 2023 edition of the WATT BOSTON FEMALE electric bike worth the investment?
Given its features, design tailored for women, and competitive pricing, it's a worthy investment for urban commuting in the UK.
Where can I find more reviews and insights on e-bikes?
Check out our comprehensive guide on choosing the perfect e-bike in the UK.
Final Thoughts
In the ever-evolving landscape of e-bikes, the WATT BOSTON FEMALE electric bike has certainly made its mark in 2023.
It's more than just a mode of transportation; it's a statement.
A nod to style, efficiency, and a conscious choice for eco-friendly commuting in the UK.
Thank you for joining us on this ride, and always remember: Life's a journey, enjoy the ride!