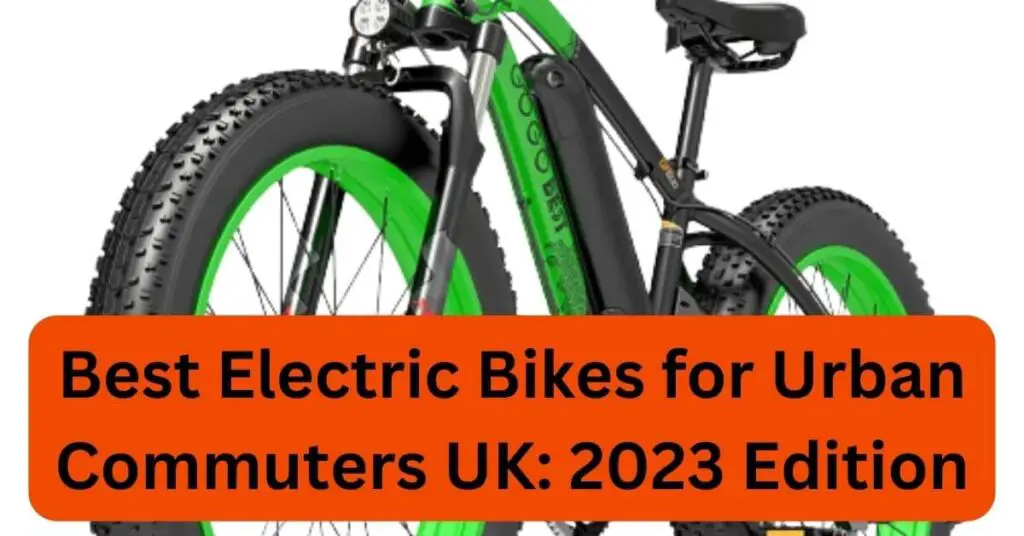 All recommendations within this article are informed by expert editorial opinion. If you click on a link in this story we may earn affiliate revenue.    
Introduction
E-bikes, or electric bicycles, have been making waves in urban settings across the globe, especially in bustling cities like London, Manchester, and Birmingham.
For the modern urbanite in the UK, the quest for a sustainable, efficient, and convenient mode of transport is perpetual.
E-bikes, with their blend of manual pedalling and electric assistance, seem to tick all the boxes.
But with the market flooded with options, how do you choose the right one?
Key Features to Consider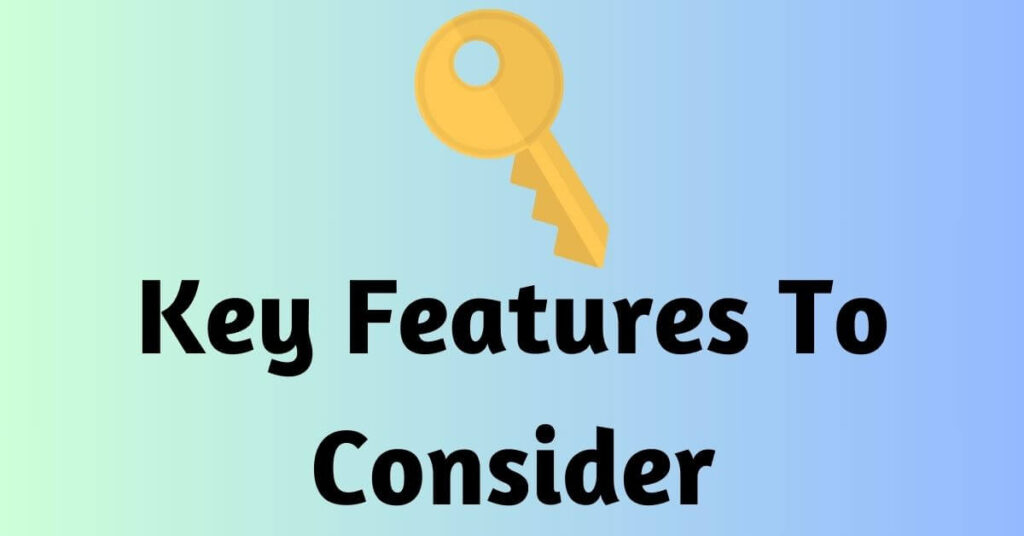 When setting out to purchase your ideal e-bike, it's essential to keep certain features at the forefront of your decision-making process.
After all, the morning commute in the UK can be quite the hustle!
Battery Life and Range:
One of the most vital components of any e-bike is its battery.
Ask yourself – how long will it last on a single charge?
The last thing you'd want is for the battery to run out midway to work.
Look for e-bikes that offer a long-range, ideally suited for your daily commute and then some.
Motor Power:
An e-bike's motor defines its oomph!
Whether you're tackling the hilly terrains of Edinburgh or the busy streets of London, a powerful motor can make your ride smoother and faster.
Remember, it's not just about speed but also the consistency of the ride.
Design:
Some e-bikes come with a foldable design, making them ultra-portable and perfect for those living in apartments or with limited storage space.
However, ensure that the design doesn't compromise the bike's stability or durability.
Additional Features:
Lights for those foggy UK mornings, mudguards for the inevitable rainy days, and rear racks for that briefcase or grocery bag are features that elevate an e-bike from good to great.
Always keep an eye out for these when making your choice.
Top Electric Bikes for Urban Commuters in the UK (2023 Edition)
LANKELEISI G650 20″ Folding Electric Bicycle Commuter E-City Bike: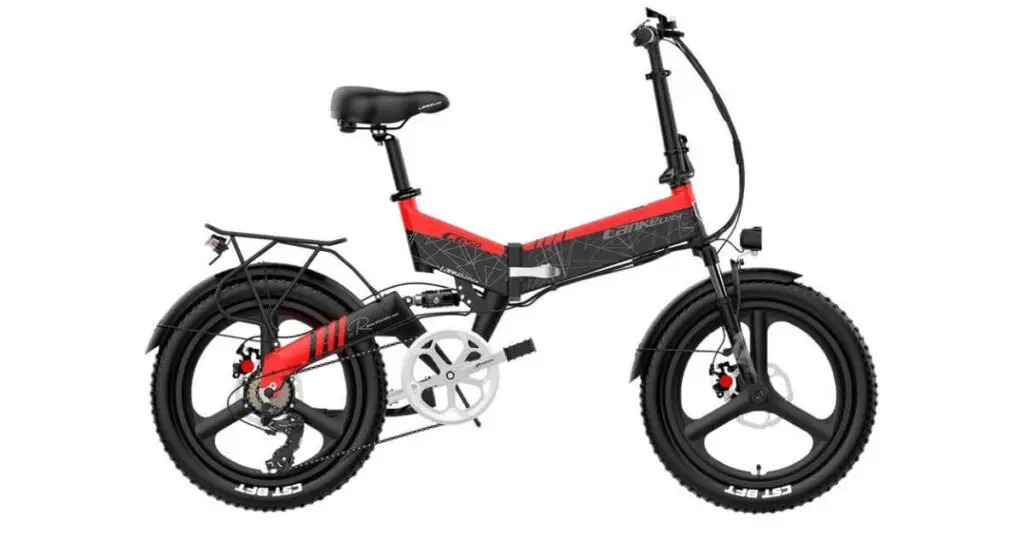 Driving Modes and Technology:
The Lankeleisi G650 offers three distinct driving modes: all-electric, assisted, and manual.
Its cutting-edge I-PAS technology amplifies the motor's efficiency, promising an astounding 80-mile maximum cruising range.
Tyres and Durability:
Constructed with KENDA-made rubber tyres, this e-bike guarantees durability and grip, ensuring a safe and smooth ride on various terrains.
Battery Life and Motor:
With a battery life spanning 4-6 hours and powered by a 48V 400W brushless motor with a 14.5Ah LG lithium battery, riders are assured of long, uninterrupted journeys.
Design and Portability: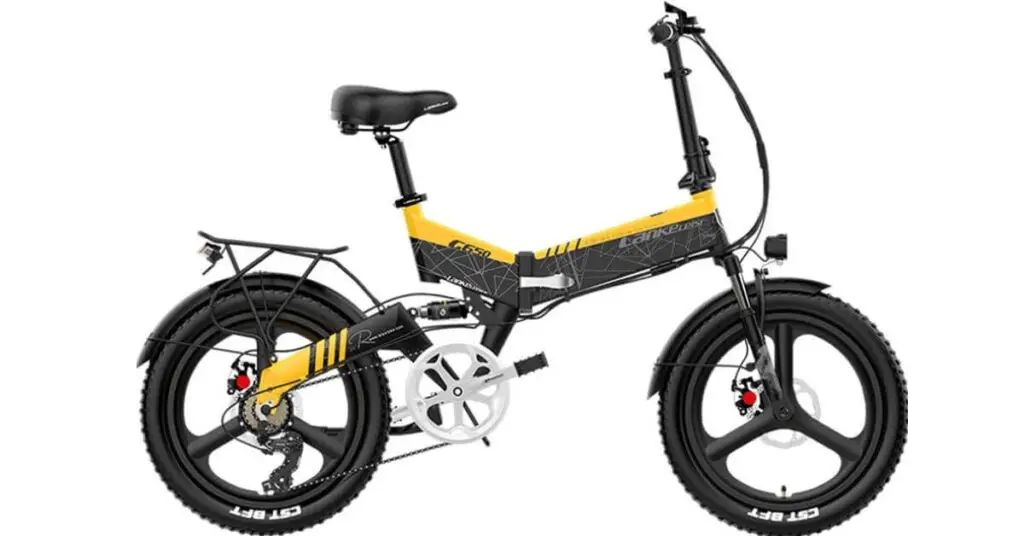 Its foldable aluminium alloy frame, weighing only 50 lbs, makes it portable and perfect for urban commuting.
Moreover, the integrated USB charging port-equipped phone holder makes it suitable for tech-savvy riders.
Additional Features:
The LED display provides insights into your ride, and its 20-inch x 2.4 fat tyres combined with full front and rear hydraulic shock-absorbing suspension ensure off-road capabilities.
The bike arrives fully assembled and ready for adventure.
ENGWE C20 Pro (Upgraded Version) 250W Folding Electric Bike: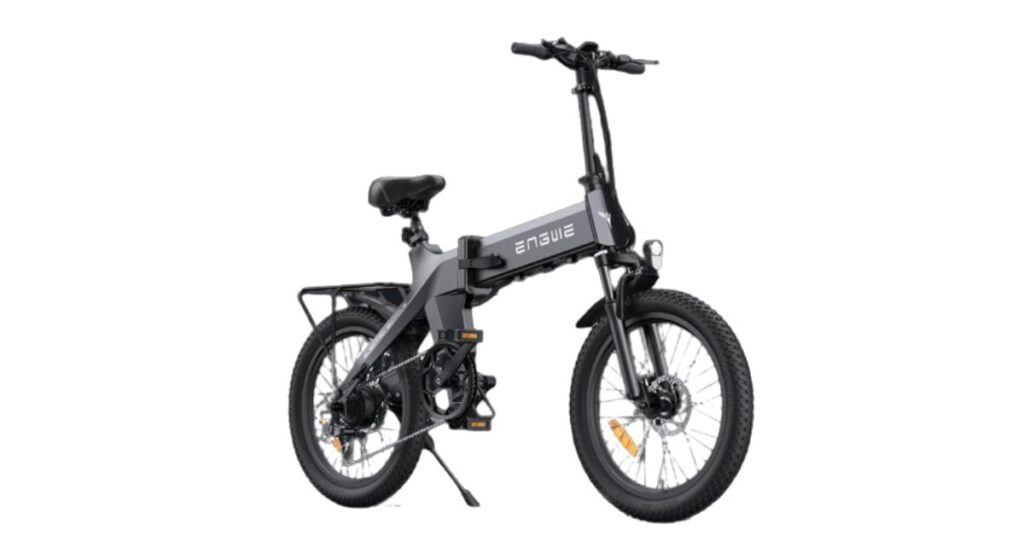 Performance and Design:
The ENGWE C20 Pro stands out with its road-legal maximum speed of 25 km/h, robust construction, and sleek design.
Moped Mode and Range:
Its unique Moped Mode ensures up to 150 km on a single charge, making it ideal even for steep inclines and longer commutes.
Comfort and Adaptability:
The height-adjustable seat and handlebar, combined with high-performance 20×3.0-inch air-filled tyres, ensure a smooth and comfortable ride, even on uneven terrains.
Modes and Transmission: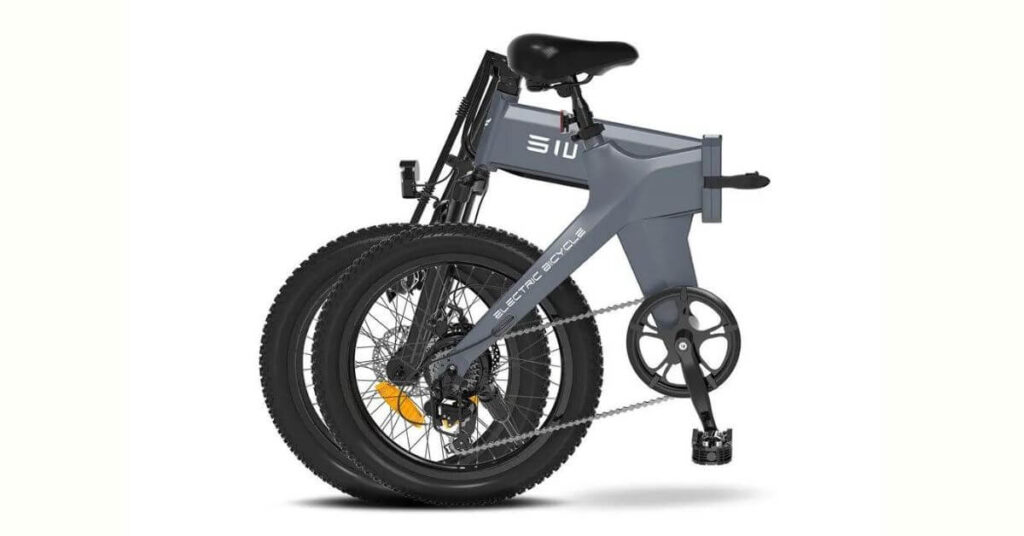 This foldable electric bike offers Electric, Moped, and Normal modes. Paired with Shimano 7-speed gears, riders have flexibility and control over their journey.
Brake & Gear Shift System:
The ENGWE C20 Pro prioritises safety with its horn, brilliant LED spotlight for night rides, and front and rear double disc brakes for quick and effective braking.
Battery Details:
With its 36V 15.6Ah removable Lithium-ion battery, riders can expect a range of up to 80 kilometres on a single charge.
The battery is designed with protective features against temperature damage, over-discharge, and short circuits, ensuring longevity and reliability.
ADO A20F XE 250W Electric City Bike Bicycle Mountain Ebike Road Bike: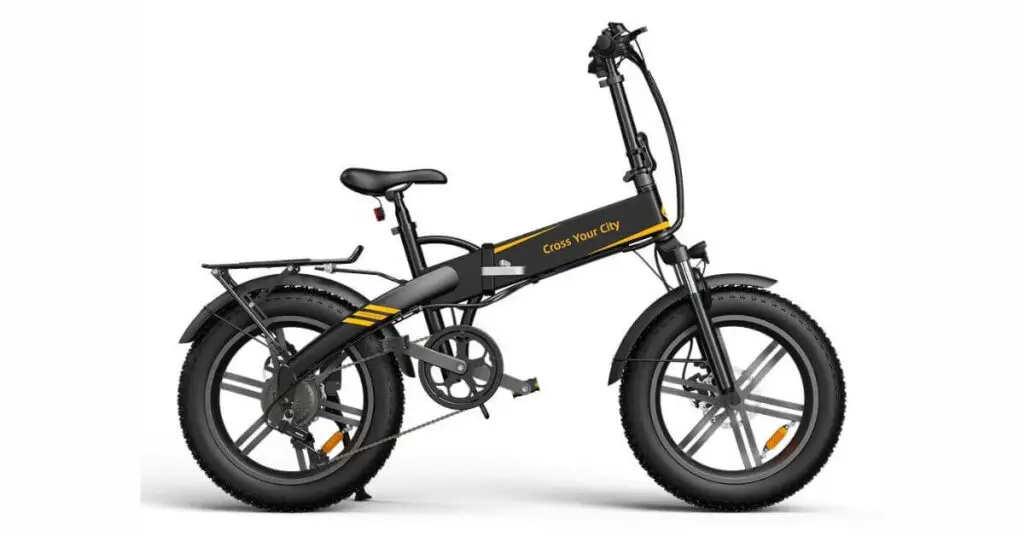 Overview:
The ADO A20F XE is the perfect combination of power and portability, designed to complement the urban lifestyle.
Its lightweight frame and powerful motor ensure a snappy ride, while the Shimano 7-speed gearbox makes navigating challenging terrains a breeze.
Key Features:
The ADO A20F XE boasts two electric ride modes: full electric and PAS (pedal assist).
Its top speed is a commendable 15.5 mph, and it offers a remarkable range of up to 50 miles depending on the mode.
Design and Construction: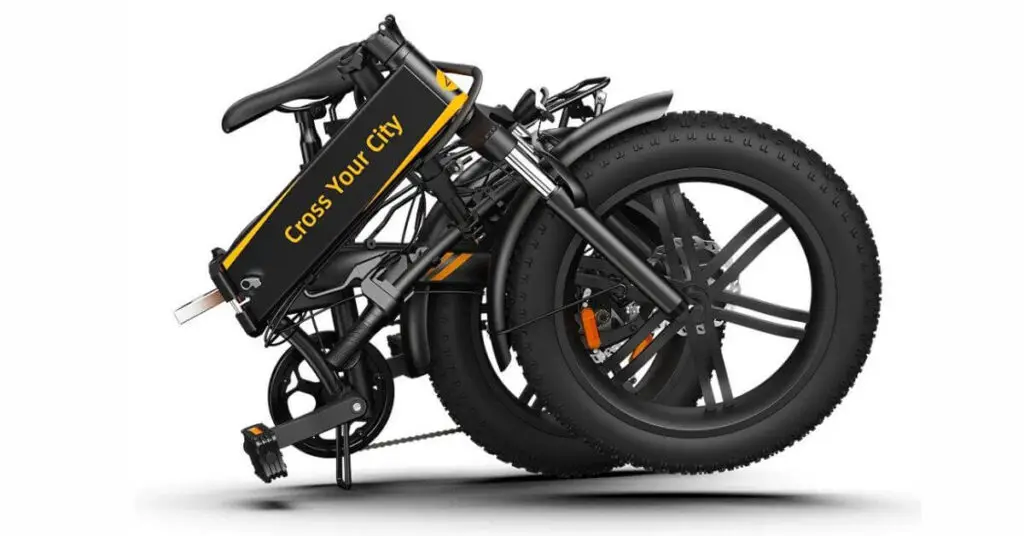 Updates from the previous A20F+ model have been incorporated, resulting in a more robust and energy-efficient A20F XE.
The bike's paint is upgraded from a single layer to four layers, ensuring long-lasting colour retention.
Battery and Motor:
A 10.4Ah high-energy battery provides this e-bike with a 20% efficiency boost and 500 full-capacity charges.
The G-Drive 2.0 Duel frequency conversion technology gathers data from the bike, helping reduce energy loss by up to 30%.
Additional Features:
The ADO A20F XE comes equipped with an IPX5 Waterproof grade, ensuring it can handle rainy conditions.
Its Dual Point shock absorption design ensures a comfortable ride in any setting.
An integrated phone holder with a USB port and an HD LCD screen display keeps riders connected and informed.
Read the full in-depth review here
BASSO VEGA Alu Urban Flat Bar MX25 E-Bike – 2023 Model: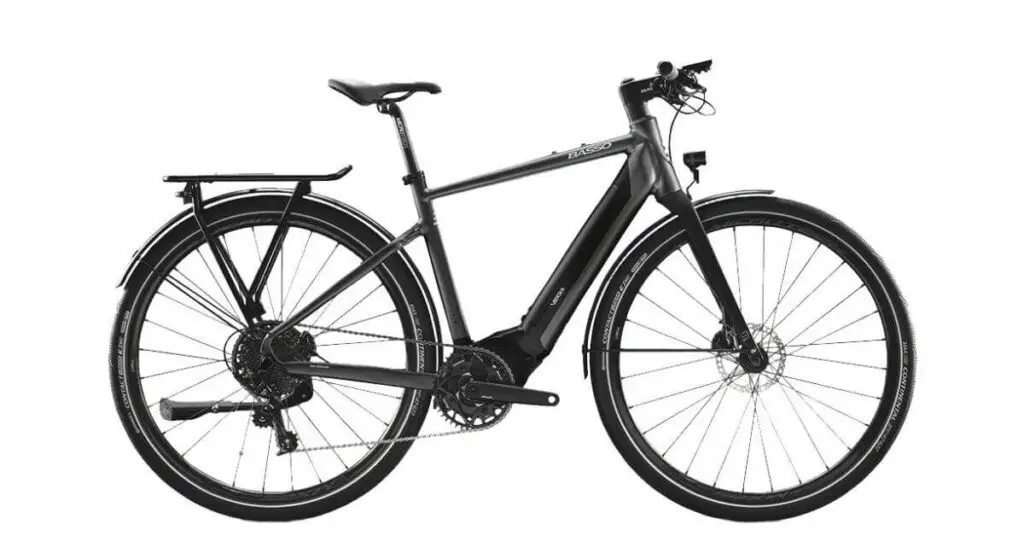 Overview:
The Basso Vega Urban is designed for smooth city rides.
While it's perfect for daily errands due to its standard equipment, the electric motor ensures riders can also explore routes outside the city.
Engine and Battery:
The Polini EP3 + Evo engine powers the Basso Vega Urban, producing 250W and over 75Nm of torque.
The built-in 500 Wh Polini battery provides up to 220 km of assistance and has five adjustable assistance levels.
For extended rides, the bike is compatible with a bottle battery extender.
Frame and Fork:
The e-bike's frame is crafted from aluminium (6061 triple butted), and its fork is made of carbon, ensuring precision in steering and safe handling, even when carrying loads.
Display:
Riders can enjoy the 2.5-inch adaptive light colour screen, which adjusts its colour and intensity based on ambient light, ensuring clear visibility of displayed metrics.
Read the full in-depth review here
ADO DECE 300 City High-Performance Hybrid Electric Road Bike: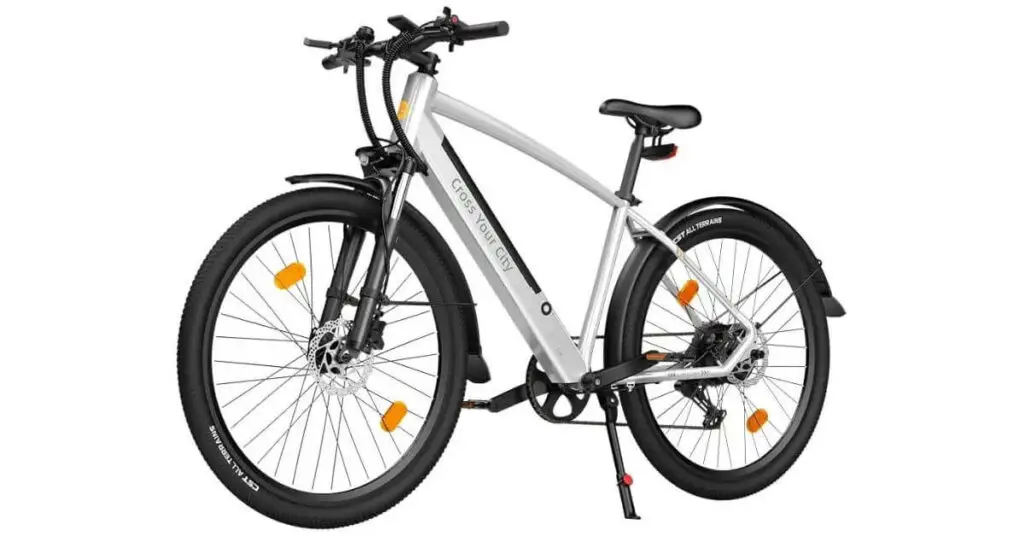 Overview:
Dubbed the "Supreme City Hauler", the ADO DECE 300 is built to complement city life perfectly, blending an attractive design with high performance.
Weight and Tyres:
Weighing in at a mere 22kg, it's incredibly agile.
The 27.5-inch CST All-Terrain tyres, 1.95″ wide, ensure a comfortable ride on both roads and dirt paths.
Battery and Motor:
The e-bike features a high-quality detachable 10.4Ah Lithium-ion battery, allowing for a staggering range of 90km.
This is paired with a powerful 250W brushless DC motor that delivers a robust 42Nm of torque.
Brakes and Shock Absorbers: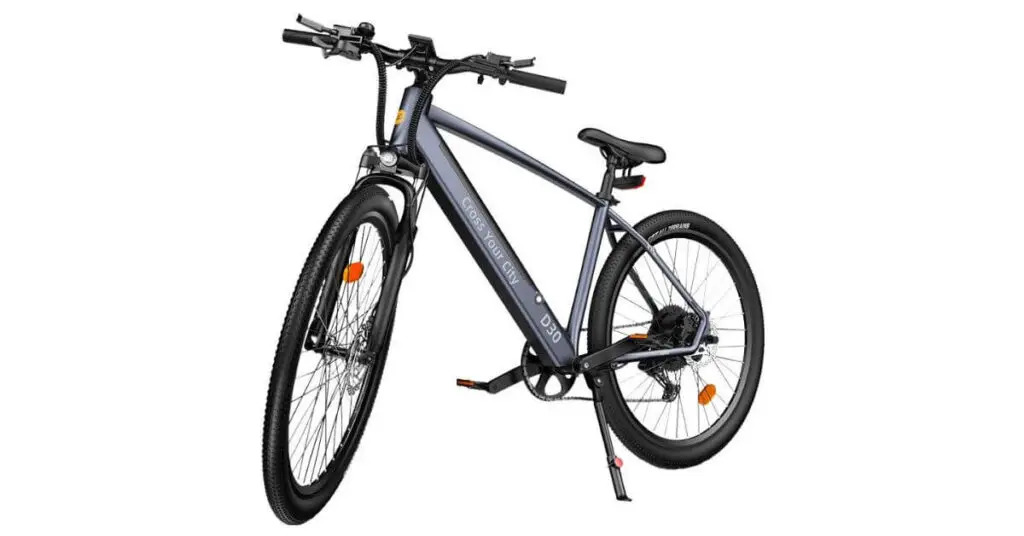 Safety is paramount with the ADO DECE 300. It's equipped with durable hydraulic disc brakes at both the front and rear.
Furthermore, its interactive shock absorber system adapts to various road conditions, ensuring a smooth ride every time.
Controller:
The bike utilises the G-Drive 2.0 control system, acting as the e-bike's brain.
It calculates real-time pedal assist, making every ride feel seamless and natural.
Maintenance Tips for Electric Bikes
E-bikes, while revolutionary, do require a certain level of care to keep them running smoothly.
Here's a handy guide to ensure your e-bike stays in top-notch condition:
Battery Care and Charging:
The heart of your e-bike!
Always charge the battery using the manufacturer-provided charger.
Avoid overcharging, and if you're not using the e-bike for an extended period, store the battery at about 60% charge.
This helps in prolonging its life.
Cleaning and Lubricating:
Like traditional bikes, e-bikes also benefit from regular cleaning. Use a soft cloth and mild soap solution.
Don't forget to lubricate the chain and gears regularly to keep them running smoothly.
Avoid using a high-pressure hose which can damage the electronic components.
Storing Your E-bike:
If possible, store your e-bike indoors or under a covered area.
This protects it from the unpredictable UK weather.
Also, when storing for longer durations, ensure the tyres are inflated, and the battery is stored as mentioned earlier.
Benefits of Electric Bikes for Urban Commuting
Environmentally Friendly:
One of the standout advantages of e-bikes is their low carbon footprint.
By opting for an e-bike over a car or even public transport, you're playing a role in reducing emissions and contributing to a greener planet.
Cost-effective in the Long Run:
Think of all the money saved on fuel, parking, and public transport fares.
While the initial investment might be high, in the long run, an e-bike proves to be a cost-effective solution.
Health Benefits:
Contrary to belief, riding an e-bike does offer health benefits.
You're still pedalling and getting that heart rate up, just with a bit of assistance.
It's an excellent way for those who might find traditional cycling challenging to stay active.
Potential Challenges
Weight and Portability:
As seen with some of our top picks, weight can be an issue, especially when folded.
Ensure you're comfortable with the bike's weight, especially if you need to carry it up flights of stairs.
Initial Cost:
E-bikes can be an investment.
It's essential to choose one that fits your budget but also meets all your commuting needs.
Conclusion
Urban commuting in the UK has seen a significant shift with the rise of e-bikes.
They offer a blend of convenience, sustainability, and health benefits that few other modes of transport can match.
Whether you're a seasoned cyclist or someone looking to make the switch from public transport or cars, there's an e-bike out there that's perfect for you.
Remember, the key is in the details – from battery life to additional features, every aspect plays a crucial role in ensuring you have a smooth and enjoyable ride.
Frequently Asked Questions (FAQ's)
How do electric bikes differ from traditional bikes in the UK?
Electric bikes come with a motor and a battery, which provides assistance while pedalling. This makes them an excellent choice for those who might find certain terrains challenging or wish to commute longer distances without getting too fatigued.
Are e-bikes suitable for hilly terrains in urban UK areas?
Absolutely! One of the primary advantages of e-bikes, especially those with a robust motor power, is their ability to tackle hilly terrains with ease. It makes uphill rides almost effortless.
What is the average battery life of urban electric bikes?
The battery life varies based on the model and usage. However, most good-quality e-bikes for commuting offer a range of anywhere between 30 to 60 miles on a single charge.
How often should I maintain and service my e-bike for city commuting?
For regular urban commuters, a general check-up every 6 months is recommended. However, things like lubricating the chain or ensuring the tyres are well-inflated should be done more frequently.
Are there any legal restrictions for riding e-bikes in the UK?
Yes, there are certain regulations. For instance, you must be 14 years or older to ride an e-bike, and the motor shouldn't assist you if you're riding over 15.5 mph. Always stay updated with the UK's specific laws regarding e-bike usage.
Final Thoughts
Electric bikes are rapidly transforming urban commuting in the UK.
They provide a perfect balance between convenience, sustainability, and fitness.
Whether it's the bustling streets of London, the picturesque lanes of Edinburgh, or the historic pathways of York, an e-bike ensures you get to your destination efficiently and in style.
The market is filled with options, and it's essential to make an informed choice based on your specific needs.
We hope this guide has given you a comprehensive understanding of what to look for and how to care for your e-bike.
Thank you, dear readers, for joining us on this electrifying journey.
Ride safe, stay green, and keep pedalling!