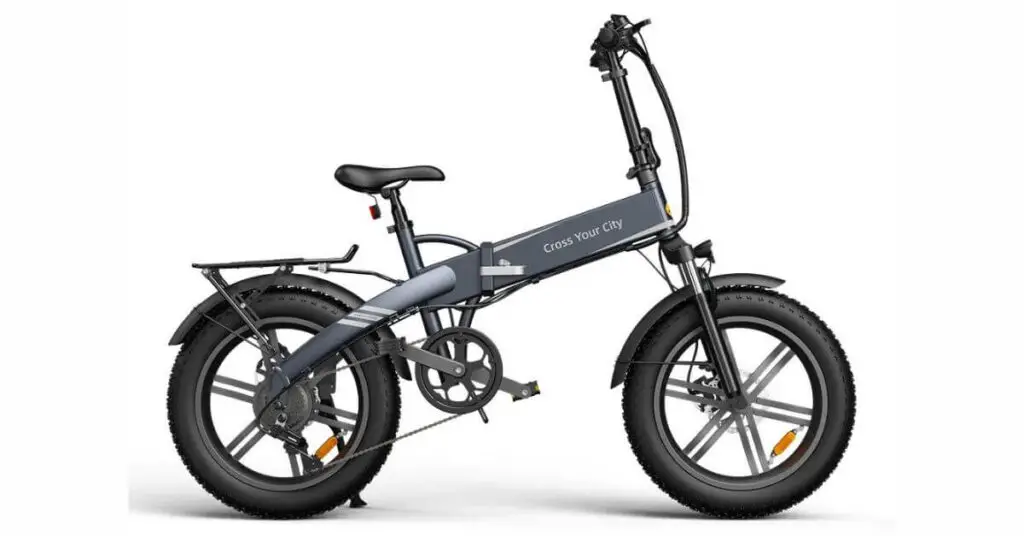 All recommendations within this article are informed by expert editorial opinion. If you click on a link in this story we may earn affiliate revenue.    
Introduction
With the UK's ever-growing cycling community, the rise of e-bikes has been nothing short of meteoric.
Among the sea of choices, the ADO A20F XE e-bike stands tall, asserting its place in the 2023 e-bike market.
But what makes it so unique?
In this comprehensive review, we'll delve deep into what the ADO A20F XE has to offer, from its design aesthetics to its performance metrics.
Features Overview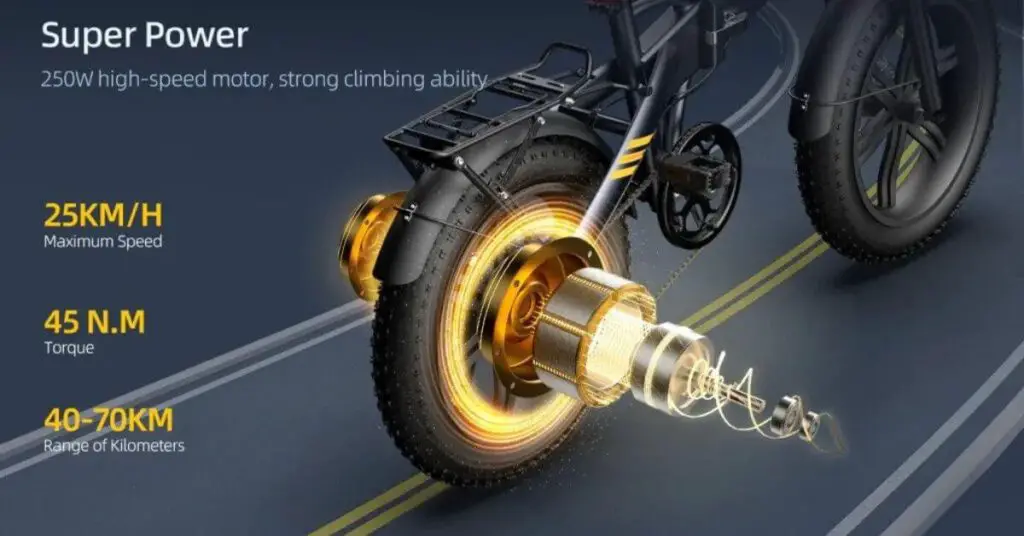 The ADO A20F XE is a symphony of modern tech and thoughtful design.
At first glance, its sleek lines and robust build promise a bike that's both sturdy and stylish.
But as they say, beauty is more than skin deep.
Key Features Snapshot
From its efficient battery life to its foldable design, the ADO A20F XE screams innovation.
It's clear that a lot of thought has gone into making this e-bike not just a mode of transport, but an experience.
Design & Build Quality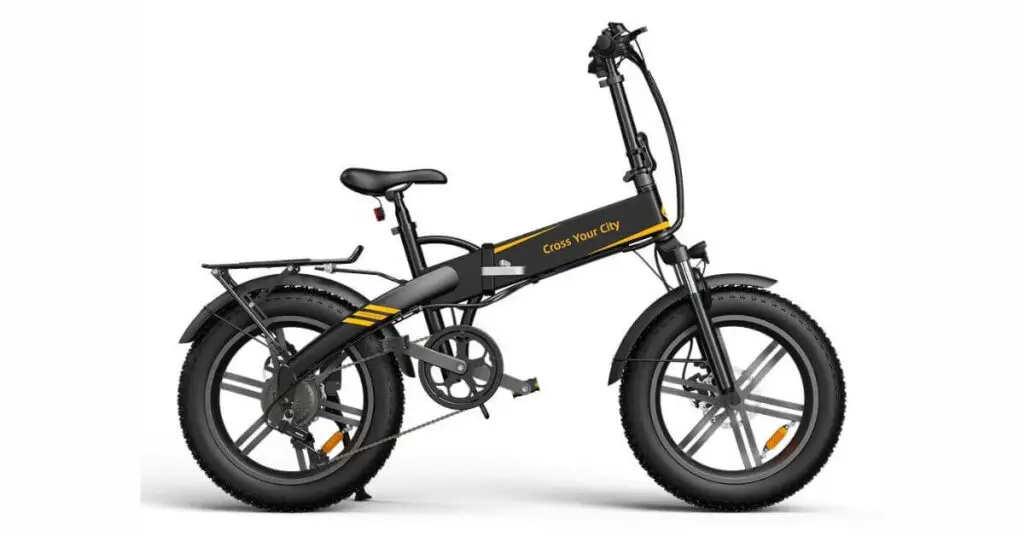 Taking inspiration from classic bikes, the ADO A20F XE doesn't shy away from flaunting its retro roots.
But don't let its vintage charm fool you.
Built with high-grade materials, it promises durability without compromising on aesthetics.
Battery Life & Performance
One of the standout features of the ADO A20F XE is its impressive battery life.
Perfect for long commutes or leisurely rides around the city, it ensures that you're never left stranded mid-journey.
Deep Dive: Specifications & Benefits
Tyre Technology and Ride Experience
The ADO A20F XE boasts fat tyres, which are more than just a visual treat.
These tyres offer:
Enhanced stability, especially on uneven terrains.
Improved traction on slippery surfaces, be it rain-soaked streets or gravel paths.
Reduced risk of punctures compared to standard tyres.
Benefits for urban riders
Urban terrains are unpredictable.
From tram tracks to potholes, city riders face numerous challenges.
The ADO A20F XE's fat tyres navigate these with ease, offering a smooth ride.
Performance in adverse conditions
Whether it's tackling muddy trails or snowy paths, the ADO A20F XE proves to be a reliable companion, thanks to its tyre technology.
Folding Mechanism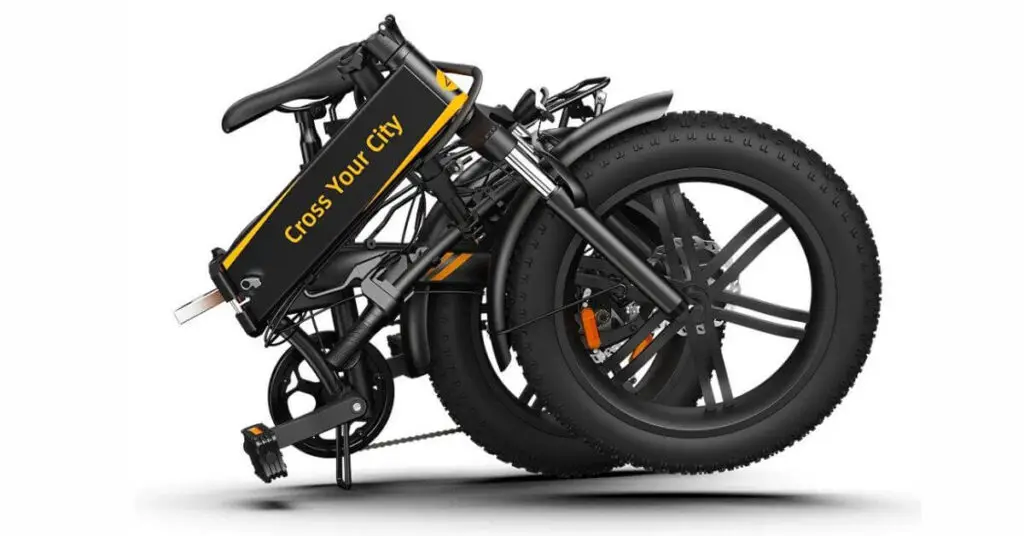 Ease of use
One of the standout features of the ADO A20F XE is its foldability.
Designed keeping the urban commuter in mind, it can be folded in seconds, making it perfect for those using mixed modes of transport.
Storage and portability benefits
The compact size when folded ensures it's hassle-free whether you're storing it at home, work, or even on public transport.
Battery and Charging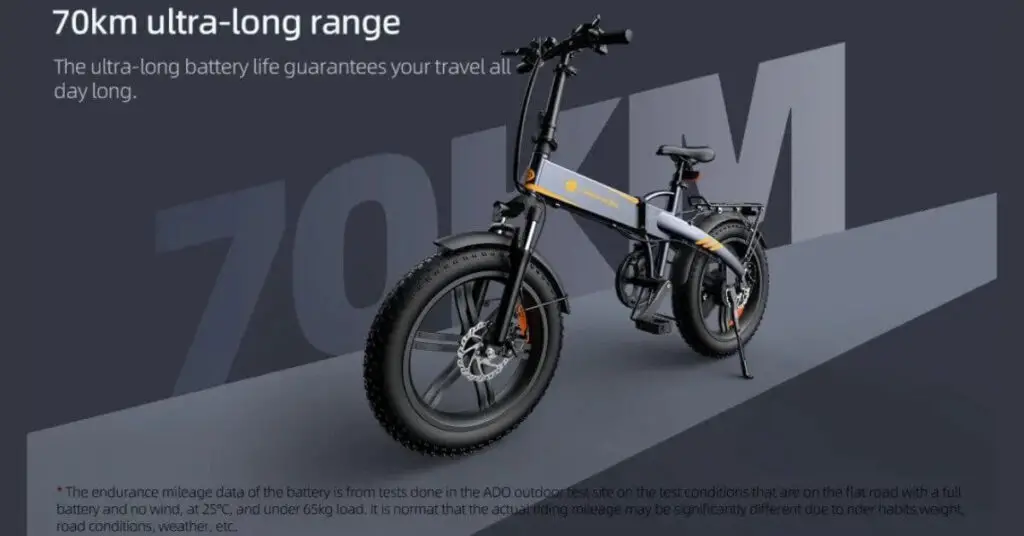 Battery life and mileage
With the rising costs of commuting, the ADO A20F XE proves to be a wallet-friendly option.
On a full charge, the bike promises a commendable range, ensuring you cover most of your weekly commutes on a single charge.
Charging time and efficiency
The e-bike doesn't keep you waiting.
Within a matter of hours, you're all set for your next ride.
Moreover, its energy-efficient design ensures you're not racking up high electricity bills.
Comparative Analysis
1. ADO A20F XE vs. ENGWE L20: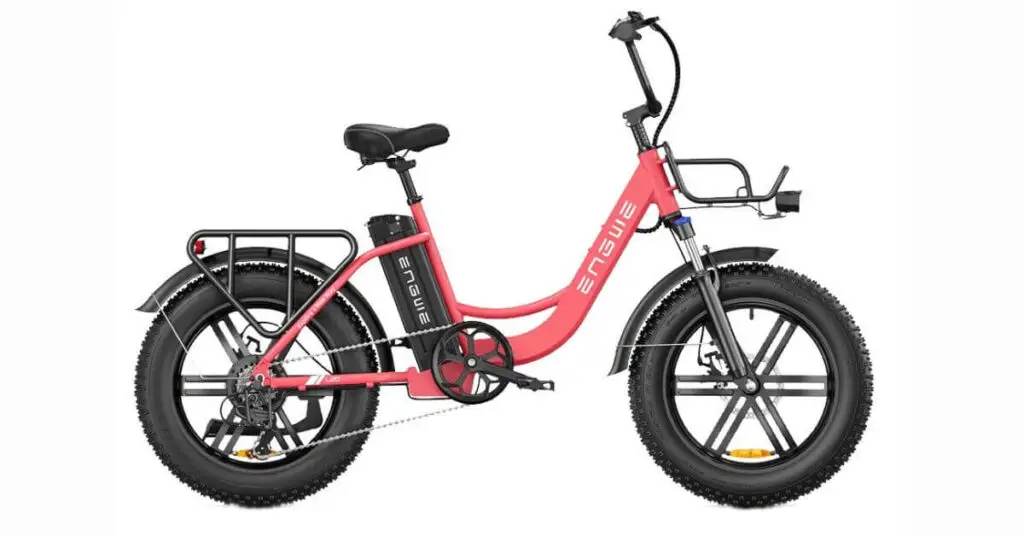 The ADO A20F XE and ENGWE L20 electric bikes both stand out with their fat tyres, providing enhanced stability and traction.
The ENGWE L20, priced at just £999, offers a fantastic range of 140 km in power assist mode, outmatching the ADO's 120 km.
However, where the ADO shines is its torque sensor, hydraulic disc brakes, and a slightly more powerful battery.
For users looking for additional storage, the ENGWE L20's sleek front rack might be a tempting feature.
Still, for those who value ride comfort and an aluminium frame's durability, the ADO A20F XE holds its ground firmly.
2. ADO A20F XE vs. GOGOBEST GM26: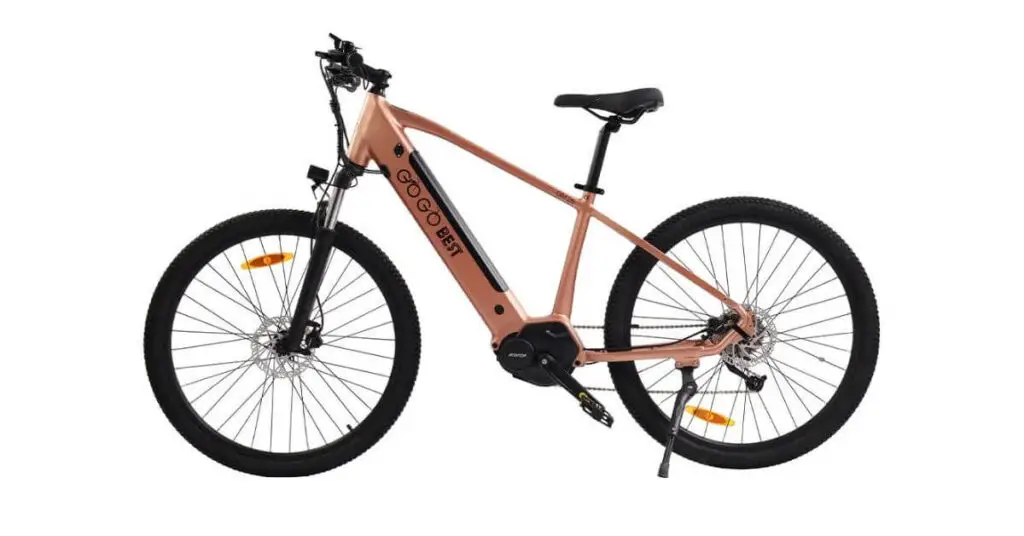 The GOGOBEST GM26 offers a sleek design, making it ideal for city commutes.
With a range of 60 km and a top speed identical to the ADO at 25 km/h, it aligns closely in performance.
However, the GM26's unique mid-mounted motor and 9-speed Shimano gear system provide a slightly different riding experience.
While both bikes cater to the urban commuter, the ADO's fat tyres and additional features might appeal to those seeking versatility for both city and off-road terrains.
3. ADO A20F XE vs. BK5 Plus: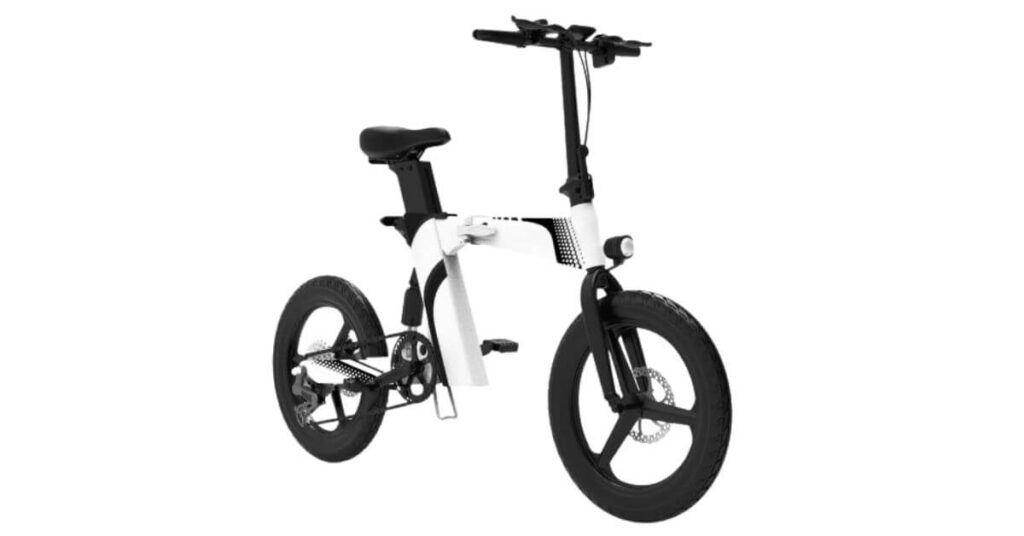 The BK5 Plus electric bike, with its compact and lightweight design, is a game-changer for those with storage constraints.
Though it offers a commendable range of up to 100 km in mixed mode, the ADO's beefier battery and larger tyres might give it an edge in terms of overall performance and ride comfort.
The BK5's quick folding feature is undoubtedly its USP, making it perfect for city dwellers who might need to carry their e-bike on public transport.
Pricing
Value for Money?
For its feature set, the ADO A20F XE is competitively priced, making it accessible to most urban commuters. Check it out on our store.
Conclusion
The ADO A20F XE isn't just another e-bike in the market.
It's a statement of style, efficiency, and sustainability.
Offering a blend of design aesthetics and performance metrics, it promises an unmatched riding experience.
Frequently Asked Questions(FAQ's)
How long does the ADO A20F XE electric bike battery last on a single charge?
Depending on usage, the ADO A20F XE electric bike offers a commendable range on a single charge, covering most urban commutes.
Is the ADO A20F XE electric bike suitable for off-road terrains?
Absolutely! Its fat tyres ensure stability and traction on varied terrains, including off-road paths.
What's the weight limit for the ADO A20F XE electric bike?
The bike can comfortably support riders up to a certain weight, ensuring it's accessible to most.
Where can I get replacement parts for the ADO A20F XE electric bike?
Authorized service centers and select online platforms stock genuine replacement parts.
Does the ADO A20F XE electric bike come with a warranty?
Yes, the ADO A20F XE electric bike comes with a comprehensive warranty, underscoring the brand's commitment to quality.
Final Thoughts
The e-bike revolution in the UK has found its poster child in the ADO A20F XE electric bike.
Whether you're a seasoned e-bike rider or someone looking to make the switch, this bike promises not to disappoint.
From its performance to its aesthetics, every aspect screams perfection.
So, why wait?
Experience the future of urban commuting today!
Thank you, dear readers, for journeying with us through this review.
Until next time, happy riding!