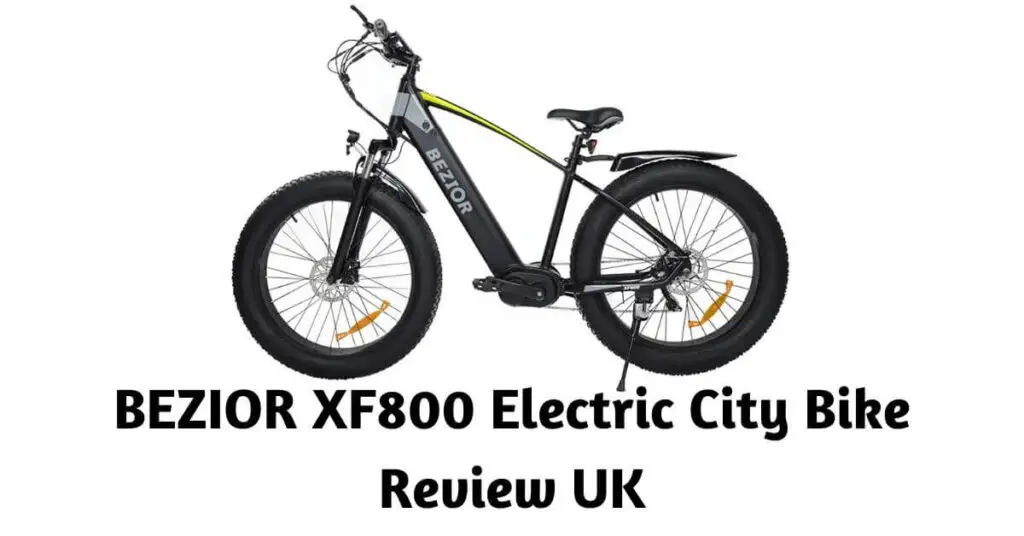 Introduction
In the streets of the UK, electric bikes have emerged as a popular choice for commuters and adventurers alike, offering a blend of convenience, style, and performance.
In this segment, the BEZIOR brand has carved a niche for itself, offering a range of electric bikes that are in my opinion great.
Today, we delve deep into one of their stellar products, the BEZIOR XF800 Electric City Bike.
In this guide, we will walk you through everything you need to know to make an informed decision.
So, buckle up as we set forth on this journey!
A Detailed Review of the BEZIOR XF800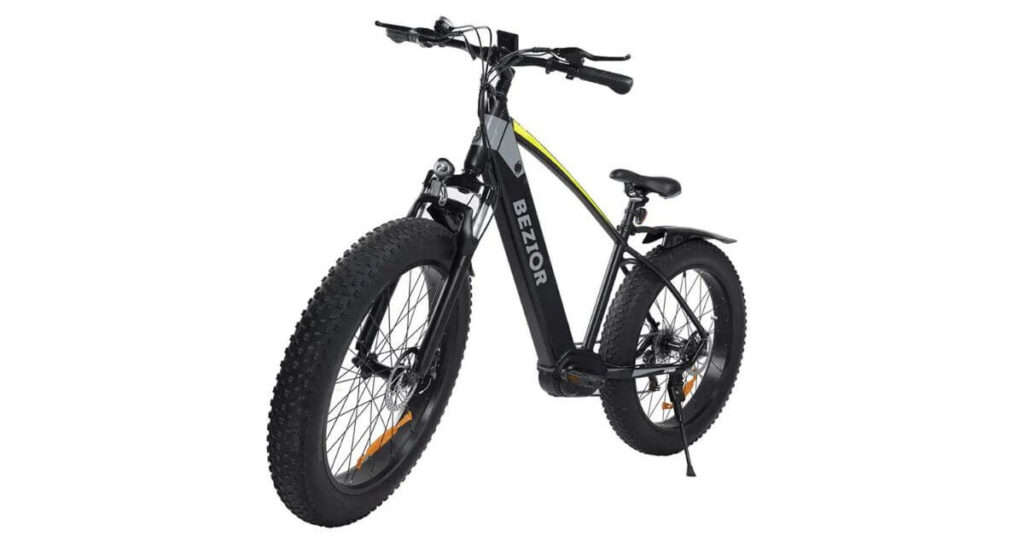 Key Features
Motor and Speed
With a robust 500W mid-mounted motor, the BEZIOR XF800 promises a smooth and powerful riding experience.
This electric city bike can reach speeds of up to 40 km/h, making it a fantastic choice for both daily commuting and adventurous rides in the UK.
The motor's design ensures stability and balance, even on rough terrains, providing a ride that's both fast and safe.
Battery Life and Charging
The BEZIOR XF800 houses a 48V 13Ah lithium battery, cleverly concealed within its frame, offering two layers of protection.
This powerhouse can fuel your rides for up to 60 km, with a charging time of 6-8 hours.
Whether you're exploring new trails or zipping through the city streets, this electric city bike ensures you have enough juice to complete your journey.
Tyres and Suspension
Equipped with 26-inch fat tyres, the BEZIOR XF800 offers a comfortable and stable ride on all kinds of roads.
The tyres feature anti-skid and anti-vibration properties, ensuring a safe and enjoyable riding experience.
Coupled with a front fork suspension system, it adeptly absorbs shocks and adapts to varying road conditions, offering the highest level of comfort.
Safety Features
Safety comes first with the BEZIOR XF800 Electric City Bike.
Its frame is constructed from durable aluminium alloy, and the bike features a high-strength carbon steel fork.
The Shimano 7-speed transmission system allows you to choose your preferred speed, while the dual mechanical disc brakes provide reliable stopping power, ensuring a safe ride in any weather.
Performance Analysis: BEZIOR XF800 in Action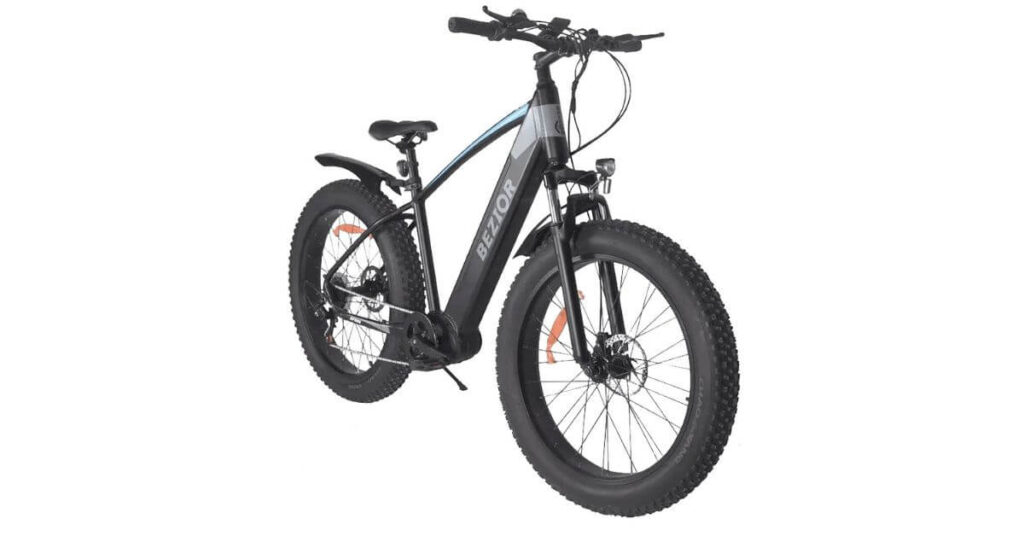 Navigating through the urban jungle or exploring rugged trails, the performance of an electric bike is a decisive factor.
In this section, we evaluate the BEZIOR XF800 Electric City Bike across different terrains, assessing its strengths and areas where it can improve.
On Road
Urban Commute
The BEZIOR XF800 shines in urban settings with its impressive top speed of 40 km/h.
Its sleek design coupled with state-of-the-art features makes it a reliable companion for daily commuters in the UK.
Whether you're rushing to work or enjoying a leisurely ride through the city, the BEZIOR XF800 ensures a swift and comfortable journey.
Long Distance Rides
For those who love long-distance rides, the BEZIOR XF800 doesn't disappoint.
With a maximum range of 60 km in pedal-assist mode, it caters to both your adventurous spirit and fitness goals.
The bike's ergonomic design reduces strain on long journeys, making it an excellent choice for weekend getaways.
Off-Road
Trail Adventures
Adventure seekers in the UK will appreciate the BEZIOR XF800 Electric City Bike's prowess on off-road trails.
The 26-inch fat tyres provide excellent traction and stability, allowing you to navigate through rocky paths with ease.
The bike's powerful motor and battery ensure that you can conquer steep inclines without breaking a sweat.
Mountain Expeditions
Taking it a notch higher, the BEZIOR XF800 is also a formidable companion for mountain expeditions.
Its front suspension system adeptly absorbs shocks, ensuring a smooth ride even on rugged mountain trails.
With the BEZIOR XF800, you're not just buying a bike; you're investing in endless adventures.
Conclusion: Your Gateway to Adventurous Rides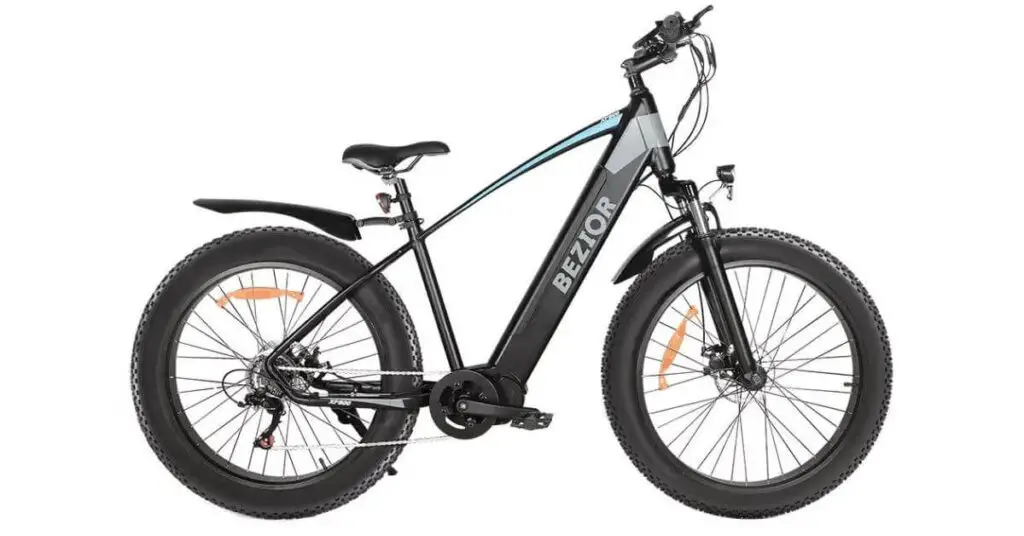 As we wrap up this comprehensive review, it's clear that the BEZIOR XF800 Electric City Bike stands as a beacon of innovation and reliability in the electric bike sector in the UK.
From its powerful motor to its impressive battery life and safety features, it promises not just a ride, but an experience.
Whether you are navigating the bustling streets of the UK or embarking on an off-road adventure, the BEZIOR XF800 serves as a reliable companion, promising a blend of speed, safety, and comfort.
Frequently Asked Questions (FAQ's)
What is the maximum load capacity of the BEZIOR XF800?
The BEZIOR XF800 can comfortably support a maximum load of 120 kg or 265 lb.
Can the BEZIOR XF800 handle steep inclines?
Yes, with a maximum grade of 25°, it is well-equipped to handle steep inclines, making it suitable for various terrains in the UK.
What is the waterproof rating of the BEZIOR XF800?
The bike boasts an IPX6 waterproof rating, meaning it can withstand rain and can be used in wet conditions without any issues.
How long does it take to fully charge the BEZIOR XF800's battery?
The battery takes between 6 to 8 hours to charge fully, providing ample power for long rides.
What is the warranty period for the BEZIOR XF800 Electric City Bike?
For detailed information on the warranty, it is best to check with the official BEZIOR website or contact their customer service in the UK.
Final Thoughts
Thank you, dear readers, for accompanying us on this detailed journey exploring the BEZIOR XF800 Electric City Bike.
We hope this guide serves as a valuable resource in your quest for the perfect electric bike.
Happy riding!