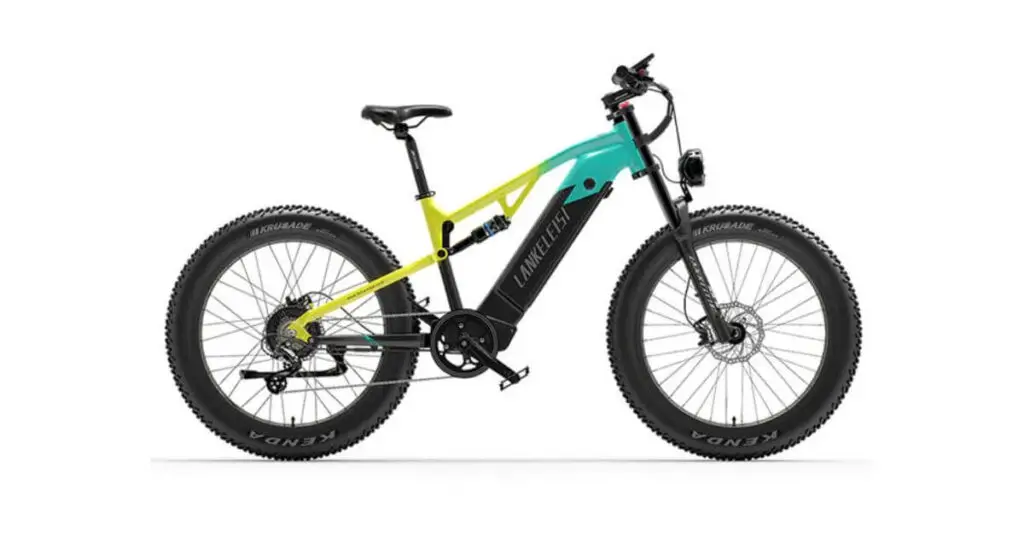 Introduction
Hey there, fellow bike enthusiasts! 🚴
Are you on the lookout for a bike that combines power, style, and unprecedented comfort?
Well, your search might just be over.
Let's delve deep into the world of electric mountain bikes and discover why the LANKELEISI RV800 Plus electric mountain bike is creating such a buzz in the UK biking community.
The Powerhouse: Bafang 750W Motor
Unmatched Performance
Imagine hitting the trails with a motor that promises not only speed but an enhanced torque that guarantees a smooth ride.
The Bafang 750W motor, peaking at 1130W, promises just that.
Whether it's steep hills or rugged terrains, this motor won't back down.
Could this be the game-changer in your mountain biking adventures in the UK?
Energy-Efficient and Quiet
What's better than a powerful motor?
A powerful motor that's energy-efficient!
The intricate star gear arrangement inside ensures that while you enjoy that extra torque, your bike consumes less energy, giving you more miles on a single charge.
And guess what?
It accomplishes this feat quietly, letting you enjoy the serene UK countryside in peace.
A Closer Look at the 6061 Aluminium Alloy Frame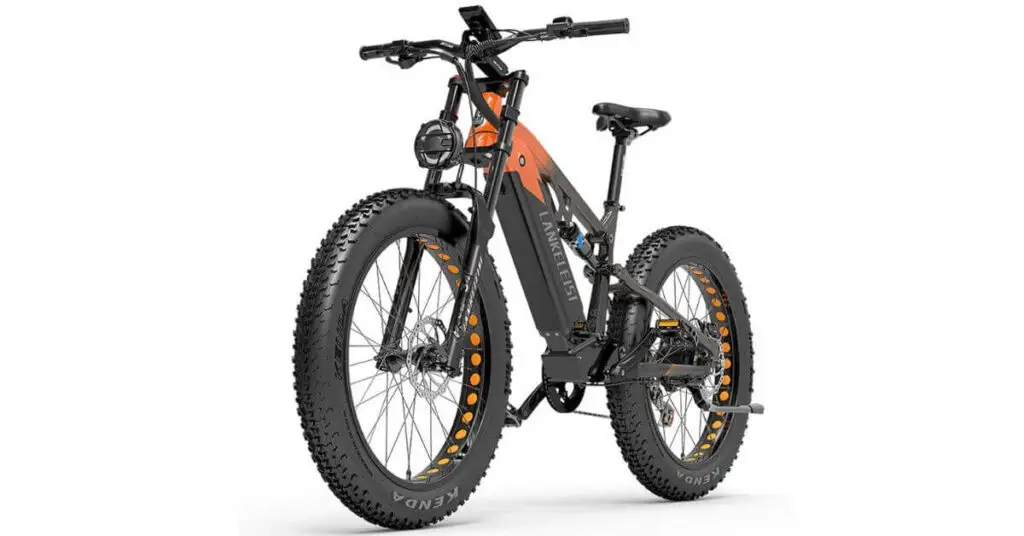 Strength and Durability
When it comes to the skeleton of a bike, the material matters a lot.
The LANKELEISI RV800 Plus electric bike boasts a frame made of 6061 aluminium alloy, renowned for its strength and corrosion resistance.
This means, that no matter the weather, your bike is ready to hit the trails with you.
Comfort and Flexibility
And it's not just about durability it's about comfort too.
The dual suspension system ensures a smooth ride, absorbing shocks effectively.
The adjustable seat height makes it suitable for riders between 165 to 195 cm.
A bike that adapts to you, isn't that something?
Safety and Beyond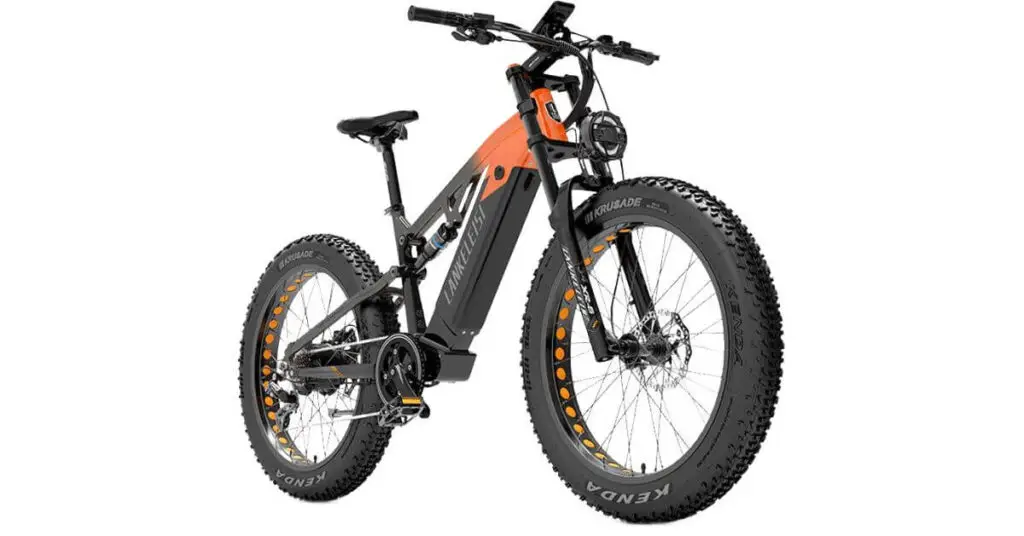 Brakes and Tires
Safety should never be compromised, and the RV800 Plus stands testament to that.
The bike is equipped with ZOOM HB-876 induction hydraulic disc brakes, offering precise control and quick response.
Combine this with anti-skid and anti-vibration features in the tires, and you have a bike that promises a safe and enjoyable ride.
Ready to conquer the off-roads?
Lighting and Alert System
Riding in low light? No worries! The 4.5-inch LED high-brightness headlight ensures that your path is always illuminated. And with a 95-decibel electronic trumpet, making your presence known on the trails is a breeze.
Pros And Cons Of The LANKELEISI RV800 Plus
Pros:
Powerful 750W Bafang motor with a peak output of 1130W
Large 48V 20Ah Samsung 21700 lithium battery for a range of up to 150 km
5-level pedal assist system
Front and rear oil suspension forks for a comfortable ride
26″ x 4.0 fat tires for good traction on all terrain
Disc brakes for reliable stopping power
Lightweight aluminum alloy frame
LCD display with odometer, speed, battery level, and other information
Cons:
The bike is quite heavy, weighing in at 28 kg.
The suspension can be a bit stiff for some riders.
The battery is not removable, so it can be difficult to charge if you are not near an outlet.
The bike is not cheap, but it is still a good value for the price.
Conclusion
So, what do we think?
The LANKELEISI RV800 Plus seems to have nailed the combination of power, comfort, and safety, making it a promising choice for both seasoned riders and newcomers alike.
Its features position it as a premium electric mountain bike in the UK market, ready to redefine your biking adventures.
Frequently Asked Questions(FAQs)
How long does it take to fully charge the battery of the LANKELEISI RV800 Plus?
The LANKELEISI RV800 Plus is equipped with a high-capacity 48V 20Ah Samsung 21700 battery which requires approximately 6-7 hours for a complete charge. This allows for extended periods of riding, making your biking adventures in the UK uninterrupted and enjoyable.
Is it possible to increase the maximum speed of the LANKELEISI RV800 Plus for a more thrilling ride?
Absolutely! For riders seeking a faster pace, the LANKELEISI RV800 Plus offers the option to unlock the speed limit, enabling you to reach exhilarating speeds of 45-52 km/h. This feature promises a thrilling riding experience, especially for adventure seekers exploring the varied terrains of the UK.
What is the maximum weight that the LANKELEISI RV800 Plus can support?
The robust build of the LANKELEISI RV800 Plus allows it to comfortably support a substantial weight of up to 441 lbs (200 kg). This makes it a versatile choice, capable of accommodating riders of different body types without compromising on safety or performance.
What distinctive properties does the 6061 aluminium alloy frame of the LANKELEISI RV800 Plus offer?
The 6061 aluminium alloy frame, a standout feature of the LANKELEISI RV800 Plus, is renowned for its remarkable strength and resistance to corrosion and rust, especially after undergoing T4T6 heat treatment. This ensures a long-lasting and durable structure, capable of withstanding the challenges of both urban and off-road environments in the UK.
Can tall individuals comfortably ride the LANKELEISI RV800 Plus?
Yes, the LANKELEISI RV800 Plus is designed to cater to a wide range of riders, including those who are tall. With an adjustable seat height, it comfortably accommodates individuals with a height range of 165-195 cm, ensuring a comfortable and ergonomic riding position for all.
Final Thoughts
Thank you, dear readers, for accompanying us on this journey through the lanes and trails of the UK, exploring the wonders of the LANKELEISI RV800 Plus.
We hope this review has brought you a step closer to finding your dream bike.
Until next time, keep pedalling and exploring the beauty that the UK has to offer.
Happy biking!