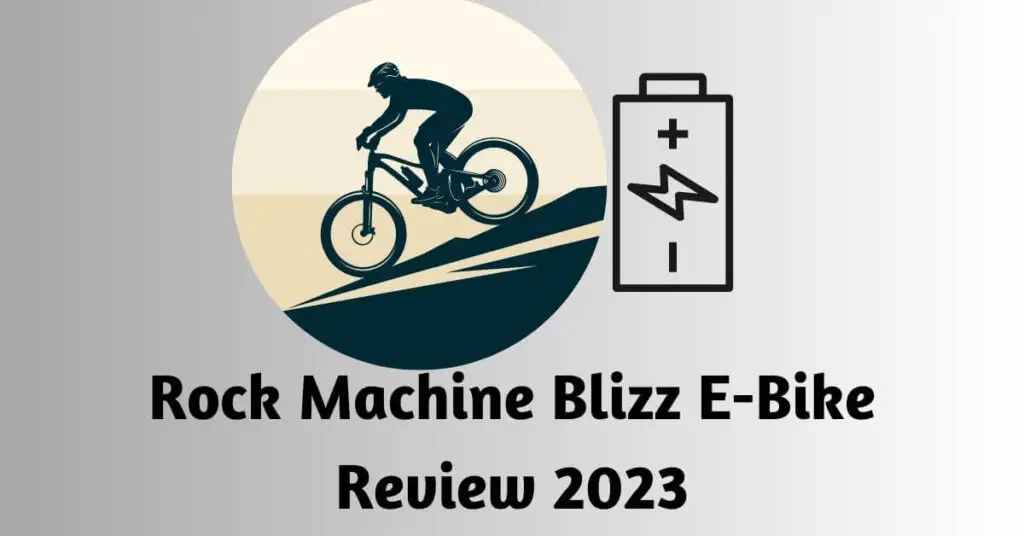 All recommendations within this article are informed by expert editorial opinion. If you click on a link in this story we may earn affiliate revenue.    
Introduction
The world of e-bikes has been rapidly evolving, and today, we dive deep into this transformation.
Allow us to introduce you to the Rock Machine Blizz E-Bike, one of 2023's most raved-about mountain e-bikes. But is it all talk and no show? Read on!
A First Glance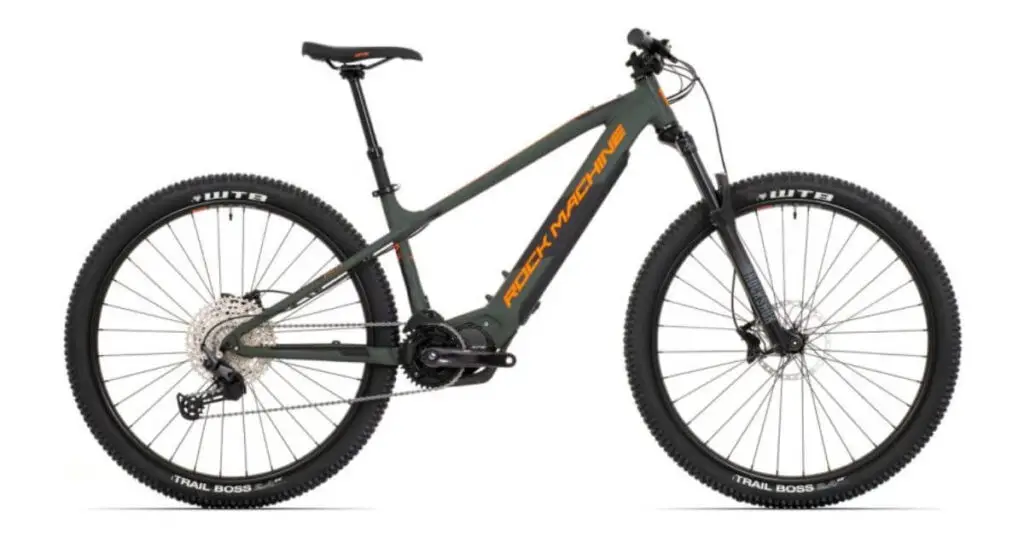 Sleek Design and Robust Build
The first thing you'll notice about the Rock Machine Blizz E-Bike is its captivating matte khaki frame.
But it's not just about looks; the bike's alloy Al-6061 T6 custom tubing ensures durability for those rugged terrains, and the smooth welding integrates seamlessly with the inner cable routing.
Trail Ultimate Geometry – A Game Changer?
The NEW generation frame of the Rock Machine Blizz introduces us to a special "Trail Ultimate Geometry".
For riders, this means improved bike control, ensuring a smooth experience whether you're taking on a steep ascent or exploring hilly commutes.
Size Matters!
With sizes 13.5″(M) and 15.0″(L), the Rock Machine Blizz E-Bike caters to a variety of riders, ensuring everyone finds their perfect fit.
Performance and Power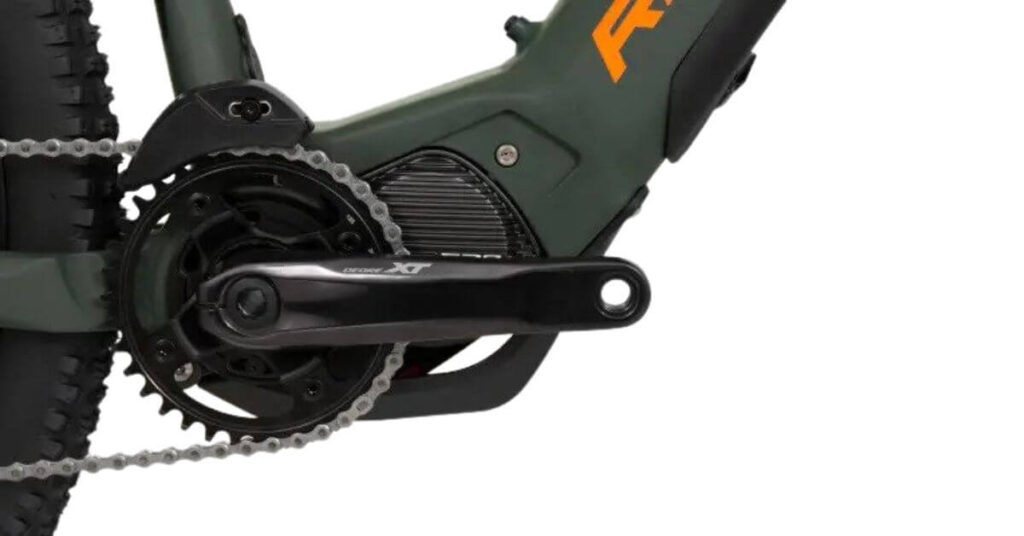 The Shimano EP8 Motor: Power Redefined
At its core, the Rock Machine Blizz E-Bike is powered by the Shimano EP8 motor.
This compact motor, weighing just 2.6 kg, is a powerhouse delivering a torque of 85Nm.
Tailor Your Ride: Eco, Trail, Boost!
Offering three power-assist modes, the Rock Machine Blizz gives riders flexibility.
Whether you prefer the energy-saving Eco, the balanced Trail, or the all-out Boost, you're in control.
Battery Life – The Long Haul
Battery life is a hot topic in e-bike discussions.
The Rock Machine Blizz, with its DARFON 504 Wh in-frame mount battery, promises a range of up to 120 km in Eco mode.
Additional Features and Specifications
Suspension and Control
The Rock Machine Blizz E-Bike is equipped with a RockShox Judy Silver TK fork, ensuring smoother rides, even on challenging terrains.
Brakes – Safety First!
Safety is paramount. The four-piston Shimano brakes with metallic pads, similar to those found on high-performance e-bikes, guarantee immediate stops, come rain or shine.
Seamless Gear Transitions
With a 1×11 gear system and a Shimano DEORE RD-M5100 Shadow Plus rear derailleur, shifting gears on the Rock Machine Blizz feels as smooth as switching between your favourite tracks.
The Final Verdict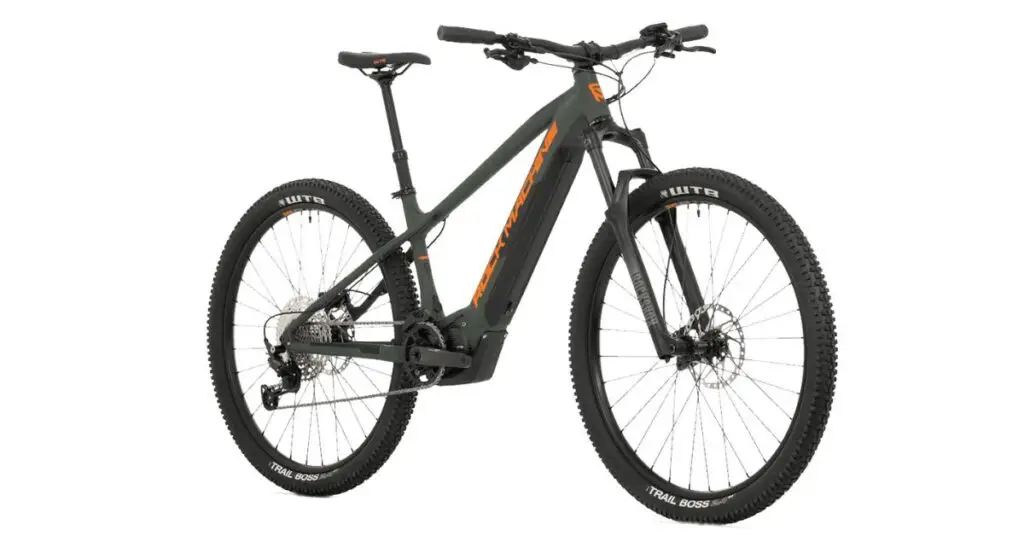 Is the Rock Machine Blizz E-Bike Worth It?
Considering its features and performance, the Rock Machine Blizz E-Bike stands out in the 2023 e-bike market.
If you're seeking a mountain e-bike that delivers both in aesthetics and functionality, this might be your ideal match.
Conclusion
The Rock Machine Blizz E-Bike is more than just an e-bike; it's a statement of what the future of mountain biking looks like.
With its blend of design, power, and durability, it stands as a testament to the advancements in e-bike technology.
FAQ's
Charging Time: How long does it take to fully charge the Rock Machine Blizz E-Bike?
A complete charge typically takes around 4.5 hours.
Terrain Suitability: Is the Rock Machine Blizz suitable for all types of terrain?
Indeed, the Rock Machine Blizz boasts a sturdy construction and a potent motor, making it well-suited for diverse terrains, particularly mountain trails.
Weight: What is the weight of the Rock Machine Blizz E-Bike?
For the M size, the bike weighs 22.3 kg.
Pedals: Are pedals included with the e-bike?
Pedals are not included with the e-bike.
Maximum Speed: What's the maximum speed supported by the Rock Machine Blizz?
The Rock Machine Blizz can reach speeds of up to 25 km/h.
Final Thoughts
Thank you, dear readers, for joining us on this in-depth review of the Rock Machine Blizz E-Bike.
As technology continues to evolve, it's exhilarating to see how it integrates with our passions, making them more accessible and enjoyable.
Here's to many more rides and adventures ahead! Safe cycling!