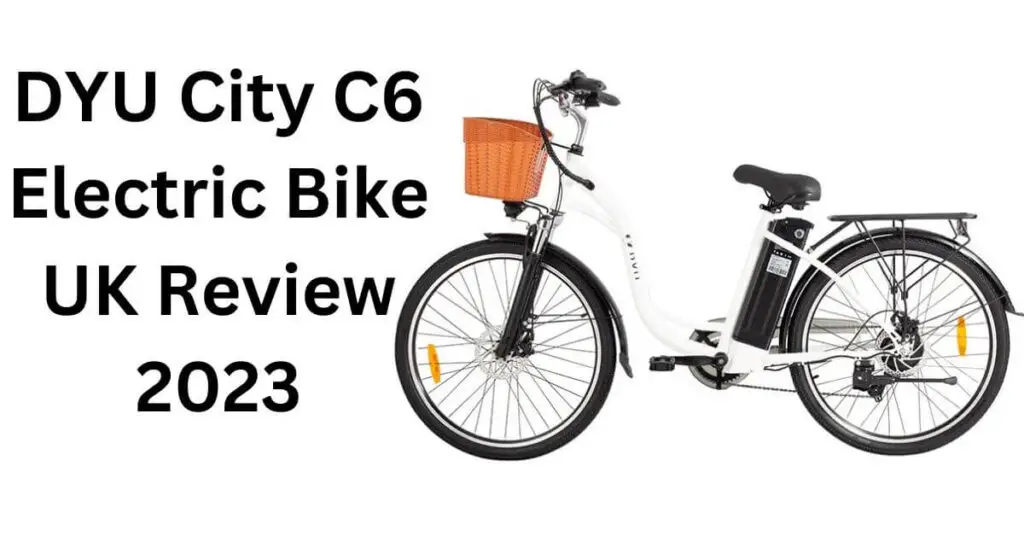 Introduction
Welcome to our detailed DYU City C6 Electric Bike review for the UK in 2023!
We're thrilled to have you join us as we dive deep into what this e-bike has to offer.
Ever been on the hunt for an e-bike that effortlessly merges style, comfort, and top-tier functionality?
The DYU City C6 Electric Bike might just be the game-changer you've been waiting for.
As we venture further into 2023, let's uncover the magic behind this urban marvel that's been turning heads across the UK.
Design and Build Quality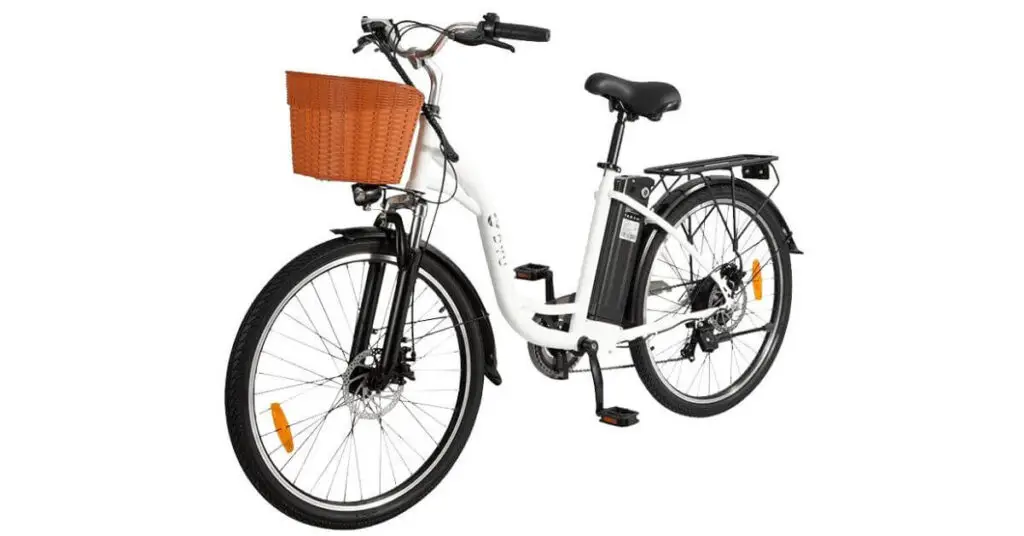 The DYU City C6 electric bike isn't just another e-bike on the block.
With its sleek white finish, this machine radiates elegance.
Crafted from superior quality steel, its robust frame promises durability without compromising on aesthetics.
And with an adjustable seat height catering to riders between 160-190 cm, it truly is a one-size-fits-all marvel.
Wondering about those unpredictable UK showers?
Thanks to its IP54 waterproof rating, rain's just another adventure.
Motor and Driving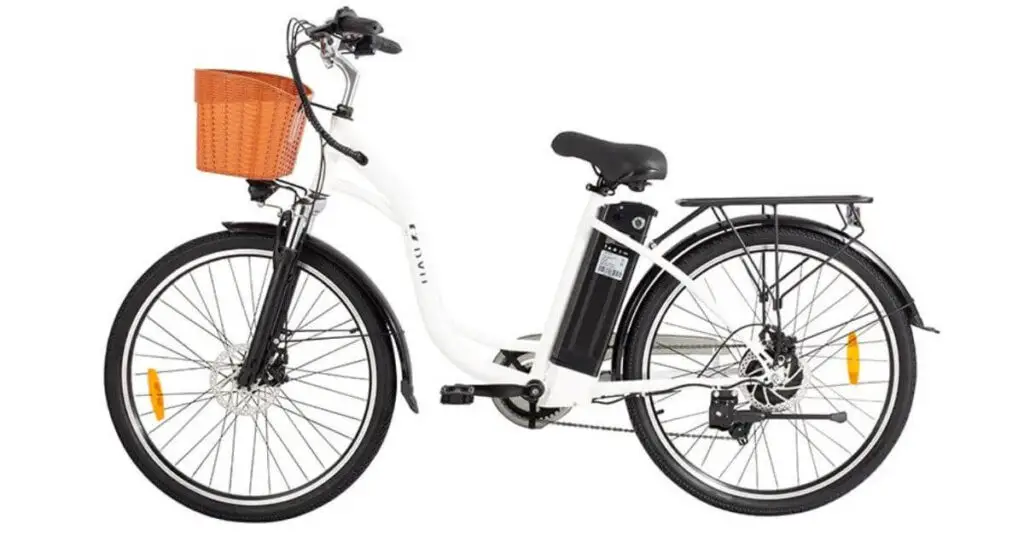 Rev up your city rides with the 350W Brushless DC Rear Motor that the DYU City C6 electric bike boasts.
Designed for the urban adventurer, this e-bike can climb inclines with a 15° gradient with ease.
And with a top speed of 25km/h (that's a breezy 15.5 mph for us Brits), you're not just commuting – you're cruising.
Whether you're in the mood for pedalling, moped-ing, or going purely electric, the three functional modes ensure your ride, your way.
Battery and Range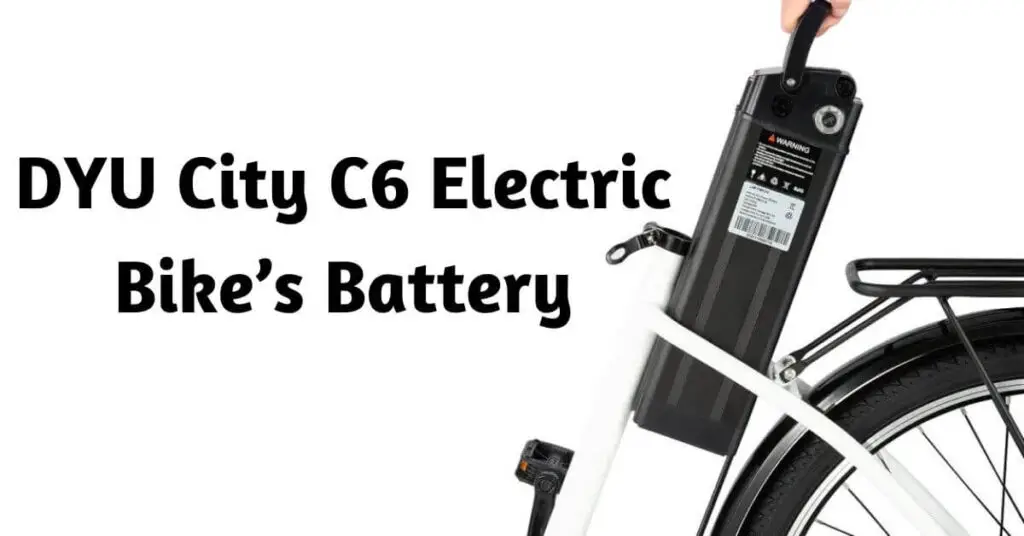 Bid adieu to range anxiety.
The DYU City C6 comes with a removable 12.5Ah/36V lithium-ion battery, promising a remarkable range of 40 to 90 km on a single charge.
Planning longer escapades?
The power-assisted mode can stretch that to an impressive 70-80km.
And if you ever find yourself out of juice, just pedal on!
After all, hybrid is the name of the game.
Need a full recharge?
Just give it 6-8 hours, and you're good to go.
DYU City C6 Electric Bike Specifications
| Specification | Details |
| --- | --- |
| Model | C6 |
| Top Speed | 25km/h – 15.5 mph |
| Maximum Load | 264 lbs / 120 kg |
| Voltage | 36V |
| Motor Power | 36V 350W |
| Charging Time | 6-8 hours |
| Travel Distance (Range) | Electric mode 45-50km, Power-assisted mode 70-80km |
| Tyres | 26 x 1.95 inch |
| Battery Capacity | 36V 12.5Ah |
| Weight | 59.5 lbs – 27 kg |
Specifications table for the DYU City C6 Electric Bike
Pros and Cons
Pros:
Lightweight, robust design for easy manoeuvrability.
Impressive battery range suitable for both short and long rides.
Three functional modes for a tailored riding experience.
Waterproof design perfect for the unpredictable UK weather.
Cons:
Charging might be longer compared to some other e-bikes.
Limited to one colour option.
Conclusion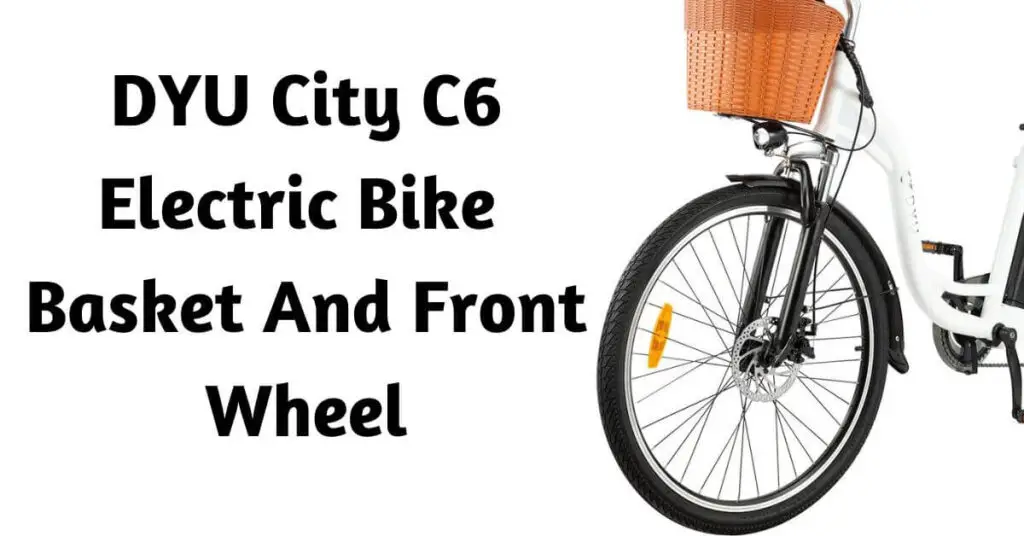 The DYU City C6 Electric Bike is not just a mode of transport; it's a statement.
It promises an enhanced riding experience for the urban dweller, packed with features that cater to both convenience and functionality.
Whether it's the daily commute, a leisurely weekend ride, or tackling those uphill challenges, the C6 stands ready.
FAQs
Is the DYU City C6 suitable for rainy conditions?
Yes, it boasts an IP54 waterproof rating, ensuring it's prepared for those unexpected UK downpours.
How can I change the DYU City C6 seat height?
The e-bike features an adjustable seat, accommodating riders ranging from 160-190 cm in height.
What's the battery life of DYU City C6 on a single charge?
Depending on your chosen mode, the battery offers a commendable range of 40-90 km.
How fast can the DYU City C6 go?
Hold onto your helmets! This e-bike can zoom up to a top speed of 25km/h or 15.5 mph.
Can I take out the battery from the DYU City C6?
Certainly! It comes with a removable 12.5Ah/36V lithium-ion battery.
Final Thoughts
In wrapping up our DYU City C6 Electric Bike review for 2023, it's clear that this e-bike is a game-changer for urban commuting in the UK.
Thank you for journeying with us through this review.
We appreciate your time and trust and always strive to provide our readers with comprehensive insights.
Whether you're a seasoned e-bike enthusiast or just starting out, we're here to welcome and guide you every step of the way.
Cheers to more eco-friendly rides ahead!