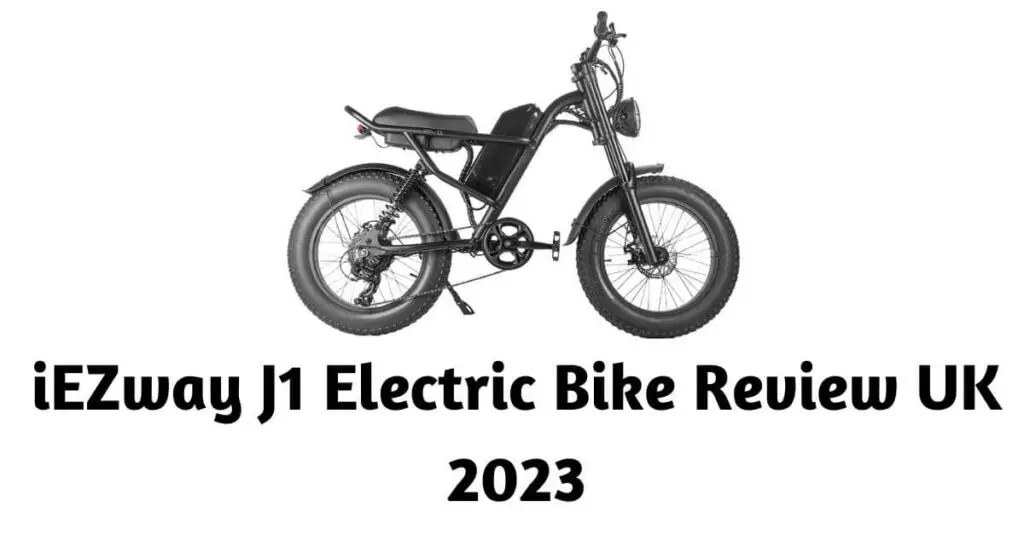 All recommendations within this article are informed by expert editorial opinion. If you click on a link in this story we may earn affiliate revenue.    
Introduction
Remember the times when bicycles were just… well, bicycles?
Those days are behind us!
Welcome to 2023, where the iEZway J1 electric bike is making waves in the UK's electric bike scene.
A blend of style and performance, the J1 promises much.
Let's unravel the story behind this two-wheeled marvel.
Design and Aesthetics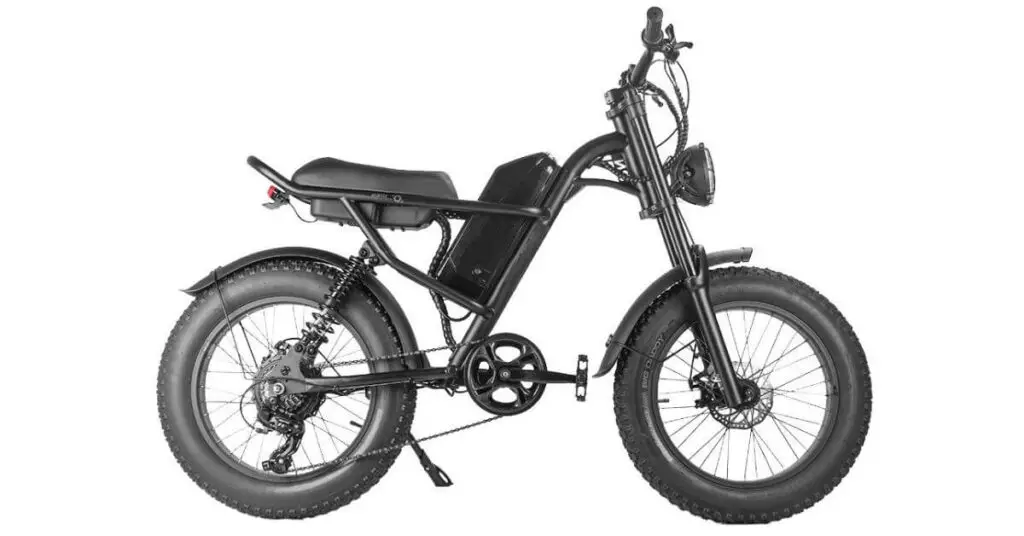 Riding the J1 isn't just a journey; it's an experience.
Drawing inspiration from the cross-country motorcycle style, it evokes a sense of rugged adventure while delivering urban sophistication.
Crafted meticulously, its design ensures robustness and longevity, proving that beauty isn't always fragile.
Cross-country motorcycle inspiration
Imagine a cross-country motorbike and an electric bike had a baby – the J1 would be it!
This electric bike resonates with a unique identity, setting it apart in the ever-crowded bike landscape.
Structure and durability
Made with a lightweight aluminium frame, this bike is sturdy yet light, a combination not easily achieved.
Moreover, the parts are from Shimano, a name that needs no introduction in the cycling world.
Technical Features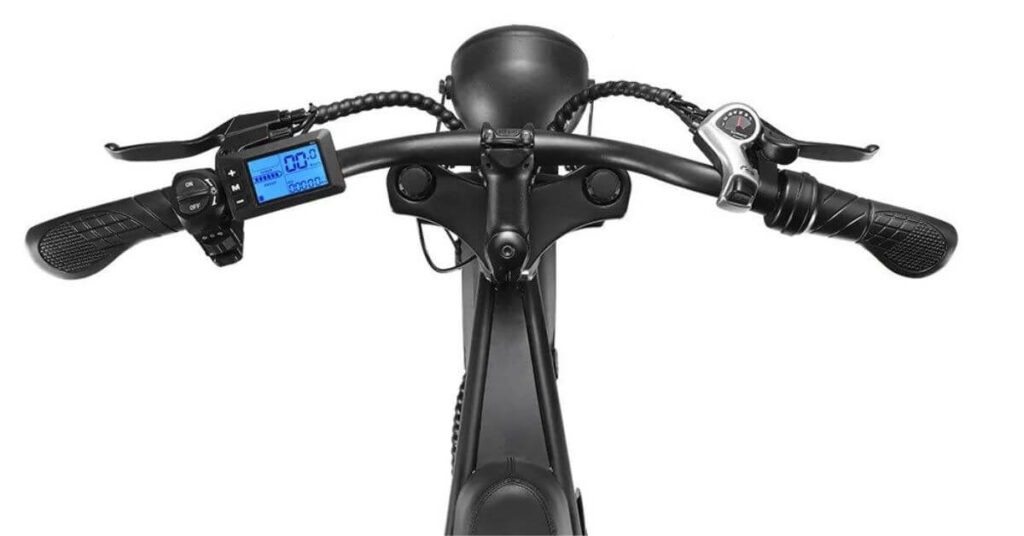 Dive deeper, and the J1 is more than just looks.
It's a powerhouse on wheels.
Engine and Power
With a 500W motor, the J1 is no slouch. It's built to conquer – be it rough terrains or steep hills.
And with the 7-speed Shimano gear system, you have the flexibility to adapt to every situation.
Whether you're cruising city streets or climbing a rugged hill, the J1 has got your back.
Shimano Gears and Functionality
Shimano isn't just a brand; it's a mark of quality.
The inclusion of Shimano gears ensures a seamless ride, allowing you to switch between speeds effortlessly.
Whether you're dodging urban traffic or venturing off-road, this bike responds to every twist and turn.
Performance on Different Terrains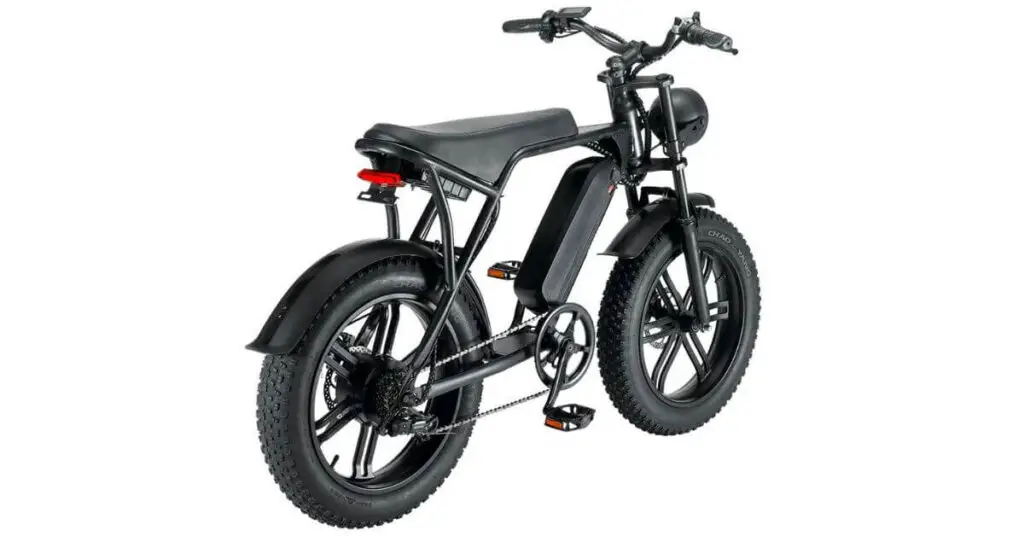 Speaking of terrains, how does the iEZway J1 electric bike fare?
City streets and highways
Ah, the urban jungle!
With its fat 4″ tyres, the iEZway J1 electric bike glides through cityscapes.
But here's the kicker – its front and rear dual suspension ensures every ride is smooth, even when the roads aren't.
Off-road capabilities
Off to the countryside or perhaps a mountain trail?
Fear not.
With its all-terrain capabilities, the iEZway J1 electric bike ensures you're in for a comfortable ride, regardless of where your adventures take you.
Battery Insights
Now, any e-bike enthusiast will tell you that power is nothing without a durable battery.
Lucky for you, iEZway's put significant thought into this.
Battery life and charging times
The iEZway J1 electric bike is equipped with a 48V 15.6AH lithium-ion battery.
That will take you 6-8 hours.
But here's the impressive part – on a single charge, if you're in throttle mode, you can expect to travel a range of 30-60 km.
Activate the Peddle Assist Mode, and you might just see numbers north of 100 km!
The advantage of removable batteries
Isn't it annoying when you have to manoeuvre your entire bike to a charging point?
iEZway J1 electric bike recognises this, which is why the J1 features a removable and waterproof battery.
Simply unlock, remove, recharge, and you're good to go!
Pros and Cons Roundup
No product is without its merits and demerits.
Let's weigh the J1 based on its standout features and areas it might lag in.
Pros:
Dynamic Design: The cross-country motorcycle style design makes it an attention magnet.
Performance: With a 500W motor and 7-speed Shimano gears, it's a beast on the road.
Durability: The aluminium frame promises longevity.
Safety: Waterproofing and LED lighting ensure safer rides.
Cons:
Weight: At 35.5 kg, it's not the lightest e-bike around.
Charging Time: 6-8 hours might seem long for some users.
Conclusion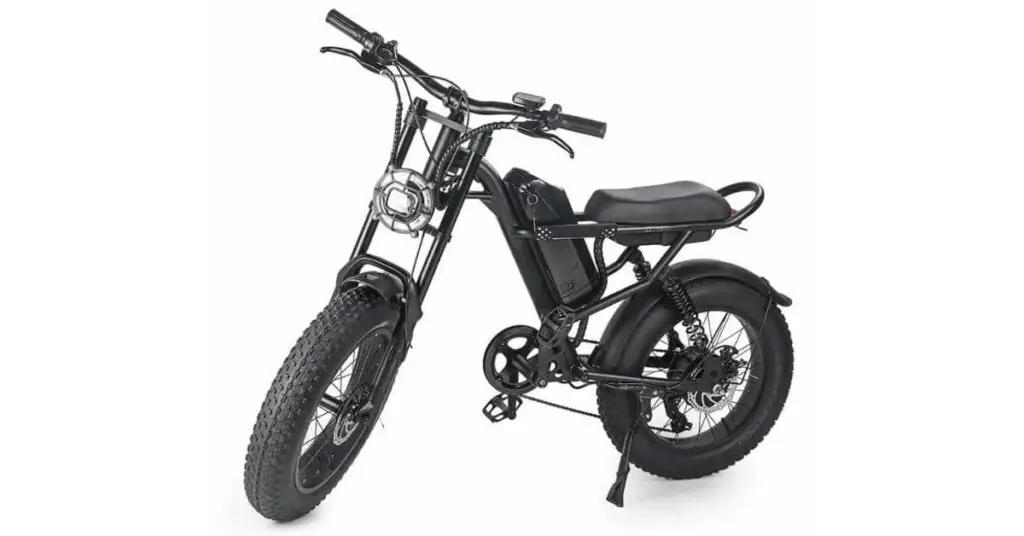 The iEZway J1 electric bike has proven to be a noteworthy contender in the 2023 UK market.
From its robust build to its impressive range and top-tier features, it's clear that this is more than just a regular e-bike.
It's a statement – of style, functionality, and innovation.
Sure, it has its downsides, but what product doesn't?
On the grand scale of things, the pros far outweigh the cons.
For those looking for a reliable, stylish, and efficient mode of transport, the J1 might just be your next best purchase.
Frequently Asked Questions (FAQ's)
How long does the iEZway J1 battery last on a single charge?
Depending on usage, the battery can last anywhere between 40-60 km on throttle mode and 70-100 km on PAS.
Is the iEZway J1 waterproof?
Yes, it has a waterproof rating of IP54, making it suitable for use in the rain.
What's the weight capacity of the iEZway J1?
It can comfortably accommodate up to 120 kg or 264 lbs.
Can I ride the iEZway J1 on rough terrains?
Absolutely! Its 4″ fat tyres and dual suspension make it perfect for all terrains – be it smooth roads or rugged hills.
Is the iEZway J1 battery removable?
Yes, the 48V 15.6AH lithium-ion battery is both removable and waterproof, making it convenient for charging.
Final Thoughts
It's been a journey exploring the iEZway J1 electric bike.
E-bikes are revolutionising the way we think about commuting, and models like the J1 are leading the charge (pun intended!).
It's a blend of tradition and modernity, bringing the best of both worlds to consumers.
Whether you're an e-bike enthusiast or just someone looking to make their commute more eco-friendly and efficient, the J1 deserves a spot on your shortlist.
Thank you, dear readers, for journeying with us through this comprehensive review.
Your quest for the perfect e-bike might just have found its destination.
Safe riding!